Character Initiatives
North Central College is committed to inspiring well equipped, principled, responsible leaders. That's why we partnered with the Kern Family Foundation, who provided a 4.5-year, $3.2 million grant—the College's largest private grant ever—to launch character initiatives designed to have a lasting impact.
Through this process, North Central College will be a place where educators, aspiring leaders, administrators, and community members develop social, emotional, and ethical competencies to influence transformation in themselves and others.
---
Strategically Designed
North Central's Cultures of Character Initiatives have been designed to:
Enhance the master of education in educational leadership program 

with scholarships, fellowships, and curriculum enhancements.

Establish a Character Education Institute with a Character Education Certificate and a Leadership Academy to support educators, principals and administrators in implementing character education to facilitate school improvement.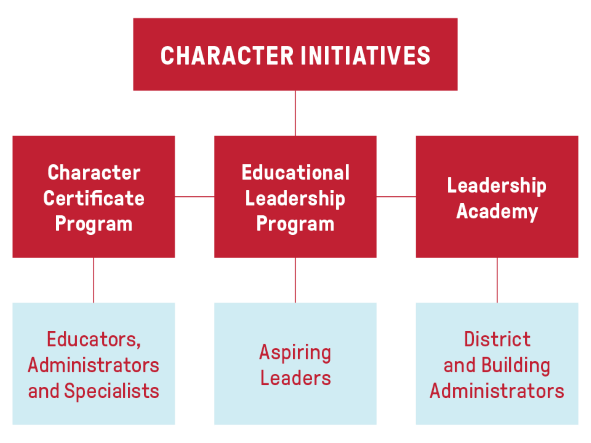 *Master of Education Program
The Master of Education in Educational Leadership program was designed to prepare innovative, impactful leaders for PK-12 schools while meeting Illinois principal endorsement requirements. Thanks to the generosity of the Kern Family Foundation, this program also benefits from targeted scholarships, extended internship opportunities, and enhanced curriculum that prepares aspiring leaders to foster a school culture that enriches social and emotional skills.
*Click here for our ONLINE delivery announcement.
For more information, contact grad@noctrl.edu or call (630) 637-5555
---
Character Education Institute
The Character Education Institute delivers programs and professional development for teachers, administrators, undergraduate education majors, and other community stakeholders to foster thriving communities of character in their areas of influence.
---