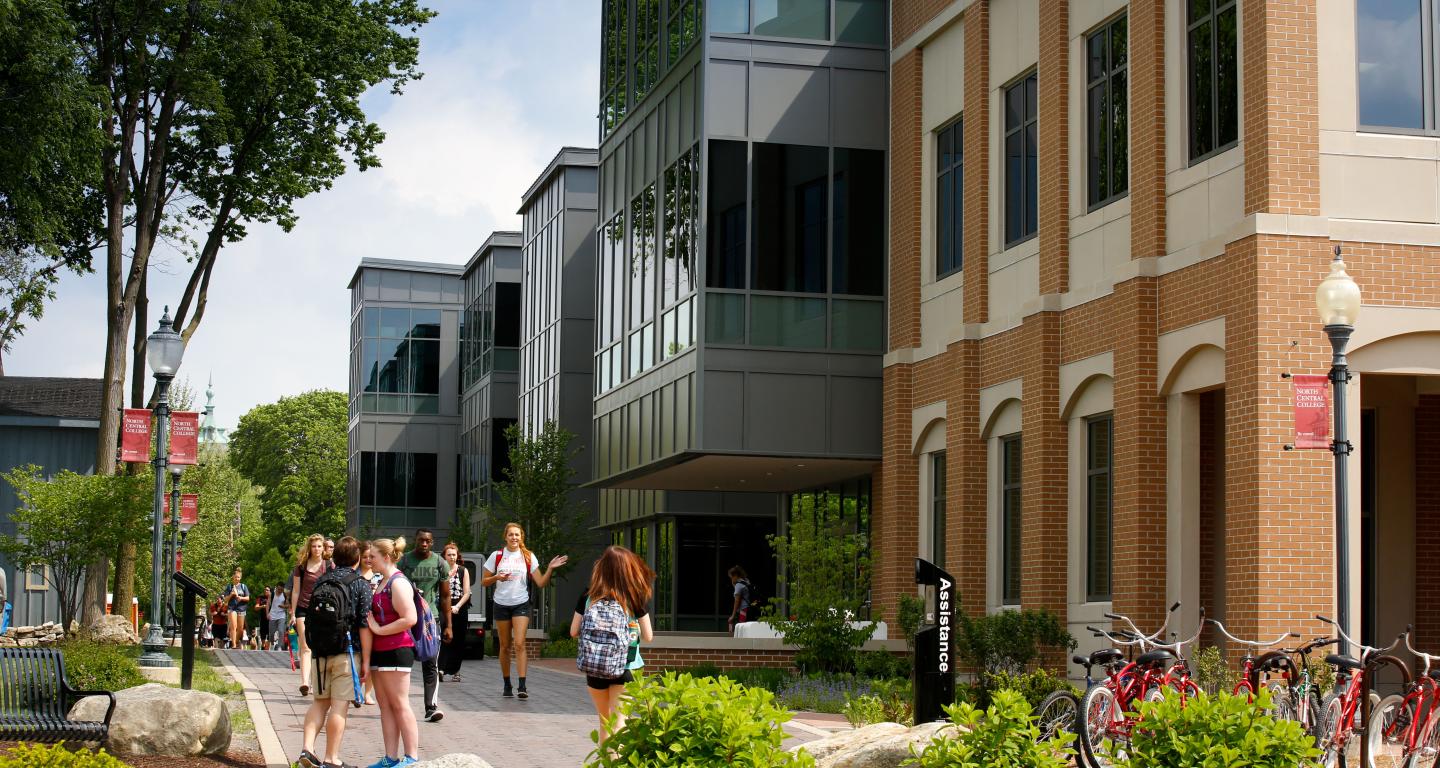 Feature News
Alumnus, world renowned scientist Dr. Myron Wentz gives naming gift for North Central College Science Center
Jun 29, 2017
Alumnus and honorary trustee Dr. Myron Wentz '63, (H) '11 has made a substantial and extraordinary gift to name North Central College's new Science Center.
"This is an historic moment in the life of North Central College," said President Troy D. Hammond. "I'm grateful for Dr. Wentz's leadership in making the lead naming gift for Chicagoland's premier all-inclusive Science Center."
The College's newest academic facility will be called the Dr. Myron Wentz Science Center.
"I thought it was important for this science center to bear the name of a scientist," said Wentz. "I'm a testament to the fact that North Central College students can go on to become successful scientists and entrepreneurs."
The $60 million, 125,000-square-foot Wentz Science Center is the cornerstone project for the College's $150 million Brilliant Future Campaign. The facility, which opened for classes on March 27, will be fully operational when fall classes begin September 11, 2017. Students of all disciplines will benefit from 18 teaching labs; 16 research labs; 15 classrooms/seminar rooms; a lecture hall; 19 student gathering spaces; 53 faculty offices; a greenhouse; and Ratio Hall, a space to accommodate academic functions such as the annual Rall Symposium for Undergraduate Research.
"It's a very impressive facility that will bolster and fortify the sciences," said Wentz. "North Central College was the most significant and formative influence in my life. I'm so happy and proud to do what I can in support of the College's students and faculty."
Dr. Wentz, a 1963 graduate of North Central College, earned a bachelor of science degree in biology. He went on to earn a master of science degree in microbiology and a Ph.D. in microbiology and immunology. He became a world-renowned scientist who founded USANA Health Sciences and Sanoviv Medical Institute. Dr. Wentz was awarded the 2007 Albert Einstein Award for Outstanding Achievement in the Life Sciences and received the Lifetime Achievement Award from Children's Hunger Fund for his philanthropic and humanitarian efforts. He has also worked with the Children's Hunger Fund to create five medical centers in Africa and Asia for impoverished and orphaned children and is a New York Times best-selling author.
"The Wentz Science Center will transform and elevate the experience of every North Central College student," said Hammond. "Dr. Wentz's remarkable gift provides a significant leap toward fully funding the Science Center and towards our long term $150 million Brilliant Future Campaign goal."
North Central College will formally dedicate the Wentz Science Center during Homecoming activities October 20, 2017. Naming gift opportunities remain throughout the facility.
"I hope my gift will inspire others to step forward in support of the Wentz Science Center," said Dr. Wentz.
To learn more about North Central College's Wentz Science Center initiative and the Brilliant Future Campaign, contact the Office of Institutional Advancement at 1-800-611-1861.