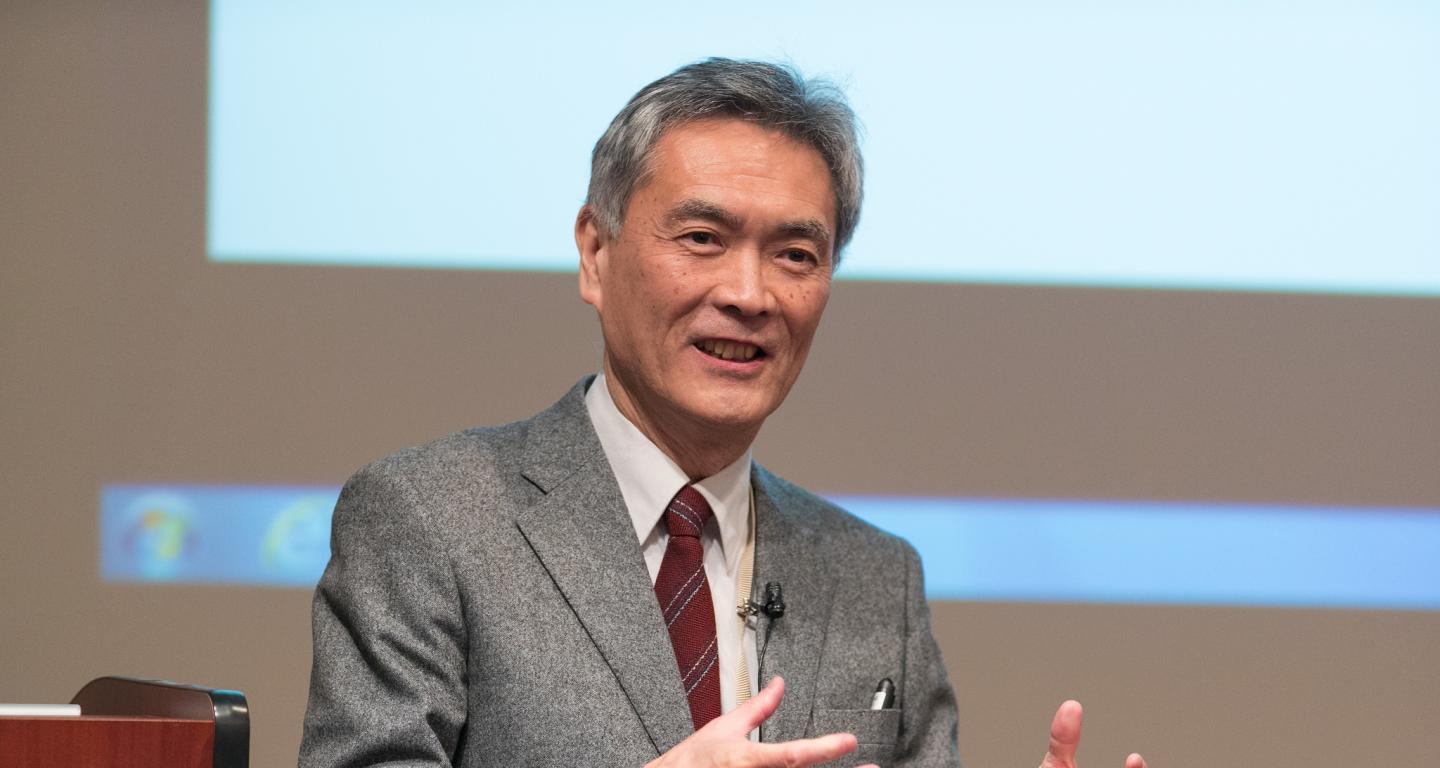 Feature News
Fulbright Scholar-in-Residence lends unique perspective to North Central
Feb 07, 2018
Professor Hikaru Kobayashi is more than what he claims to be. A former official in Japan's Ministry of the Environment, Kobayashi calls himself "not a native academician but instead a practitioner." Yet he immerses himself in the academic as a project professor at Keio University's School of Media and Governance and a visiting professor in the School of Arts and Sciences at the University of Tokyo.
The truth is that Kobayashi has carved out a place in both public service and in the classroom. He has found a way to bridge the gap between his areas of expertise and is passing that expertise on to North Central students as a Fulbright Scholar-in-Residence.
Kobayashi is the eighth Fulbright Scholar to visit North Central College, and it is a prestigious posting for both him and the College. Each year, the U.S. Bureau of Educational and Cultural Affairs awards approximately 900 grants for Fulbright scholarships out of a pool of thousands of applicants from 155 countries around the world.
"Professor Kobayashi has been the ideal Fulbright Scholar-in-Residence," said Jack Shindler, professor of English and director of North Central's Center for Global Education. "He has not only been teaching a class each term but also consulting with colleagues, sharing resources and suggesting ideas for events. He is doing guest lectures, reaching out to community officials and sharing his immense experience and expertise in the field of global environmental studies."
Kobayashi is teaching courses in global environmental protection. He shares his more than 37 years of experience in the Ministry of Environment with both students and his colleagues in the faculty.
Kobayashi is also conducting research into global environmental policies and revitalization of pollution-damaged areas, such as the borough of Donora in western Pennsylvania. Donora was the site of a tragic air inversion in 1948 that claimed the lives of 20 people and caused illness in 7,000 more.
Kobayashi will take what he learns back to Japan, sharing aspects of the College's academic practices as well as American culture with his home universities.
The core of Kobayashi's work at North Central is raising awareness of worldwide environmental issues. "I intend to expand the recognition of students on international circumstances with which the U.S. is deeply associated," Kobayashi said. "I am already impressed with the fact that some of my colleagues have a well-developed knowledge of Japan's pollution issues. I would like to contribute to the improvement of environmental education in the U.S. by sharing concrete examples from Japan."
During a lecture held February 1, Kobayashi discussed his critical contributions to the Kyoto Protocol, a landmark agreement that came out of the United Nations Framework Convention on Climate Change (UNFCCC) in Japan in 1997.
"I focused on a mutually supportive relationship between domestic efforts and international agreements," Kobayashi said. "We need good international (environmental) rules for the sake of our domestic success."
Kobayashi's only recently began teaching college courses after completing his master's degree in civil engineering in 2010, and a Ph.D. in civil engineering in 2013. Kobayashi considers himself retired from government service, but has found a way to continue his life's work by teaching.
"I believe that students are to be well-informed of the difficulties that society actually faces," he said. "This facilitates their playing an effective role after entering into the 'real world.' In this context, I believe all retired people with rich experience should be teaching in universities or colleges."
Cultural immersion is part of Kobayashi's research while he is in the United States and teaching at North Central. Fortunately, he has found his current environment very conducive to his work and his worldview.
"I think that the city of Naperville is one of the most advanced localities in the world in terms of environmental performance," he said. "Protection of forests and smart electricity supply grids are, specifically, the activities that the city should be most proud of."