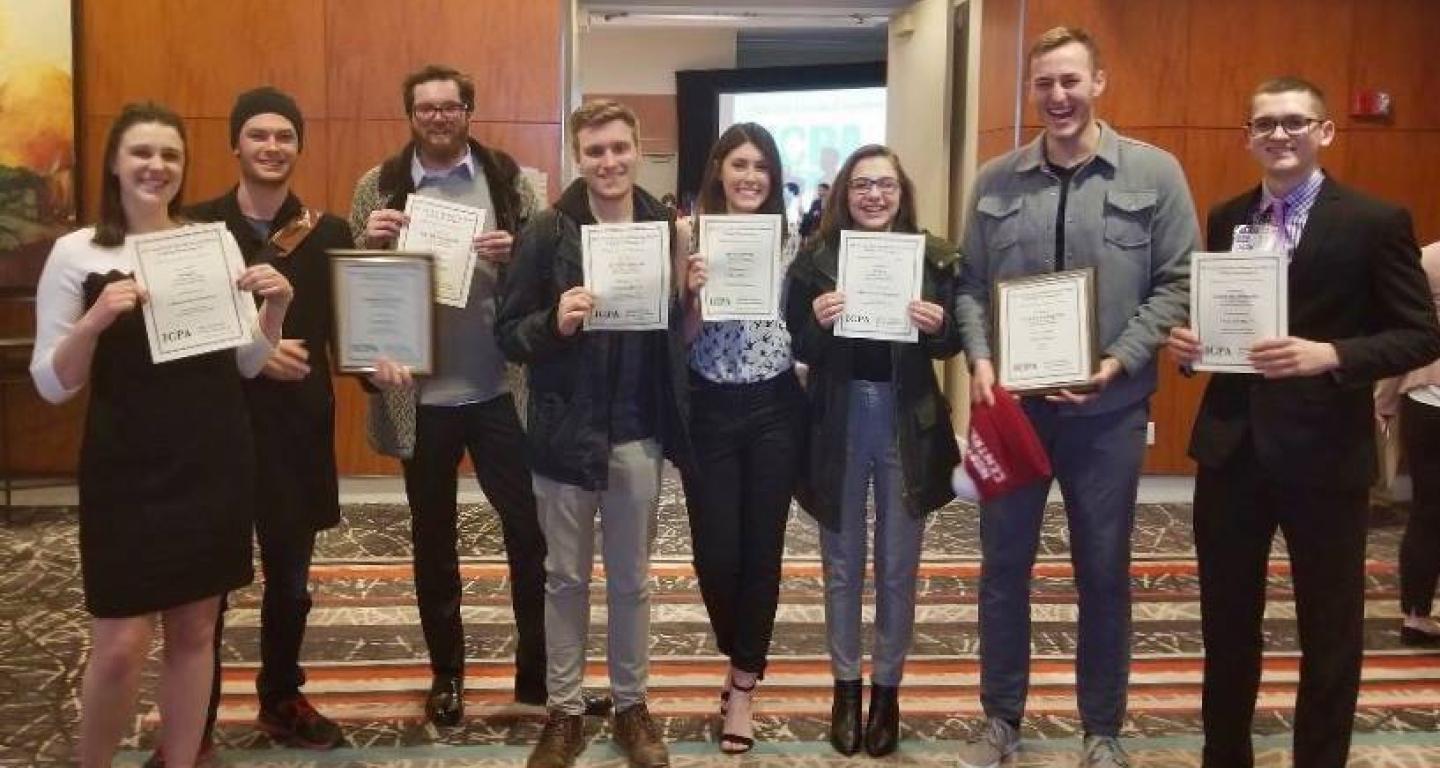 Feature News
Students receive awards at Illinois College Press Association Convention
Mar 15, 2018
North Central's student journalists placed in six different award categories at the Illinois College Press Convention (ICPA), including two first place finishes in the feature photo and podcast categories. The convention features dozens of schools and more than a thousand entries in various categories. Entries were judged by working journalists and professional editors who are members of the Illinois Press Association.
"The ICPA Convention allows students to gauge how well their content stands up against other schools," said Kay O'Donnell, assistant professor of journalism and advisor for The Chronicle, the student news publication. "It can be an eye-opening experience when students see and interact with a large number of journalists for one weekend."
Annika Bushman earned first place for feature photo and Caleb Lundquist earned first place in the podcast division. Students secured two awards in multimedia reporting, with Peter Medlin and Kathryn Bloch receiving second and third place respectively. Chris Roemeling earned second place in the sports feature story category, and Kyle Novak won third place for best front-page layout.
These awards come after The Chronicle made a shift last year to focus on online content with their website NCClinked, reducing the number of print issues to once a term.
"Students, for the most part, are responding to changes to the journalism curriculum where they explore digital media in a hands-on environment," said O'Donnell. "Students learn valuable lessons in responding in real time to news situations."
Lundquist is an English major with a marketing minor, and serves as the multimedia editor for The Chronicle. His award-winning podcast was a Cardinal Chat, where he hosted a discussion between members of the College Democrats and College Republicans.
"The theme of the podcast, and my goal in recording it, was to demonstrate how two opposing ideologies can still discuss politics in a civil, productive manner," said Lundquist. "My guests and I highlighted this truth with hopes that it would illuminate listeners to the idea that, though we are growing ever more apart, we can still work together."
Lundquist's efforts received first in the open division, meaning that his podcast was judged against schools such as Loyola University Chicago and Northwestern University.
"I considered writing an article, but with the general view of politics being the theme it seemed unfitting," said Lundquist. "In hindsight, there was no better way to do it. A recorded discussion with clear voices and opinions presented in respectful discourse--what better way is there to discuss politics?"
Students also had the opportunity to attend presentations and network with industry professionals and members of other college publications.
"There were several talks given by journalists that were insightful and motivational; never has my passion for journalism been so fueled," said Lundquist.
The Chronicle was first published in print in 1873.