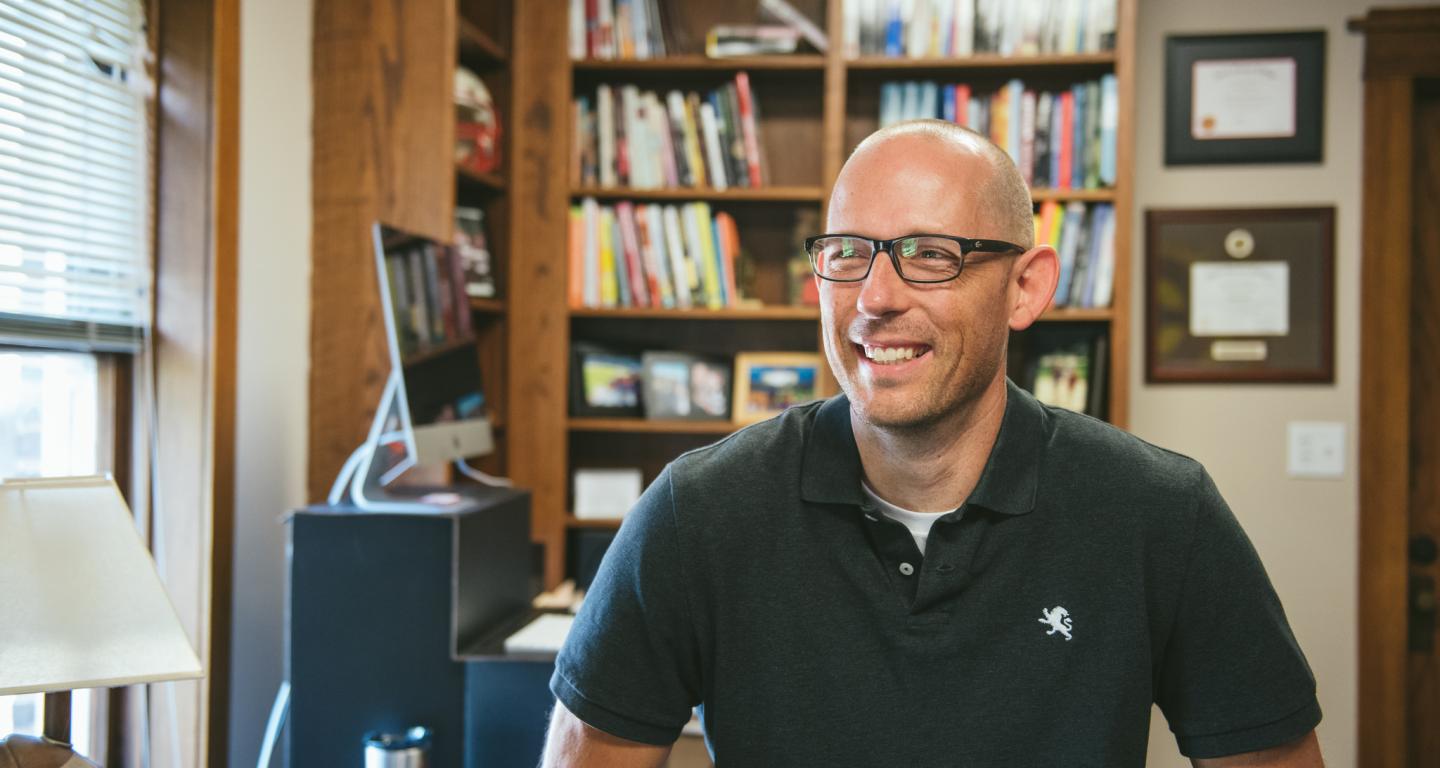 North Central News
North Central's social entrepreneurship course recognized as top in Illinois
Aug 27, 2018
Making the world a better place can seem like a broad and idealistic goal, but not for students in North Central College's Social Impact Entrepreneurship course. They've accepted the challenge to study a specific social issue and propose a creative, sustainable business solution.
"We wanted to create a class where the ultimate goal was to develop a new venture idea and actually do it, not just use it as an exercise," said Jeremy Gudauskas '99/M '11, assistant vice president, co-director of the Center for Social Impact and instructor of the course. "Many students went into the class thinking it would be more theoretical but were inspired along the way, realizing, 'Wait, I might actually want to do this.'"
The experiential nature of the course helped it receive recognition from Future Founders, a nonprofit organization based in Chicago that promotes young entrepreneurship in Illinois. The group recently named Social Impact Entrepreneurship the "Entrepreneurship Course of the Year." Gudauskas accepted the honor during the annual EntrepreneurshipU Awards, where the College participated in a competitive field featuring the University of Chicago, Northwestern University and Loyola University Chicago, among others.
"It was an honor to receive the award," said Gudauskas. "It's good company to compete against and a great network of educators to be with."
The course gave students practical experience with pitching and launching a business, combining theory and practice to show what it takes to be a socially-minded entrepreneur.
At the end of the class, rather than giving a 30-minute presentation or taking a test, students condensed their ideas into a three-minute pitch, simulating a meeting with a prospective client or partner.
Students were required to submit their ideas to the Changemaker Challenge, a pitch competition for North Central students that awards funding to social innovation ideas. Three ideas from the class made it to the finals of the competition, and two received funding to launch their ventures: SureGrow Gardens, an indoor farming business, and Point to Point, a harm reduction program for injection drug users.
As part of the course, students attended Chicago Ideas Week in October, where over 30,000 yearly attendees gather to share innovative, transformative research and concepts. Students attended a panel featuring social innovators under 35 years old that were redefining young entrepreneurship.
Gudauskas also invited guest speakers to meet with the class, which included founders of advocacy groups, nonprofits and for-profits as well as other social entrepreneurs, providing students with a wide variety of personal connections to leaders in different industries.
"Students need an example in this line of work," said Gudauskas. "Seeing creative solutions to problems can help put them in a social mindset."
The idea of running a socially conscious business is a new movement for entrepreneurs, and social entrepreneurship has established itself in the last decade as a new way of thinking about business.
"When students start with a social mission, it can help them drive forward to success. It's important that students learn that they can do good and run a successful business; it's not one or the other," said Gudauskas.