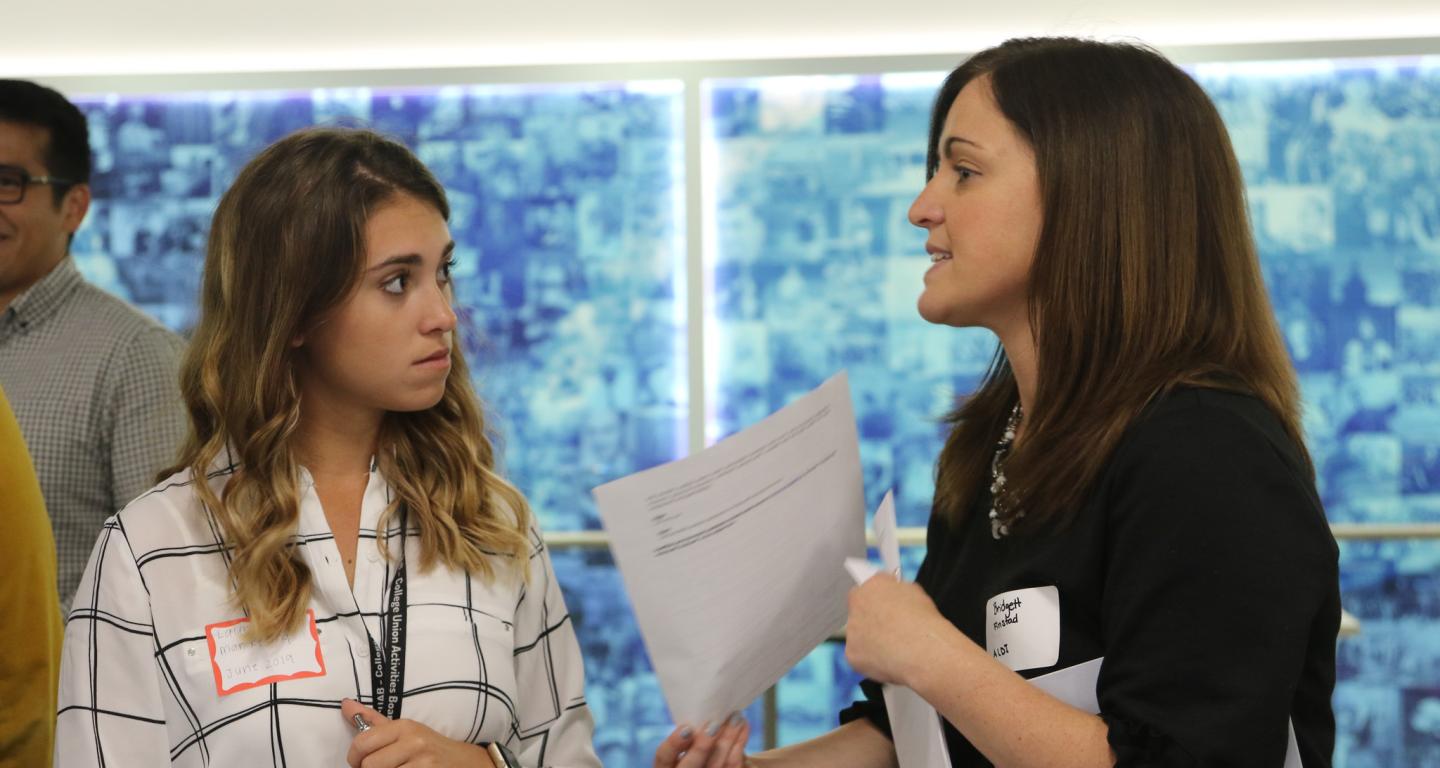 North Central News
Employer 'meet and greet' brings opportunities straight to North Central students
Oct 16, 2018
The North Central College Office of Career Development sponsored an Employer Meet and Greet event, attracting 158 students who met with representatives from 26 potential employers to network and explore career opportunities.
The event was the first of its kind held specifically for North Central students on the College campus. Prominent employers in many different areas attended, including HARTING, Inc. of North America and Omron Management Center of America, both of whom have given naming gifts to labs in the Dr. Myron Wentz Science Center. Also present were insurance giants Allstate and Travelers as well as professional sports teams like the Chicago Dogs baseball club and the Chicago Fire of Major League Soccer.
Director of Career Development Haydee Nuñez and Assistant Director of Career Development Julianne O'Brien created the event, working with employers as well as training interested students for the experience.
"Our office hosted a number of workshops in preparation for this event including 'Building Your Elevator Pitch,' interview preparation and a preparation session for students specific to the meet and greet," said O'Brien. "Students had the opportunity to learn about different organizations across multiple industries and fields, connect with employer representatives, build their networks and explore internship and full-time opportunities.
"We continuously offer résumé labs and one-on-one appointments to further prepare students. Day to day, we continue to stress the importance to students of attending these type of events and networking."
The meet and greet is part of a series of events the Office of Career Development is sponsoring this fall to aid students in their preparation for life after college. Staff members held an interview day for more than 20 employers to interview North Central students for more than 50 jobs and internships as well as an internship information session, and are organizing a seminar on preparing for the workplace (Oct. 30).
Engaging with potential employers is a critical skill for students to learn, and Nuñez and O'Brien work to ensure that students are well-versed in the practice. "No matter what stage students are in, it's never too early to start exploring and making connections and it's important to prioritize this," O'Brien said.
The office's continuing commitment to career success for students doesn't end at graduation. Nuñez and O'Brien work to keep in touch with recent alumni and support them in job and internship searches. The College's First Destination Report showed that 92 percent of graduates of the Class of 2017 are either employed (full- or part-time), attending graduate school, participating in graduate volunteer or service activities, or serving in the military. The figure comes from the office's destination survey, which received a 97 percent response rate. This indicates a very positive level of alumni engagement according to O'Brien.
As for advice on what to do when meeting with potential employers, O'Brien likes to emphasize the basics to all current students and alumni.
"Come prepared and make as many introductions as you can, and take advantage of the opportunity to learn and explore. Practice your elevator pitch, smile, maintain good eye contact and approach an employer with a firm handshake!"
For more information about the Office of Career Development and its services, visit their web page. Get updates and reminders on upcoming career events by following facebook.com/NCCareer/ and Twitter @NCC_CareerDev.