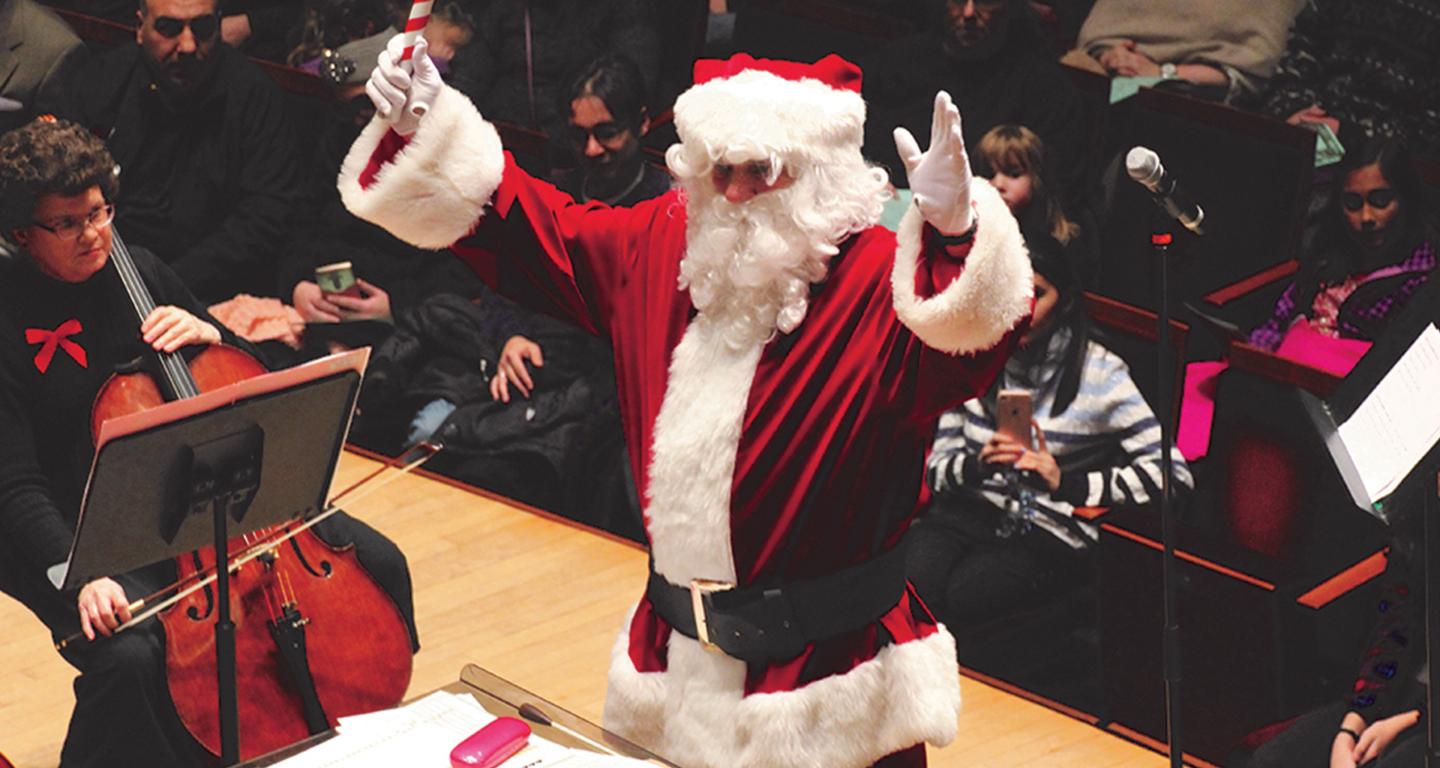 North Central News
Enjoy the holidays with North Central's range of holiday shows
Nov 30, 2018
Celebrate the holiday spirit this December with a lineup of holiday performances presented by North Central College. Featuring classics performed by orchestras and jazz ensembles as well as memorable music from "Peanuts" and holiday staples such as "The Nutcracker," there is something for everyone.
Here are highlights of those performances:
On Saturday, Dec. 1, North Central begins holidays with Junie B. Jones in "Jingle Bells, Batman Smells" at 2 and 4 p.m. in Pfeiffer Hall, 310 E. Benton Ave. Junie B. was ready to enjoy her first grade class' holiday party until she drew the name of her arch nemesis, Tattletale May, for Secret Santa. This family friendly show is great holiday fun and teaches a valuable lesson about the spirit of giving. Tickets are $12/adults and $6/children.
Also on Saturday, Dec. 1, Grammy nominated pianist, composer and arranger David Benoit will perform a tribute to Charlie Brown with special guest Sara Gazarek at 8 p.m. in the Wentz Concert Hall at the Fine Arts Center, 171 E. Chicago Ave. One of the founding fathers of contemporary jazz, Benoit received a Lifetime Achievement Award from the American Smooth Jazz Awards in 2010. Tickets are $55/floor and $40/upper balcony.
From Friday to Sunday, Dec. 7-9, North Central College hosts DanceWest Ballet for "The Nutcracker" at 7 p.m. Dec. 7, 1 p.m. and 5 p.m. Dec. 8, and 1 p.m. Dec. 9 in Pfeiffer Hall. Its 25th performance, DanceWest continues this annual holiday tradition of one of the world's most beautiful and engaging ballets. Tickets are $36/adults and $32/students and seniors.
On Friday, Dec. 7, the College presents its sixth annual Jazz Faculty Christmas Concert at 8 p.m. in Wentz Concert Hall at the Fine Arts Center. This popular concert will feature a collection of well-known holiday favorites with a jazz twist performed by North Central's acclaimed jazz faculty, including vocalist Janice Borla, Mitch Paliga on saxophone, Art Davis on trumpet, Tim Coffman on trombone, Brad Stirtz on vibraphone, Chris White on piano, Kelly Sill on bass and Jack Mouse on drums. Tickets are $25/adults and $20/students and seniors.
On Saturday and Sunday, Dec. 8-9, the Naperville Chorus will perform "Another Swingin' Christmas with the Pete Ellman Big Band" at 7:30 p.m. Dec. 8 and 2 p.m. Dec. 9 in the Wentz Concert Hall at the Fine Arts Center. Attendees are invited to join in the spirit of giving by bringing an unwrapped toy as part of a partnership with Toys for Tots. Tickets are $25/adults and $20/students and seniors.
On Sunday, Dec. 16, the DuPage Symphony Orchestra performs their popular "Joy to the Holidays" concert at 2 p.m. and 4 p.m in the Wentz Concert Hall at the Fine Arts Center. Join the spirit of the season with favorite holiday carols and popular songs in fresh arrangements performed by a full symphony orchestra. Tickets are $15/adults, $12/seniors and $8 students.
For more details on the performances or the rest of the fine arts season, visit northcentralcollege.edu/performance. For tickets, call the North Central College Box Office at 630-637-SHOW (7469), or visit northcentralcollege.edu/showtix.