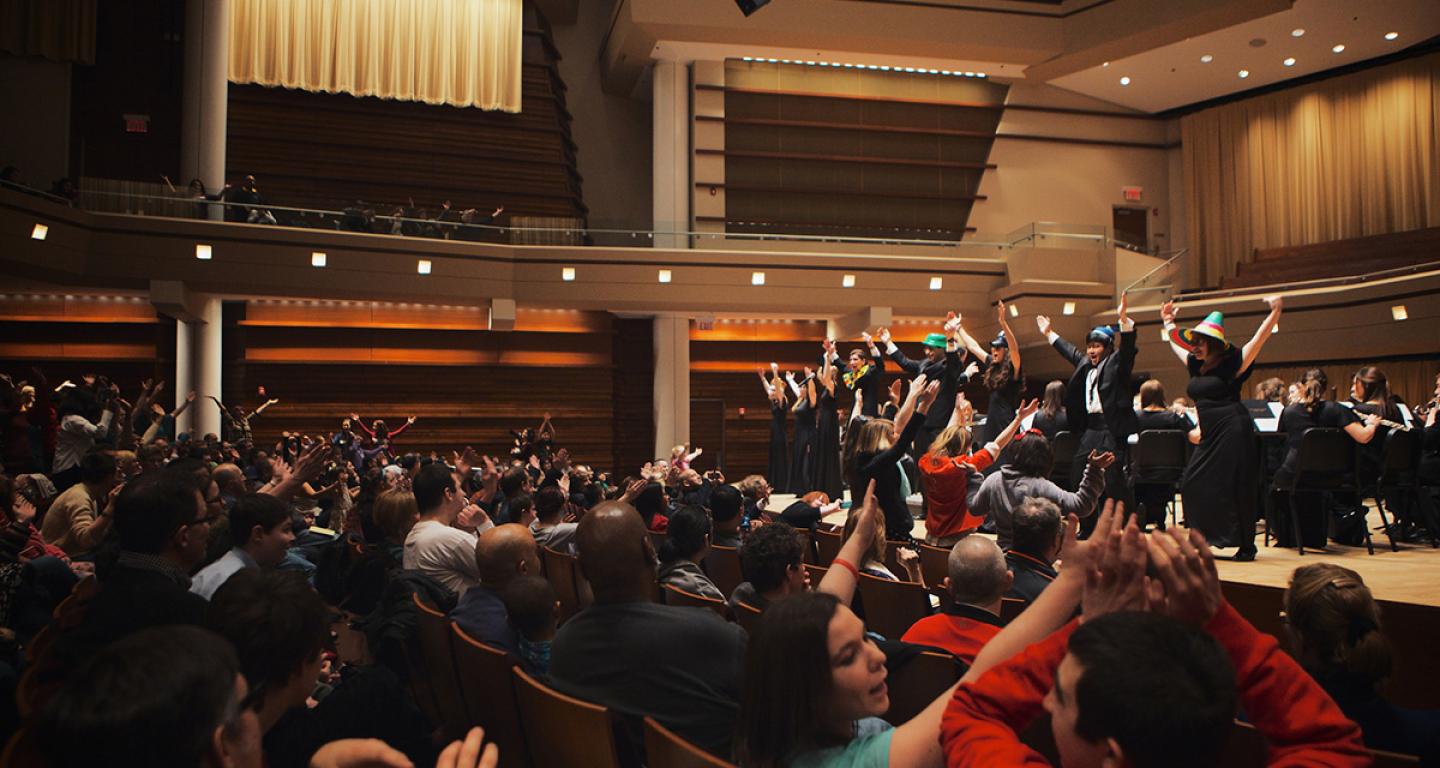 North Central News
Chords for Kids invites children with special needs to enjoy themselves at unique concert
Feb 26, 2019
This weekend's Chords for Kids concert at North Central College is a one-of-a-kind chance for children with special needs to just be themselves and enjoy a live music show. The free concert is performed by the College's concert winds ensemble and features a wide variety of music, from classical to popular Disney hits, as well as interactive songs like "YMCA" and the theme from "SpongeBob SquarePants."
"Our motto is 'Wigglers are welcome,'" said show director Lawrence Van Oyen, North Central's professor of music and director of bands. "The purpose of the performance is to offer families a night out at a concert without the usual social restraints."
The concert, now in its 13th year, has become an annual tradition for many local families.
"We feel accepted without fearing the looks of neurotypical families as our special needs families act out, well, their own special needs mannerisms," said Steven Yee, who started attending the concert in 2010 and has helped organize it since 2014. "It's a welcoming, fun event that we never would have attended without our special needs son."
For North Central student-musicians, this is one of their favorite performances of the year. Every year, students bring new ideas, songs and dances to make each show unique.
"The concert really empowers kids to experience music," said Emily Clark '19, a music education major and veteran performer at Chords for Kids. "They don't have to sit still and be quiet. They can sing, they can dance, they can react to the music. I think that's how music was meant to be listened to and experienced."
Despite the concert being designed for children with special needs, the event is open to anyone, and Yee has found it to be a great learning experience for others.
"On a few occasions we've invited both sets of grandparents, my sister in-law and brother in-law with their daughters and a friend and her family," said Yee. "They all really enjoyed the concerts and they obtained a little more empathy for families like ours with special needs family members."
The show doesn't stop after the last song either; children are encouraged to get on stage and "conduct" the band. Kid-friendly snacks will be available in the lobby after the performance, offering children and families the chance to connect with friends.
"I wish there were more special needs events for special needs families," said Yee. "We feel part of a somewhat hidden community within a community. It's always bittersweet saying our goodbyes to everyone as we wait until next year's event."
The concert is Saturday, March 2, at 7 p.m. in North Central's Wentz Concert Hall and Fine Arts Center, 171 E. Chicago Ave. Wheelchair seating is available. Admission is free, but tickets are required. Call the North Central College Box Office at 630-637-SHOW (7469) or visit northcentralcollege.edu/showtix.