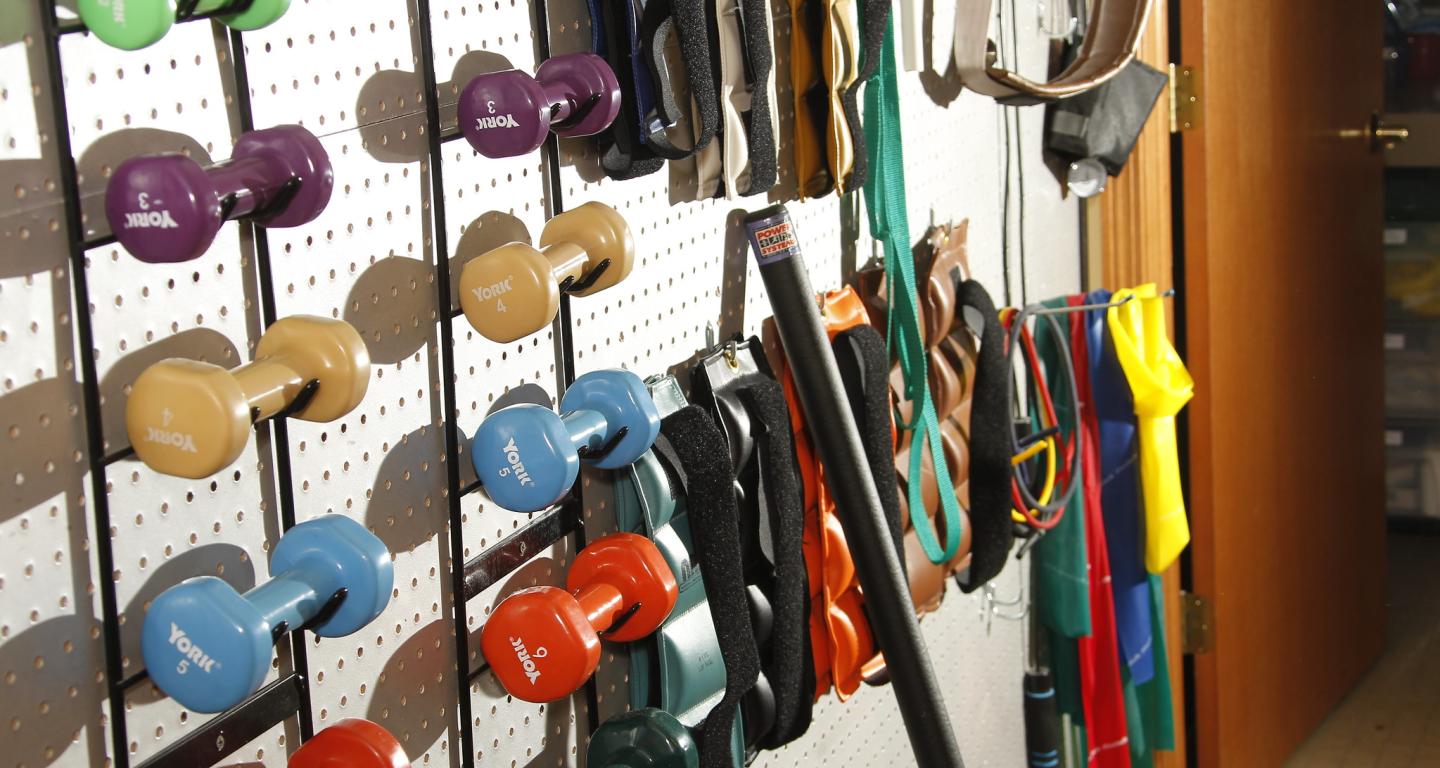 How to Become a Physical Therapist
Reviewed by Jacob Imm
---
May 12, 2021
How to Become a Physical Therapist
Does the human body fascinate you? Are you interested in helping diverse groups of people overcome mobility, strength, and pain-related issues? If so, a career in physical therapy may be right for you.
Physical therapists (PTs) complete extensive education, training, and certification in order to provide the best possible care for their patients. As a PT, you'll tend to a number of patient issues, from injuries to chronic medical conditions to disabilities. You'll help patients overcome their struggles and improve their quality of life. Most of all, you'll give them hope.
Becoming a licensed physical therapist requires hard work and dedication, but by understanding each step of the process, you'll be prepared for the journey ahead.
To that end, let's take a step-by-step look at how to become a physical therapist.
Step 1: Complete Your Bachelor's Degree
Physical therapy programs require a bachelor's degree from an accredited four-year school. Some institutions—like North Central College—offer a specific degree program with a pre-physical therapy major.
You  will have to use your best judgement when selecting the right undergraduate degree for physical therapy at the school of their choice When it comes to what degree will best prepare you to be a physical therapist, some of the most common majors include:
Psychology – Many doctor of physical therapy (DPT) programs require applicants to complete an introductory psychology course. Pursuing an undergraduate degree in this major can help prepare PTs for these prerequisites and provide useful knowledge and skills related to the field. Physical therapy can involve helping patients with psychological challenges, especially for those with trauma-related injuries.
Health science – Health science is a diverse major that covers a wide variety of medical, physical, and healthcare-related subjects. A substantial number of DPT applicants earn their undergraduate degree in health science due to the overlap of courses. Health science majors will usually complete the prerequisites for most DPT programs, including chemistry, biology, and anatomy.
Biology – Biology is the study of all living things—making it a popular undergraduate major for future physical therapists. Around 10% of DPT applicants pursue a bachelor's degree in biology. Subjects covered in this major that may work as DPT degree prerequisites include biochemistry, genetics, and biomedical research.
Exercise science – Approximately 30% of DPT applicants complete their bachelor's degree in exercise science. This major focuses mainly on the ways in which movement affects the human body. Topics covered by this program may include motor development, physical education, and physiology.  
Kinesiology – Kinesiology is the study of movement. Roughly 20% of DPT applicants come from a background in kinesiology. This major takes a broader approach to physical activity and motor functions than exercise or health science programs. Common subjects required for this major include exercise physiology, biomechanics, anatomy, and motor functions.
Step 2: Enroll in a Doctor of Physical Therapy Program
Prior to 2017, the educational requirements for physical therapists stopped at a master's degree. Now, PTs must earn their doctorate degree in the field in order to gain licensure and begin practicing. So if you're asking, "Are physical therapists doctors?" the answer is yes. This requirement is the one of the major differences between a career in occupational vs physical therapy.
Most doctor of physical therapy programs can be completed within 2.5 to three years. Prerequisites for these programs will often include:
Biology – DPT applicants need to have a basic understanding of living creatures—particularly humans—on a cellular level. Knowledge of the structure and behavior of muscle, tissue, and bones is crucial to providing proper treatment as a physical therapist.
Anatomy and physiology – DPT applicants are also required to have a background in anatomy and physiology. These prerequisites provide specific knowledge about the human body on a wider scale than biology courses can. It's important that applicants complete their anatomy and physiology requirements in order to keep up with the advanced terminology covered in DPT classes.
Chemistry – At minimum, an introductory chemistry course will be required for entrance to most DPT degree programs. This prerequisite ensures that DPT students can perform the equations and formulas necessary for advanced science courses.
Statistics – Finally, a statistics prerequisite may be required by some DPT programs. Statistics play an important role in the healthcare field, and the skills taught in this course can help students better understand medical research and evidence-based practices.
Doctor of Physical Therapy Coursework
Once you've completed your bachelor's degree, it's time to focus on DPT coursework. During your time as a doctor of physical therapy, you will take advanced classes on topics such as:
Chronic conditions – Physical therapists must learn the specific diagnostics, symptoms, and treatment of chronic physical conditions, such as multiple sclerosis, arthritis, and spina bifida.
Injury treatment – In addition to chronic conditions, PTs will also learn how to treat injuries to the muscles, bones, and ligaments. DPT programs focus on exercise, massage, and stretching techniques to treat injury, rather than surgical or pharmacological methods.
Exercise Physiology – DPT students also learn the role that exercise plays in physical therapy treatment. An exercise physiology course will cover all the ways movement and strength training affect the human body, promote healing, and reduce pain.
Behavioral Science – Behavioral science is a specific course under the sociology umbrella. DPT students will learn important information regarding human behavior, which can increase the success of many treatment plans. Physical therapists must be able to make their patients feel comfortable, encouraged, and understood in order to build an effective relationship.
Step 3: Choose a Specialty
Many aspiring physical therapists go on to gain a specialization in their field. The physical therapy specialty you select will influence your graduate courses, certifications, and clinical experience. Popular specializations for PTs include:
Cardiovascular – A physical therapist who specializes in cardiovascular treatment may work with patients recovering from heart attack or those with chronic heart conditions. Physical activity, postural drainage, and breathing exercises are common treatment methods for cardiovascular PT patients.
Geriatric – Geriatric PTs work with elderly patients who suffer from injury, reduced range of motion, and chronic conditions. Treatment techniques for geriatric PT patients may include low-impact exercise, walking practice, and pain reduction through massage, heat, and ice therapy.
Pediatric – Pediatric physical therapists work with children and babies—often those who suffer from birth defects, developmental delays, and chronic conditions. Treatment techniques used by pediatric PTs may include walking and balance exercises, strength-building activities, and organized play.
Neurology – Physical therapists who specialize in neurology treat a variety of patients, including those recovering from strokes, traumatic brain injuries, and chronic conditions like Parkinson's and Guillain Barré Syndrome. Neurological PTs use treatment techniques such as core stabilization, motor function practice, and postural realignment.
Orthopaedics – Orthopaedic PTs focus on patients with musculoskeletal injuries and conditions, such as arthritis, scoliosis, and muscular dystrophy. Common treatment techniques used by orthopaedic PTs may include electric stimulation, hydrotherapy, and massage.
Sports – A sports PT is trained to work with athletes, usually focusing on rehabilitation from acute or chronic injury. Techniques used by sports physical therapists often include soft tissue mobilization, muscle strengthening, and stretching.
Women's health – Physical therapists who specialize in women's health typically treat pregnant, post-partum, and post-surgery patients. A women's health PT will learn specific techniques and treatment methods, such as pelvic floor strengthening and bladder control exercises.
Step 4: Complete Clinical Residency
During your DPT program, or following graduation, you'll need to complete a certain number of clinical residency hours. These requirements will vary between programs and states, but a minimum of one year of clinical experience is generally preferred in the PT field.
Clinical residency allows you to work directly with patients, usually under the supervision of an actively licensed physical therapist. Private practices and hospitals are the most common settings for PT residencies, internships, and fellowships.
With this critical experience under your belt, you'll be better prepared to take your licensing exam and begin practicing independently.
Step 5: Get Licensed in Your State
Each state has its own licensing procedures for physical therapists, but every DPT graduate must complete the National Physical Therapy Exam (NPTE). The NPTE is an online test that covers the practical skills and medical knowledge you need to provide quality care to patients.
This exam is broken down into six main categories:
Physical Therapy Examination
Foundation for Evaluation, Diagnosis, and Prognosis
Interventions
Equipment and Devices
Safety and Protection, Professional Responsibilities, and Research
Domains of Practice
Start Your Physical Therapy Journey
Whether you're looking for an undergraduate PT program or a doctor of physical therapy program, you need to find the right school to prepare you for success. Look for a school like North Central College.
North Central's physical therapy program covers the full range of  essential skills and knowledge related to healthcare. From in-depth science courses to clinical practice opportunities, graduates are thoroughly prepared for a successful career in physical therapy. If you're wondering, "What degree does a physical therapist need?", the faculty at North Central can help guide you through every step of the process.
If you're interested in North Central College's programs, you can request to find more information on their program web page. When you're ready to take the first step toward a career in physical therapy, you can start your online college application right here.
Jacob Imm is a communications specialist in the North Central College Office of Marketing and Communications. He has 10 years of collegiate communications experience and has worked with hundreds of college students. He has a bachelor's degree from the University of Notre Dame and a master's degree from Northern Illinois University.
Sources:
Doctor of Physical Therapy. | North Central College. https://www.northcentralcollege.edu/program/doctor-physical-therapy.  Published 2019. Accessed March 9, 2021.
Becoming a Physical Therapist. APTA. https://www.apta.org/your-career/careers-in-physical-therapy/becoming-a-pt. Published 2021. Accessed March 9, 2021. 
 5 Common Undergrad Degrees for Doctor of Physical Therapy Applicants. Online Physical Therapy Programs. https://onlinephysicaltherapyprograms.com/common-undergraduate-degrees/. Published July 20, 2020. Accessed March 8, 2021. 
Wickline V. How to Become a Physical Therapist: Steps to Take from High School. CollegeVine. https://blog.collegevine.com/how-to-become-a-physical-therapist-steps-to-take-from-high-school/. Published November 1, 2020. Accessed March 9, 2021. 
Physical Therapy Certification. All Allied Health Schools. https://www.allalliedhealthschools.com/physical-therapy/physical-therapy-certification/. Published March 2, 2021. Accessed March 9, 2021. 
Stockton T. A Guide to Cardiopulmonary Physical Therapy. Life Fitness Physical Therapy. https://lifefitnesspt.com/guide-cardiopulmonary-physical-therapy/. Published December 26, 2017. Accessed April 5, 2021. 
4 Types of Physical Therapy for Seniors: ASC Blog. ASC. https://www.asccare.com/4-types-physical-therapy-seniors/. Published August 10, 2018. Accessed April 5, 2021. 
Neurological Physical Therapy. Advanced Physical Therapy. https://www.aptclinics.com/services/neurological-physical-therapy/. Published May 15, 2018. Accessed April 5, 2021. 
Rojas Y. How Can Physical Therapy Improve Your Sports Performance? Endeavor Physical Therapy. https://www.endeavorrehab.com/2017/12/08/can-physical-therapy-improve-sports-performance/. Published January 19, 2018. Accessed April 5, 2021. 
What is a Pediatric Physical Therapist? Pathways.org. https://pathways.org/what-is-a-pediatric-physical-therapist/. Published March 29, 2021. Accessed April 5, 2021.