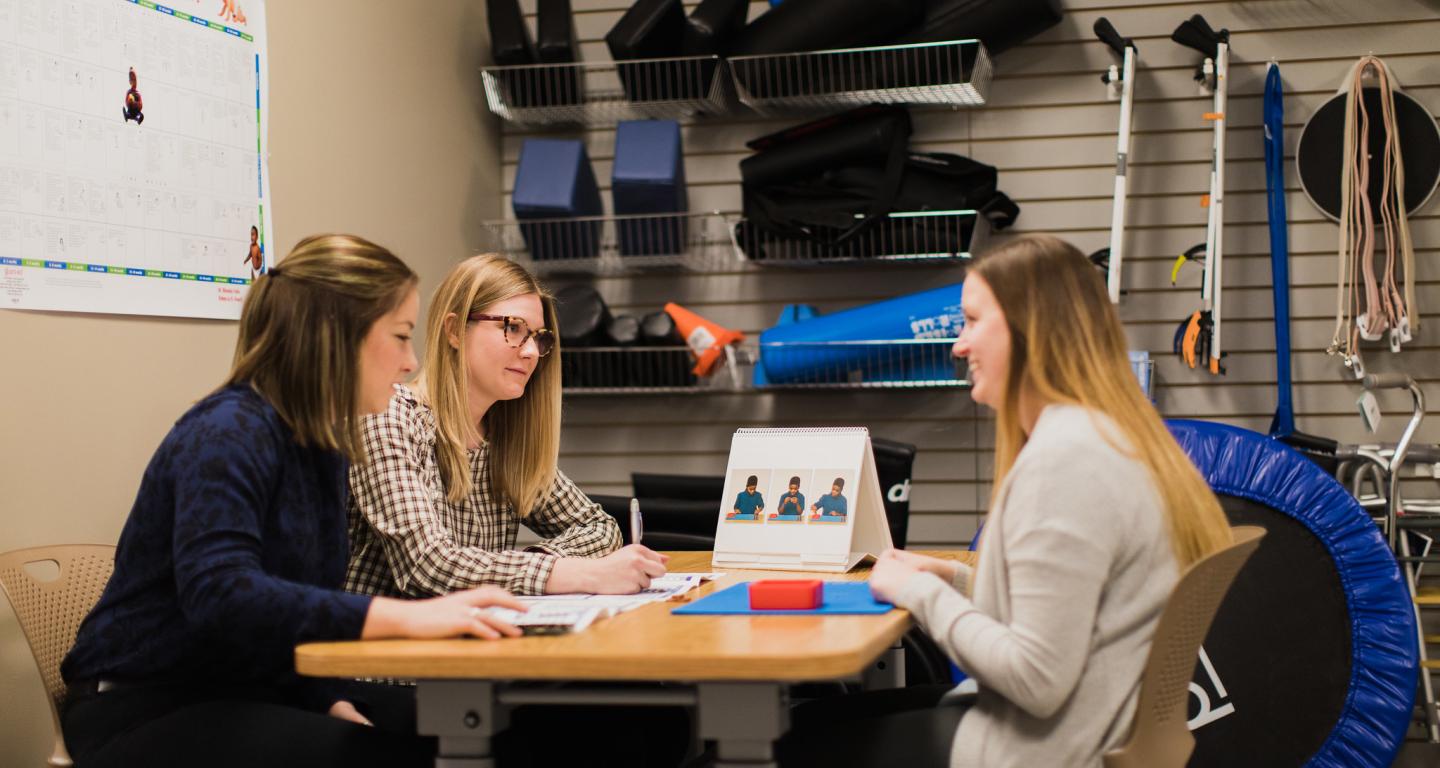 Occupational vs. Physical Therapy
Reviewed by Jacob Imm
---
May 18, 2021
What is the Difference Between Occupational and Physical Therapy?
Physical therapists and occupational therapists may seem like two sides of the same coin, but each profession comes with a unique perspective to healthcare. Physical therapists (PTs) focus on a targeted approach of healing and strengthening a specific part of a patient's body. Occupational therapists (OTs), on the other hand, embody a more generalized, holistic approach to patient rehabilitation with a key focus on training the body to perform everyday tasks.
As such, PTs and OTs have different training, educational requirements, and responsibilities.
Depending on the type of patients you wish to care for and the specific forms of therapy you're interested in, a career in PT or OT may be right for you. To that end, read on for everything you need to know about occupational vs physical therapy.
What is a Physical Therapist?
A physical therapist is a trained healthcare professional who specializes in the treatment, diagnosis, and advancement of bodily movement. PTs typically work with patients who are injured or suffer from chronic pain due to medical conditions.
Physical therapists tend to work toward three main goals when treating patients:
Increase range of motion – Many patients seek the help of a physical therapist when their range of motion has been limited. Whether the root of the problem is injury, disease, or other physical ailments, physical therapy can help improve a patient's range of motion. This is typically done through targeted exercises and stretching techniques.
Reduce pain – Through heat, massage, and stretching practices, PTs aim to reduce physical pain in their patients. Reducing pain is a crucial step in the process of building muscle strength, increasing movement, and healing injuries.
Prevent further damage, disability, and surgery – Patients often enter physical therapy due to injury or chronic conditions. Through various treatment techniques, physical therapists attempt to halt damage to the body and prevent permanent physical impairment. These methods are also designed to prevent the need for surgery and medication.
What is an Occupational Therapist?
Occupational therapists place a greater focus on their patients' physical and mental independence. OTs treat a wide variety of people who struggle to perform daily tasks on their own. From cognitive ability to physical function—and everything in between—an OT will create a treatment plan and facilitate the healing process every step of the way.
Occupational therapists also have three main goals when treating patients, which differ from those of a physical therapist:
Make daily tasks easier – The number one goal of occupational therapy is learning (or re-learning) how to perform everyday tasks. These activities may include eating with utensils, getting dressed, and writing with a pen or pencil. Techniques used to teach these skills may include light exercise, functional mobility tools, and repeated practice of each activity.
Increase independence – Increasing independence is an essential part of occupational therapy. Although some people may require a permanent caregiver, OTs strive to increase their patient's ability to live and work on their own. Techniques an OT may use to improve a patient's independence include health screenings, cognitive exercises, and using assistive tools and devices.
Educate caregivers – For patients with severe disabilities, OTs can help educate their caregivers on proper treatment at home. This may involve making the patient's home more accessible, teaching exercises to caregivers, and incorporating therapy tools into the patient's daily life.
PT vs OT Education, Training, and Licensure
Physical therapists and occupational therapists may perform similar jobs, but each position has substantially different requirements when it comes to education, training, and licensure. These requirements must be fulfilled before a PT or OT can begin practicing.
In regards to how to become a physical therapist, the following steps must be taken in this order:
Earn a bachelor's degree – Completion of a four-year undergraduate degree for physical therapy is the first step toward becoming a physical therapist. Future PTs can major in pre-physical therapy or a related field like biology, health science, or kinesiology.
Complete a DPT program – Completion of a three-year doctor of physical therapy (DPT) program is the next step in this process. (So if you were wondering, "Are physical therapists doctors?" the answer is yes!). A DPT program will cover the unique knowledge and practical skills needed to work in this field, including medical terminology, treatment of chronic conditions, and advanced anatomy and physiology.
Gain residency experience – Graduates of DPT programs will go on to earn their clinical residency experience. Each state has its own requirements regarding clinical practice hours, but most PTs will need some level of clinical experience before they can begin practicing independently.
Pass the NPTE – The final step to becoming a physical therapist is taking the National Physical Therapy Exam (NPTE). Once the exam is completed with a passing grade, a PT will be eligible for a license.
The path to an occupational therapy career looks a bit different. Prospective OTs will need to complete the following steps before they can begin practicing:
Earn an undergraduate degree – Occupational therapists must earn either an associate's or bachelor's degree from an accredited school. Popular undergraduate majors for future OTs include psychology, exercise science, and education.
Complete a master's program – The next step to becoming an OT is completing a master's degree program (or accelerated associate's to master's degree program) in occupational therapy. This two-year program will cover topics like health and wellness literacy, physical and neurological dysfunction theories, and evidence-based practice application.
Pass the OTR – Similar to the NPTE, occupational therapists must pass their own licensing exam: The Occupational Therapy Registered Exam (OTR).
Apply for an OT license – Once the OTR has been passed, prospective OTs must apply for an occupational therapy license in their state. This process requires the submission of transcripts, test scores, and licensure fees. After they receive their license, graduates can begin practicing independently as an occupational therapist.
PT vs. OT Patients
One of the biggest differences between physical and occupational therapists is the type of patients they treat. While there may be some conditions where PTs and OTs overlap in care, a majority of patients are unique to each profession.
Physical therapy patients – Physical therapy patients usually suffer from mild to moderate injuries and strictly physical disabilities. A PT's patients may include children as well as adults and athletes of any age.
Occupational therapy patients – OT patients often suffer from moderate to severe injuries and chronic disabilities–both physical and mental. An occupational therapist may treat a wide variety of patients, including elderly people, survivors of car accidents, or those with cognitive disabilities.
PT vs. OT Responsibilities
The daily responsibilities of an OT vs PT can be quite different. While both types of therapists are trained to help patients with physical limitations, each one will do so through distinctive forms of treatment.
On an average day, an occupational therapist may perform the following techniques:
Hand functions – An OT can help patients improve their grip strength and hand mobility. Occupational hand therapy often teaches patients to eat with utensils, button shirts, or pick up objects.
Walking – Through the help of mobility tools—such as treadmills, walkers, and standing frames—OT patients will learn to walk and stand on their own with greater ease.
Self-care – In addition to grip strength and walking activities, OTs also help patients regain their independence through self-care. This form of treatment can help patients learn vital self-care tasks, such as bathing and feeding themselves.
Cognitive tests – Through activities like speech and reading exercises, an occupational therapist may test patients for cognitive improvement.
Environmental adjustments – An OT may adjust a patient's surroundings in order to facilitate progress. This may include recommending alterations to the patient's home to better fit their physical limitations.
Physical therapists, on the other hand, have a more specific scope of treatment. Duties may include:
Stretching – Stretching exercises are used to loosen muscles, increase mobility, and reduce tension, stiffness, and pain.
Massage – Physical therapists may use massage techniques to stimulate injured muscle or tissue and promote healing. Hot and cold therapy is also used to reduce inflammation and increase blood flow to affected parts of the body.
Physical tests – PTs often test for mobility limits in the limbs, extremities, back and neck. Understanding a patient's current range of motion can help PTs form a proper treatment plan and track progress.
Strength training – Injury can often lead to a loss of muscle mass. Physical therapists can help patients regain their pre-injury muscle strength through physical activity.
Take the Next Step Toward Becoming an OT or PT
When it comes to healthcare education, you need to find a school that offers the right options for you to succeed both as a student and after you graduate. Look for a school like North Central College that offers a number of programs in the medical field, including an undergraduate degree in pre-physical therapy, a doctor of physical therapy degree, and a master of occupational therapy degree.
North Central College is committed to preparing students for a successful therapeutic career path. From a diverse curriculum to internship opportunities and exam preparation, North Central provides all the opportunities you need to get a high-quality education and the professional preparedness you need to excel. Begin your journey to a rewarding future in healthcare by finding out more about North Central College, and when you're ready you can fill out your online college application right here.
Jacob Imm is a communications specialist in the North Central College Office of Marketing and Communications. He has 10 years of collegiate communications experience and has worked with hundreds of college students. He has a bachelor's degree from the University of Notre Dame and a master's degree from Northern Illinois University.
Sources:
The Difference Between Occupational and Physical Therapy. Concentra. https://www.concentra.com/resource-center/articles/the-difference-between-occupational-and-physical-therapy/. Published March 15, 2018. Accessed March 9, 2021. 
Writers S. How to Become an Occupational Therapist in 6 Steps. LearnHowToBecome.org. https://www.learnhowtobecome.org/occupational-therapist/. Published November 12, 2020. Accessed March 9, 2021. 
Seladi-Schulman J. Occupational vs. Physical Therapy: What to Know. Healthline. https://www.healthline.com/health/occupational-therapy-vs-physical-therapy#differences Published March 11, 2020. Accessed March 9, 2021. 
Physical Therapy: Objectives, Methods, And Treatments. The Grand Healthcare. https://thegrandhealthcare.com/physical-therapy-methods-treatments/. Published November 14, 2017. Accessed April 5, 2021. 
Stromsdorfer by S. 7 Best Undergraduate Majors for Occupational Therapy. myotspot.com. https://www.myotspot.com/occupational-therapy-undergraduate-majors/. Published January 12, 2021. Accessed April 5, 2021.