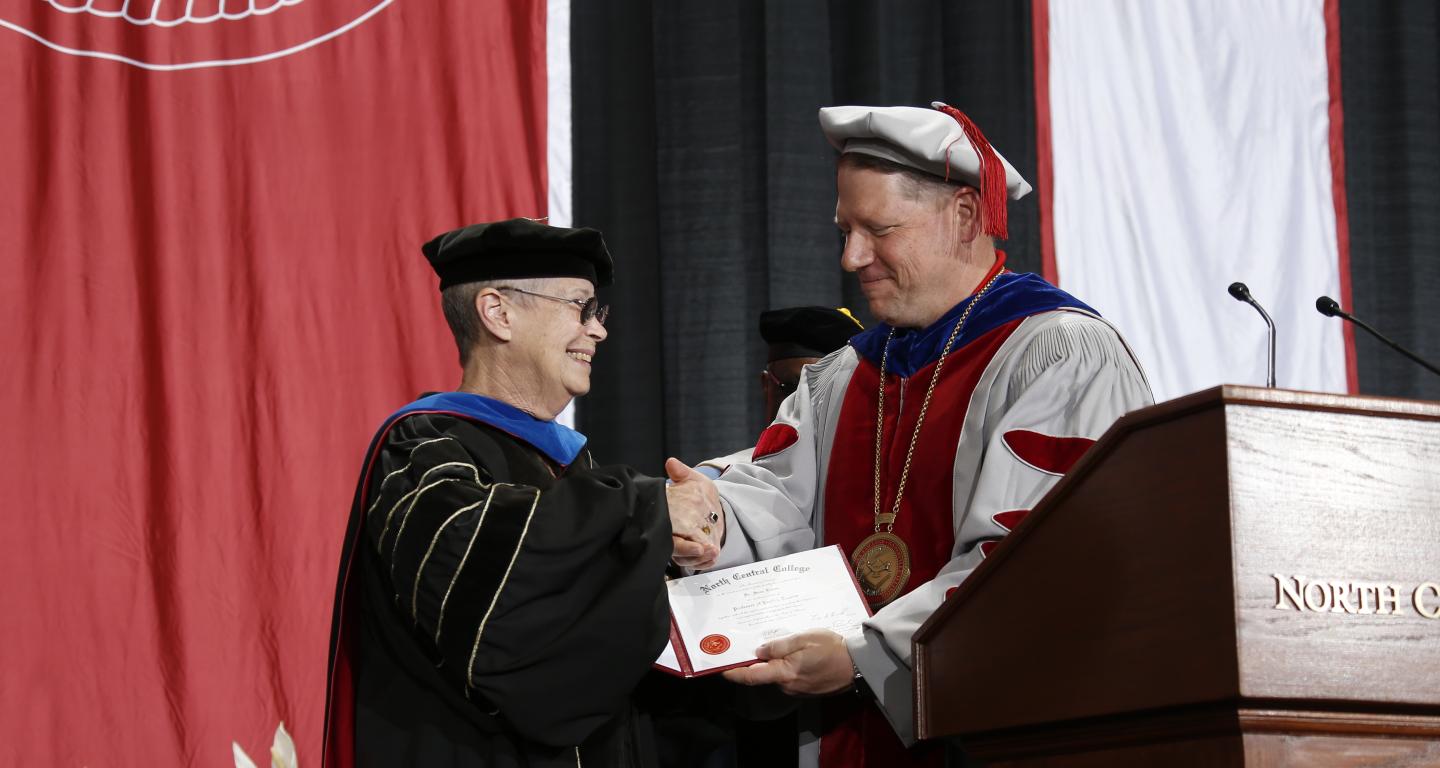 North Central News
Loss of faculty member Sara Eaton
Nov 16, 2016
The campus community is mourning the death of Dr. Sara Eaton, professor of English emerita, who passed Friday, Nov. 11, 2016.
Abiódún "G-P" Gòkè-Pariolá, provost and vice president for academic affairs and professor of English, sent the following message to the campus community on Nov. 11:
"I am saddened to share the news that Dr. Sara Eaton, Professor of English Emerita, and mother of Katie Eaton, Administrative Assistant, passed away this morning.
Sara joined North Central College in 1989 and retired from the College in June 2016. As noted by her colleague Lisa Long, "she was a beloved teacher and advisor who was passionate, rigorous, funny, inspiring, and absolutely devoted to her students." She was twice recognized with the Dissinger Award for Distinguished Teaching and Service. Sara was an outstanding campus leader, serving with distinction on numerous committees, and as the Arts & Letters Division Chair, English Department Chair, and Chair of the Faculty Welfare Committee. She was an active and accomplished scholar with many publications and presentations on Shakespeare and feminist studies. Sara was instrumental in helping the institution move forward during the past quarter century, and she will be deeply missed.
Visitation will be held on Thursday, Nov. 17, from 4 to 8 p.m. at Friedrich-Jones Funeral Home, 44 S. Mill St., Naperville. Funeral services will be held on Friday, Nov. 18, at 10:30 a.m. at Our Saviour's Lutheran Church, 815 S. Washington St., Naperville. Click here to view her obituary.
Sara's family has also created the Dr. Sara J. Eaton Memorial Fund at the College where gifts may be sent.
We extend our deepest sympathy to the Eaton family."