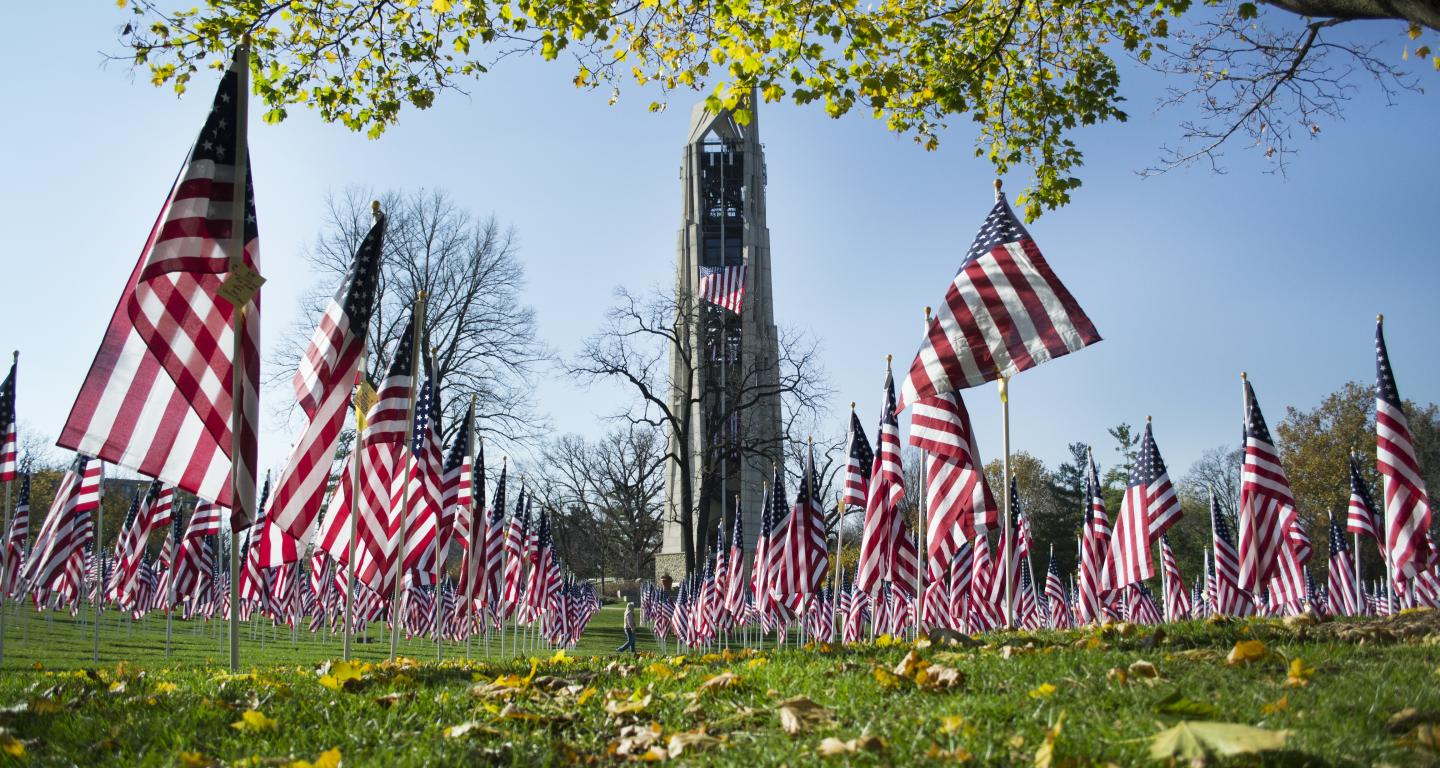 North Central News
North Central celebrates Veteran and Military Student Appreciation Week
Nov 11, 2016
North Central College celebrates its annual Veteran and Military Student Appreciation Week as part of Veterans Day, Nov. 11, 2016. The College honors its 30 student-veterans and eight ROTC cadets with a range of events for the campus community, culminating with the playing of "Taps" on Friday, November 11, and recognition at a Cardinal football game on Saturday, November 12.
Campus community events open to the public include:
Thursday, Nov. 10
•    Veterans Voices: Lunch with Our Very Own, hosted by Student Veteran Services and Leadership, Ethics and Values. The campus community is invited to hear five student veterans share reflections of their military service and transition to student life. Space is limited and registration is required; click here to RSVP by noon Nov. 9. Meet at the third floor of Residence Hall/Recreation Center (Res/Rec), 12:15-1:15 p.m. 
Friday, Nov. 11
•    The playing of "Taps" and a moment of silence will be observed, 11–11:10 a.m., at the Old Main flagpole and at the Bill Shatzer '42 statue at Championship Plaza, to remember those who lost their lives in service to our county. 
Saturday, Nov. 12 
•    Pregame presentation of colors by North Central's U.S. Army ROTC cadets and halftime recognition of student-veterans at North Central vs. Elmhurst football game. Student-veterans will be introduced and recognized during the halftime of the football game, which begins at 1 p.m. Student-veterans and their families/guests will be provided with complimentary tickets to the game in the north end zone.
Throughout the week, student-veterans will enjoy special events like lunch with President Troy Hammond, a networking event on Thursday, Nov. 10, at the Judd Kendall VFW Post in Naperville, and a breakfast and blessing on Friday, Nov. 11, in the Student Veterans Lounge in Old Main.
The College also will host a series of exhibits throughout the week. The Wall of Veterans will be on display Nov. 7-8 in the Harold and Eva White Activities Center, Nov. 9-10 in Old Main lobby, Nov. 11 at Res/Rec and Nov. 12 at Benedetti-Wehrli Stadium. Biographies and photographs will be on display of student veterans, military students, faculty/staff veterans and family members who are veterans or active military.
The Archives Reference Room at Oesterle Library will present the exhibit "North Central College in World War II." Open 8 a.m.–5 p.m., Nov. 7-11, the exhibit focuses on alumni experiences in World War II. It features materials from the North Central College Archives, including yearbooks, photographs, artifacts and the Bill Shatzer '42 Most Valuable Player trophy.
The lobby of Oesterle Library will host a resource display of titles related to soldiers' experiences in war and after their return home. All materials on display may be checked out.
For more information, contact Julie Carballo, veteran and military services coordinator, at VeteranServices@noctrl.edu or 630-637-5155, or visit the North Central College Student Veterans Facebook page.