Alexis Resendiz
Shimer Specialist Admission Counselor, Admissions
---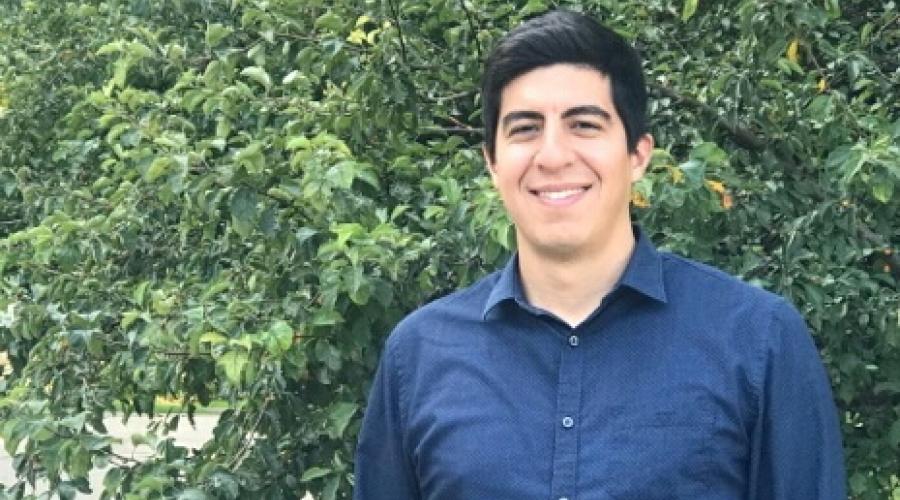 Favorite thing about North Central: Its small size because it helps foster community. Just a few days into my job here I was already running into familiar faces all over campus. It's also great how close it is to downtown Naperville and the river walk.

Words I use to describe North Central students: Well-rounded, intelligent, friendly.

Why did I choose to become an Admission Counselor at North Central? I decided to be part of Shimer's move to the campus because I saw that North Central values a lot of the things that Shimer does: dialogue, intellectual curiosity, community, empathy, and fun!

Favorite Naperville Restaurant: I've yet to explore most of them but I like Quigley's because they show soccer games and Bangkok Village because they offer great Thai food just across the street from campus.
Favorite Season in Naperville: I've only yet experienced summer here but I suspect it will be the fall when students return to campus. I'm also looking forward to seeing the campus covered in snow and in springtime bloom.

Advice to Students: Give yourself the time to get to know the schools you are thinking about attending. Visit the campus more than once if you can. Talk to students and professors and sit in on some classes. Don't hesitate to ask questions!
Fall Travel Schedule
High School Visits
Thursday September 7, 2017 Glenbard West 10:15 AM
Wednesday September 13, 2017 Hinsdale Central 10:00 AM
Thursday September 14, 2017 Glenbard East 10:10 AM
Thursday September 21, 2017 Morris Community High School 10:30 AM
Tuesday September 26, 2017 Lincoln Park High School 1:25 PM
Wednesday September 27, 2017 Glenbard South 10:20 AM
Thursday September 28, 2017 Lane Tech 10:45 AM
Wednesday October 4, 2017 CICS Northtown 12:20 PM
College Fairs
Tuesday September 26, 2017 Little Village-Lawndale High School 9:45 AM - 11:45 AM
Wednesday September 27, 2017 Kankakee Community College (area high schools) 6:00 PM - 8:00 PM
Tuesday October 3, 2017 North-Grand High School 10:00 AM - 1:00 PM
Wednesday October 4, 2017 Morton College (Morton East/West High Schools) 4:30 PM - 8:00 PM
Tuesday October 10, 2017 Prairie State College (IRCF) 6:30 PM - 8:00 PM
Saturday October 14, 2017 UIC Forum (NACAC Chicago) 1:00 PM - 4:00 PM
Monday October 16, 2017 East Aurora High School (Nat'l Hispanic Fair) 9:30 AM - 12:30 PM
Wednesday March 14, 2018 DePaul University (IRCF Chicago Area) 5:30 PM - 7:00 PM
Thursday April 19, 2018 Hinsdale South High School (IRCF District 86) 7:00 PM - 9:00 PM
Friday April 20, 2018 Providence Catholic High School