Christina Schroeder
Freshman Admission Counselor
Admissions
---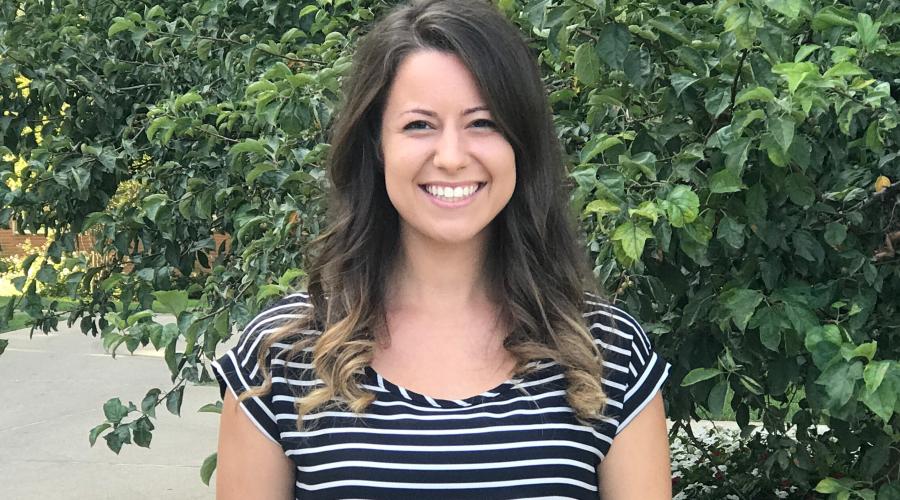 Favorite thing about North Central: The opportunities. I love that students have access to excellent programs, a well-rounded community, and faculty who care about their students.
Words I use to describe North Central students: Driven! Students at North Central take advantage of the opportunities available to them such as study abroad, research and organizations. Students are excited to build their connections and display their Cardinal Pride!
Why did I choose to become an Admission Counselor at North Central? I instantly felt welcomed at North Central. The students, faculty and staff are very supportive. I am passionate about education, and working as a Freshman Admission Counselor allows me to help students take the next steps towards their education! I am proud to work for North Central!
Favorite Naperville Restaurant: The food is great in Naperville! My favorite places to eat are Francesca's and Ted's Montana Grill. For dessert, check out Le Chocolat!
Favorite Season in Naperville: Fall is my favorite because it is the start of a new year and students are reconnecting and excited to be back on campus!
Advice to Students: Make college your own experience. Take advantage of the opportunities North Central offers, meet new people, and savor each moment!
High School Visits:
Tuesday, September 10th, 2019 @ 9:25 AM Addison Trail High School
Tuesday, September 10th, 2019 @ 11:18 AM Timothy Christian High School
Wednesday, September 11th, 2019 @ 11:05 AM Ic Catholic Prep High School
Wednesday, September 11th, 2019 @ 1:45 PM York Community High School
Tuesday, September 17th, 2019 @ 9:17 AM Lincoln-Way Central High School
Tuesday, September 17th, 2019 @ 10:59 AM Lincoln-Way West High School
Tuesday, September 17th, 2019 @ 12:51 PM Lincoln-Way East High School
Tuesday, September 24th, 2019 @ 9:00 AM Oswego East High School
Tuesday, September 24th, 2019 @ 1:00 PM Oswego High School
Wednesday, September 25th, 2019 @ 10:30 AM Plano High School
Friday, September 27th, 2019 @ 1:10 PM Bartlett High School
Tuesday, October 1st, 2019 @ 9:09 AM St. Charles North High School
Tuesday, October 1st, 2019 @ 10:55 AM St. Charles East High School
Wednesday, October 2nd, 2019 @ 10:00 AM Yorkville High School
Tuesday, October 8th, 2019 @ 9:00 AM Riverside Brookfield High School
Tuesday, October 8th, 2019 @ 11:18 AM St. Joseph High School



College Fairs:
Thursday, September 12th, 2019 @ 10:55 AM Addison Trail High School College Fair
Wednesday, September 18th, 2019 @ 8:00 AM Oswego East and Oswego College Fair
Wednesday, September 18th, 2019 @ 6:30 PM IRCF- Plainfield
Wednesday, October 9th, 2019 @ 9:00 AM Wilmington High School College Fair
Tuesday, March 24th, 2020 @ 6:00 PM IRCF- Fox Valley
Tuesday, April 14th, 2020 @ 6:00 PM Addison Trail High School College Fair
Thursday, April 16th, 2020 @ 8:00 AM Oswego East and Oswego College Fair
Tuesday, April 21st, 2020 @ 10:00 AM Yorkville High School College Fair