Daniel Schiferl
Freshman Admission Counselor
Admissions
---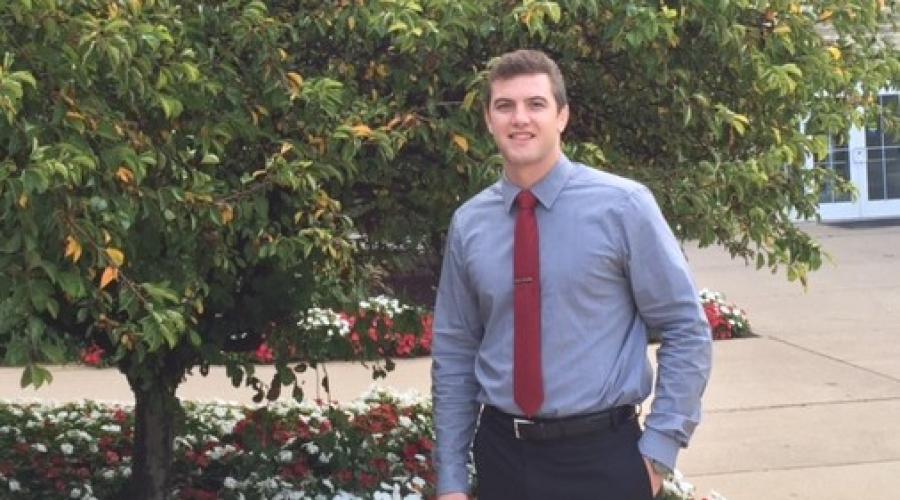 Favorite thing about North Central: The sense of community you get from faculty, staff and students.
Words I use to describe North Central students: Intelligent, Courteous, and Fun
Why did I choose to become an admission counselor/staff member at North Central? I have always enjoyed working with people who are passionate about achieving their goals!
Favorite Season in Naperville: Fall
Advice to Students: Become involved on campus, whether it's Student Organizations, Athletics, or Fine Arts
Travel Schedule:
Monday September 9, 2019 9:50 AM Alan B. Shepard High School
Monday September 9, 2019 11:35 AM Argo High School
Monday September 9, 2019 2:30 PM Reavis High School
Thursday September 12, 2019 8:10 AM Niles West High School
Thursday September 12, 2019 1:07 PM Niles North High School
Thursday September 12, 2019 10:30 AM Notre Dame High School College
Wednesday September 18, 2019 11:20 AM Glenbrook North High School
Wednesday September 18, 2019 9:40 AM Glenbrook South High School
Wednesday September 25, 2019 10:45 AM Maine South High School
Wednesday September 25, 2019 1:00 PM Maine West High School
Monday September 30, 2019 1:38 PM Maine East High School
Tuesday October 8, 2019 11:09 AM Normal Community West High School
Tuesday October 8, 2019 1:48 PM Normal Community High School
Tuesday October 8, 2019 10:00 AM University High School
Wednesday October 9, 2019 11:10 AM West Leyden High School
Wednesday October 9, 2019 12:35 PM Proviso Math and Science Academy
Thursday October 17, 2019 1:42 PM East Leyden High School
Monday October 21, 2019 8:30 AM Marian Catholic High School
Monday October 21, 2019 10:12 AM Rich East
Wednesday October 23, 2019 8:30 AM Homewood-Flossmoor High School
Wednesday October 23, 2019 11:00 AM Oak Lawn Community High School
Wednesday October 23, 2019 1:00 PM Tinley Park High School
Tuesday October 29, 2019 9:50 AM Eisenhower High School
Tuesday October 29, 2019 11:15 AM Oak Forest High School
Tuesday October 29, 2019 1:00 PM Bremen High School
Tuesday October 29, 2019 2:25 PM Harold L. Richards High School
College Fairs
IRCF-Maine Township Maine West High School 9/12/2019 6:30PM-8:30PM
Wisconsin Education Fair- Fon Du Lac Sadoff Gymnasium 9/17/2019 9AM-11AM
East Leyden College Fair East Leyden High School 9/18/2019 1:57PM-3:25PM
Wisconsin Education Fair-Sun Prairie Sun Prairie High School 9/19/2019 9AM -11AM
Wisconsin Education Fair-Sun Prairie Sun Prairie High School 9/19/2019 6PM-8PM
Wisconsin Education Fair-Oshkosh Kolf Sports Center 9/26/2019 9AM-11AM
Wisconsin Education Fair-New Berlin New Berlin West Middle/High School 9/30/2019 9AM-11AM
CAEF - Springfield Illinois State Fair Grounds 10/2/2019 9AM-2PM
NACAC-Milwaukee Wisconsin Center 10/6/2019 12PM-3PM
IRCF-McLean Illinois State University 10/8/2019 5:30PM-7PM
Wisconsin Education Fair-Franklin Franklin High School 10/14/2019 6PM - 8PM
Wisconsin Education Fair-Kenosha UW-Parkside - Petretti Fieldhouse 10/15/2019 9AM -11AM
Wisconsin Education Fair-Hartland Hartland-Arrowhead High School 10/15/2019 6PM - 8PM
Wisconsin Education Fair-Milwaukee Mount Mary University 10/17/2019 9AM -11AM
IRCF-Lewis Lewis Univeristy 3/10/2020 6:30PM - 8PM
IRCF- Niles Niles West High School 3/17/2020 6:30 PM - 8:30PM
IRCF-Glenbrooks Glenbrook North High School 4/2/2020 6:30PM - 8:30PM