Eric Doolittle
College Chaplain
Office of Faith and Action
---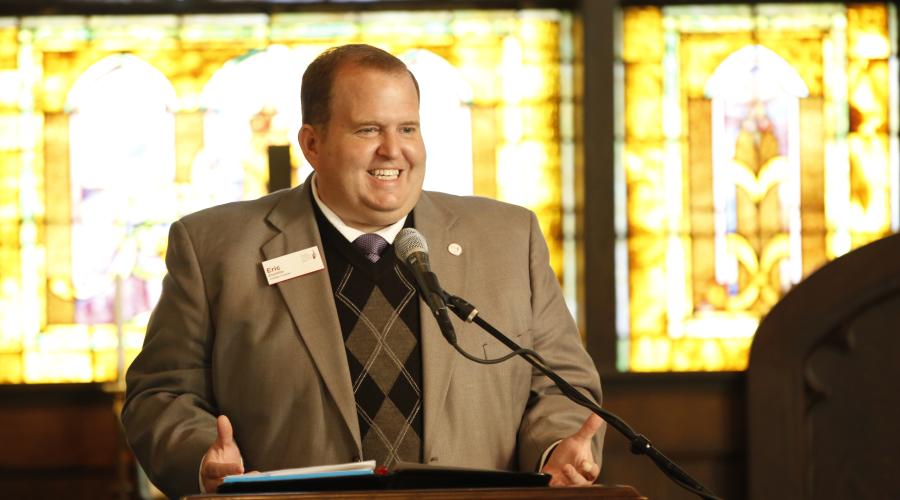 Chaplain Eric Doolittle serves to connect people with their faith life. While he comes from a multi-generation United Methodist family, he seeks joy and fullness of life for all people in their faith journey. Over his fifteen years in ministry, he has helped guide people from Atheists to Zoroastrians as they explored the deeper implications of faith on vocation, purpose, and meaning. Before joining North Central College, Rev. Doolittle served at Georgetown University School of Law, Hiwassee College, and several congregations in East Tennessee.
As part of the Office of Ministry and Service, Chaplain Doolittle serves as a connection point and resource for the entire NCC family to a wide variety of faith resources. Beyond serving with the Northern Illinois Conference of the United Methodist Church, he is a member of the Naperville Interfaith Leaders Association and One Naperville. On campus, Chaplain Doolittle works with the MENA studies program, the NetVUE advisory board, and the Cultural Affairs Committee, as well as the Voices of Praise and United student organizations. His programs include the Lux Veritas Speaker Series, Advent Devotional, annual Seder dinner, Mindful Meditation Series, Gospel Extravaganza, Dia de Los Muertos, and Baccalaureate.
Chaplain Eric is also a dedicated nerd – reveling in Star Wars, comic books, RPGs, and board games. He and his family can be spotted taking in the incredible range of sports and fine arts on campus and enjoying gelato downtown.