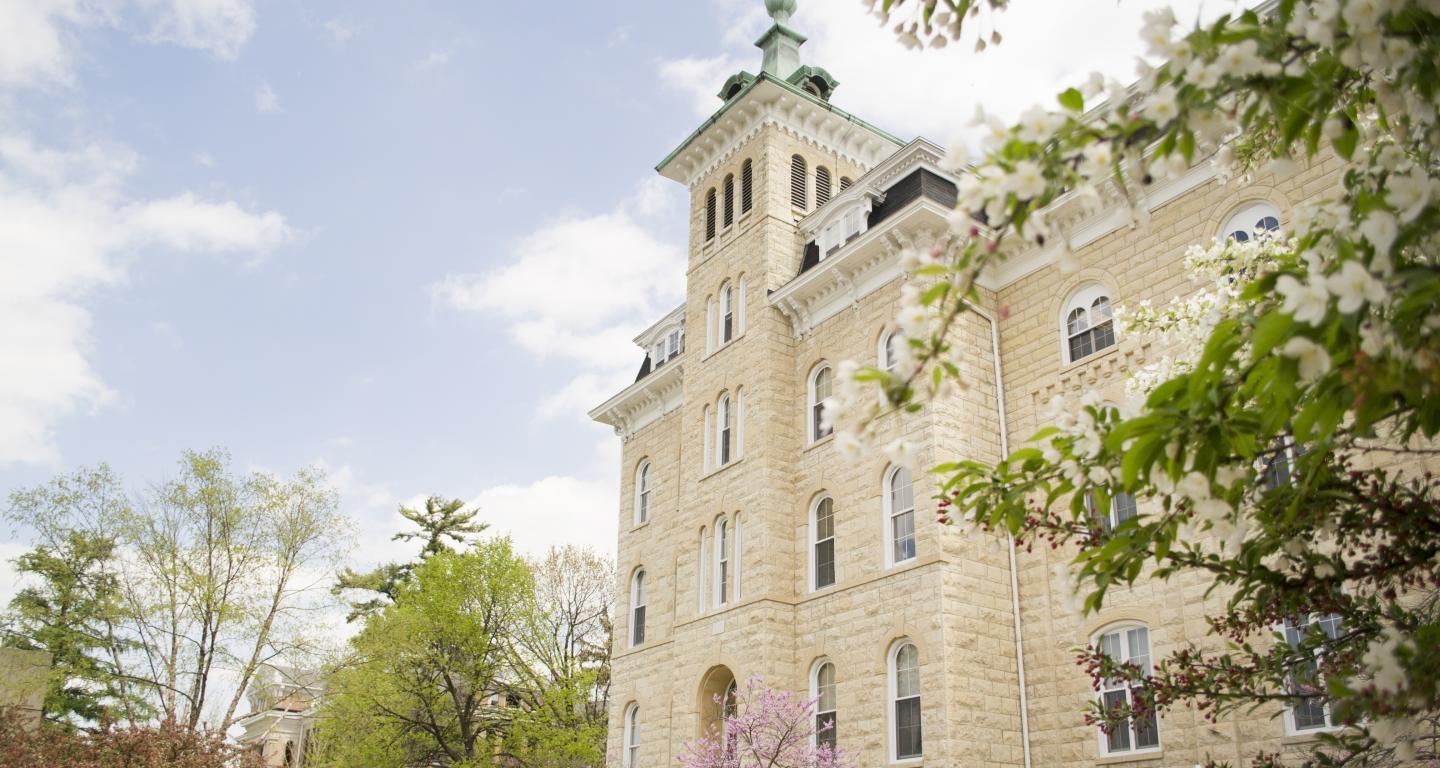 School of Graduate and Professional Studies
Leadership Academy
Leadership Academy - 2022 - 2023
A formula for Leading a School Culture of Character
Download the Leadership Academy brochure here.
Why Select THIS Academy?
The Leadership Academy, offered in partnership with IL ASCD, was designed with administrative input to focus on structures of support for today's leaders:
2022-2023 Academy pass allows access to a full year of training (6 sessions total)

Special pricing available to encourage teams to attend

The speaker series includes educational thought leaders from the US and abroad addressing culture and climate

Connection with a Professional Learning Network will be developed to support

a

practical

application

and provide a

personalized

experience

to promote

professional growth

.

Mini-grant opportunities provide leaders with funds (up to $5000) to support implementation within their building
Why Character Education?
Character and leadership go hand in hand. Influential leaders build community within their schools and are able to retain high-quality teachers, which translates to enhanced student outcomes. Further, the goal of a good education is to prepare students academically and to mentor them to become resilient, empathetic, and contented individuals.
Who Should Attend?
Preschool, elementary,

middle school

,

high school

, and district level administrative leaders looking to enhance their

leadership skills

.

Individual or group registrations are welcome.
Why this Leadership Academy?
North Central College's Leadership Academy was designed with administrative input to ensure target outcomes are met while focusing on support structures for today's leaders.

The programming model allows for engagement with speakers, colleagues, and experts in the field.

The online presentation structure encourages interaction between participants and speakers.

Connection sessions with a Professional Learning Network support a practical and personalized experience.

Mini-grant opportunities provide leaders with funds (up to $5000) to support implementation within their building.
What are the Projected Outcomes?
Learn from world-renowned thought-leaders in the field of Character Education.

Develop a deeper understanding of how to foster a virtue-driven Culture of Character within a school community.

Explore opportunities for self-reflection, self-awareness and professional growth.

Connect and engage with a diverse network of educational leaders, scholars, and colleagues encompassing various perspectives and ideas.

Acquire Administrator Academy credit.
"Through this leadership program, I was able to learn, connect, and engage with a diverse network of amazing speakers and professionals in the field of character education and school leadership. This academy provided me with the tools and the opportunity to reflect and develop a deeper understanding of how to foster effective trusting relationships and how to build a culture of character education within my school community, something that is essential not only in the education sector, but in every part of our society. This academy enkindled in me a drive to become the best person I can be and leave a positive mark in the world."
Esmeralda Elvir, 2021-2022 Leadership Academy Participant, Director of Student Success, Bishop McNamara Catholic School
Click here to see what last year's participants had to say about the Leadership Academy
Follow our Character Initiatives on Facebook.
Further information: Contact Marsha Webster at mbwebster@noctrl.edu
Academy Format
Register here by November 11
6 virtual half-day sessions 9AM to 12PM, beginning November 30
Click here to learn why Character Education is so important for educational leaders.
Character Leadership half day sessions with professional speakers and incorporating time for interaction among participants and speakers.
Cultures of Character Grant Project Opportunity  will integrate learning from all aspects of the Leadership Academy. Attend a special May session to discuss project ideas and the application for a mini-grant of up to $5,000 to implement an initiative designed to influence the school's culture of character
"IL ASCD has a 15-year tradition of offering the Leadership Institute and the program continues to evolve to serve the ever-changing priorities of administrators and school leaders. We are excited to partner with North Central College by offering ongoing learning, teaming, and coaching experiences in our first annual Leadership Academy."
Ryan Nevius, Executive Director IL ASCD
"I loved the connection sessions and being able to interact and exchange ideas with other school leaders."                              Mavis DeMar, former public school teacher and principal; current principal at St. Raphael School
2022-2023 Speakers
The Value of Students Experiencing Community
November 30, 9 am - 12 noon: Clifton Taulbert, President and CEO, Freemount Corporation 
In this "Call to Action" conversation, Taulbert will challenge his audience to define their ideal community and to consider the attributes needed to breathe life into their definitions.
Servant Leadership
Date to be determined, 9 am - 12 noon: Melinda Bier, Ph.D., Co-Director of the Center for Character and Citizenship, University of Missouri-St. Louis
Explore a model to integrate Character development and Social Emotional Learning into today's schools in a systemic manner to maximize the positive impact on students' persona lives and academic performance.
*PRIMED: Design Principles for School Improvement
January 18, 9 AM - 12 noon: Marvin Berkowitz, Ph.D., Sanford N. McDonnell Endowed Professor of Character Education and Co-Director of the Center for Character and Citizenship at the University of Missouri-St. Louis
*Administrator Academy Credit
Based upon the award-winning book, PRIMED for Character Education, learn six design principles for school improvement which can be utilized as a template for the 2022-23 Leadership Academy mini-grant application.
Courageous Dialogue: Practical Wisdom for School Leaders
February 8, 9 am - 12 noon: Karen Bohlin, Ed.D., Director of Practical Wisdom for Agile Leaders Group
Explore the practical wisdom at the heart of courageous dialogue: what it is, why it matters and how to have them in school. We will also learn shared practices that foster virtues such as intellectual curiosity, fair-mindedness, trust, and respect for the dignity of all. 
Social, Emotional and Character Leadership in ACTION: Voices from the Field
March 1, 9am - 12 noon: A Panel of Award Winning Former Principals
Kashina Bell, Ed.D. 

Deputy Superintendent

, Character Plus:

Equity and Justice Academy in Character Education, Adjunct Professor in Character Education,

Former Principal who led a National School of Character and was part of a National District of Character. 
Suzanne Bright, Ed.D. President and CEO of Orca Solutions, Former Principal who led

a National School of Character and was part of a National District of Character. 

Julie Frugo, Ed.D. CEO/Superintendent of Premier Charter School (PCS)
Matthew J Klosterman Retired School and District Administrator. As Superintendent, led the District to National

District

of Character Recognition 

Kristen Pelster, ED.S. Programming Consultant, Center for Character and Citizenship & Senior Director of Programming, CharacterPlus

Julie Sperry,

Ed.D. Character Focused Leadership

Development Specialist, Center for Citizenship and Character; Character Plus
This session will immerse you into the practical application of social, emotional and character best practices from the district, school and classroom level. 
Navigating Digital Citizenship in a Changing World
April 4, 9 am - 12 noon: Tom Harrison, Ph.D., Deputy Director, Jubilee Centre for Character and Virtues at the University of Birmingham, England
Exploration of a response to the key civic and moral challenges that online technologies present.
Click here for more information about our distinguished speakers
Information about our panel of experts can be found here
"Our goal is to acknowledge, appreciate, and serve educational leaders. Through a generous grant donation, we have been able to dream big and design an experience that will be inspirational, insightful, and impactful. We are offering access to prominent thought-leaders and providing support structures for enacting personalized school improvement planning."
Sharon Wysoglad, Character Education Project Director, North Central College
As a result of the generous donation from the Kern Family Foundation, mini-grants of up to $5,000, which includes implementation guidance, are available. The Cultures of Character Project integrates learning from all aspects of the Leadership Academy and is intended to help leaders intentionally embed a character emphasis in their school and community. 
2021-2022 Mini Grant Award Recipients
Forest Park Individual Education School – Joliet Public School District #86
"Community Committed to Character" Initiative
A partnership between Forest Park Individual Education School and select local businesses to promote character principles in the local community.
Tri-Point High School – Community Unit School District 86
Student Kindness and Belonging: T.A.L.K. -- Teens Activating the Language of Kindness
Creating a culture in which students feel a stronger sense of belonging to the school and ownership in their success.
2021 SEL Summit
In July of 2021, North Central College was highlighted as a Gold-Level Sponsor for the 4th Annual SEL Summit hosted by IL ASCD and Mindful Practices. Over 250 educators and leaders joined the two-day professional learning event.  Presenters sponsored by North Central delivered messages targeting the impact of a leader's character.
Click here for the North Central character sponsored speaker list.
2021-2022 Leadership Academy
The Academy featured 4 well known speakers
Clifton Taulbert

Anthony Muhammad

Marvin Berkowitz

Michael Fullan
Connection sessions were led by a team of Character Thought Leaders.