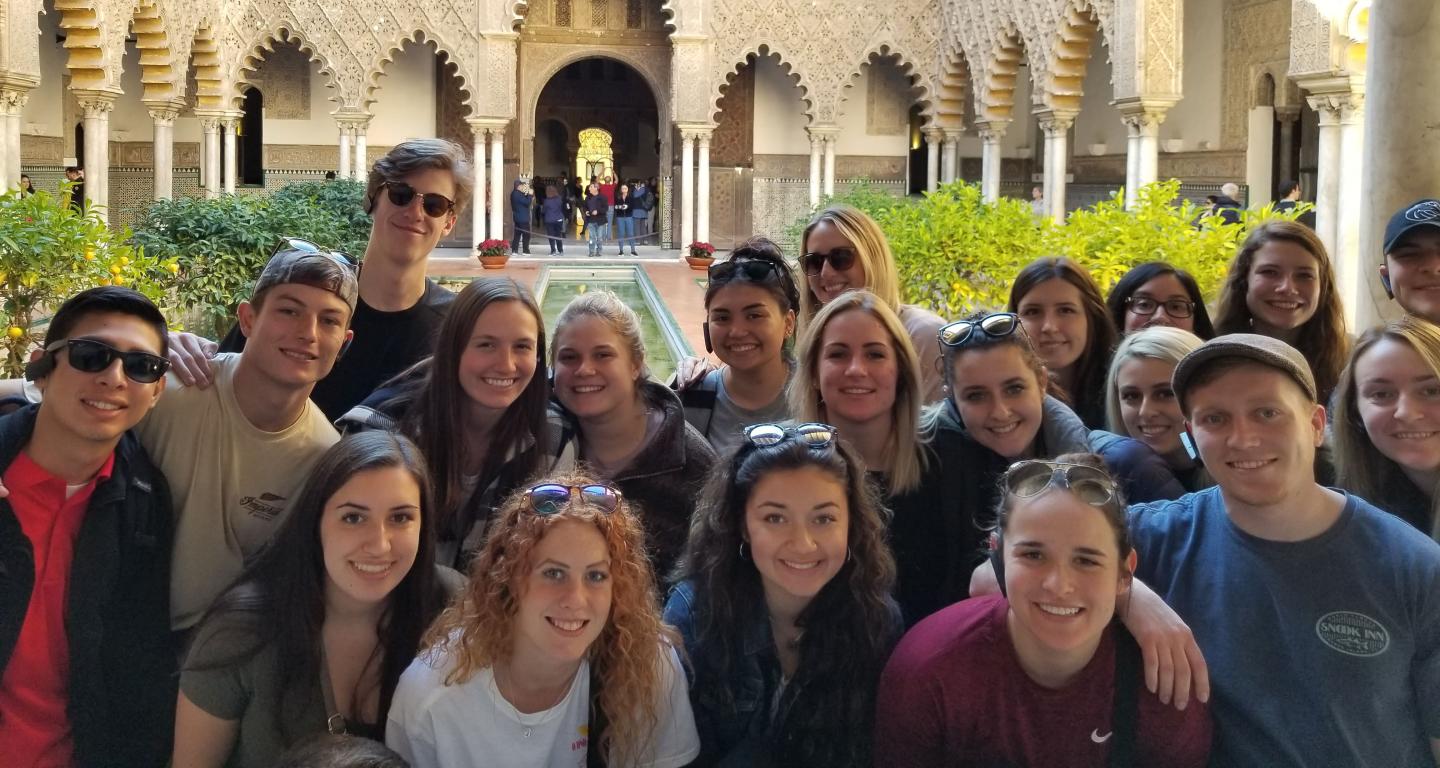 Cardinal Destination Courses Abroad (CDCA) May Term
A Cardinal Destination Course Abroad (CDCA) is a short-term faculty-led course that takes place shortly after the spring semester ends during the month of May (May Term). Students travel internationally as a group with a North Central College faculty and staff member. Each CDCA opportunity includes a linked prerequisite course completed in the spring semester before departure. 
Interested? Here are your next steps...
Step 1: Speak with the course-specific faculty leader(s) to learn more about the course, logistics, and itinerary, and to request a green slip to enroll for the appropriate courses on Merlin.
Step 2: Enroll on Merlin for the linked prerequisite course AND the May Term travel component (under summer session).  You MUST be registered for BOTH sections in order to participate. The enrollment deadline is November 1, 2023.
Step 3: Register with the Center for Global Education (CGE).  After the November 1st deadline, the CGE team will send you a link with instructions to register and next steps to complete by December 15, 2023.
Step 4: Pay your first $500 program fee deposit by December 15, 2023.
Step 5: Pay your second $500 deposit (airfare deposit) by January 19, 2024
Enroll on Merlin by November 1, 2023!
Cardinal Destination Courses Abroad - May Term 2024
Learn more about our CDCA 2024 opportunities below! Click "Learn More" under each course for itinerary information, course highlights, cost breakdown, and more!
ADDITIONAL NOTES
North Central College provides all students enrolled in a CDCA a primary emergency medical insurance policy for the course dates abroad.
Every student participant is required to abide by the College policies as outlined in the North Central College Student Handbook and by the expectations outlined in the course syllabus. If, in the judgement of a faculty/staff leader, a student has violated the course expectations or College policy as stated in the Student Handbook, the student may be sent home at his/her own expense. In such circumstances, a student's parents/guardians may also be notified and additional disciplinary action may be taken by the College upon the student's return to the United States.
All CDCA enrolled students will be required to attend a pre-departure information session.
CANCELLATION AND REFUND POLICY
Refund schedules for airfare depend on individual airlines; faculty leaders will inform all participants of the relevant deadlines and policies.
If an enrolled student withdraws from the CDCA before March 1, 2024, then 50% of the remaining balance of the program fee will be billed to the student account if costs have been incurred by the College.
If an enrolled student withdraws from the CDCA after March 1, 2024, then 100% of the program fee is forfeited. Withdrawing from a CDCA does not withdraw you from the linked spring semester course.
If you withdraw from the linked spring semester course, you will be withdrawn from the CDCA and you will be responsible for any associated fees (airline or program fees) as outlined in the Cancellation and Refund Policy above.
If you fail the linked spring semester course, you will be withdrawn from the CDCA and responsible for any associated fees (airline or program fees) as outlined in the Cancellation and Refund Policy above.
Successful completion of the spring semester linked course is REQUIRED for participation in the May Term international travel section