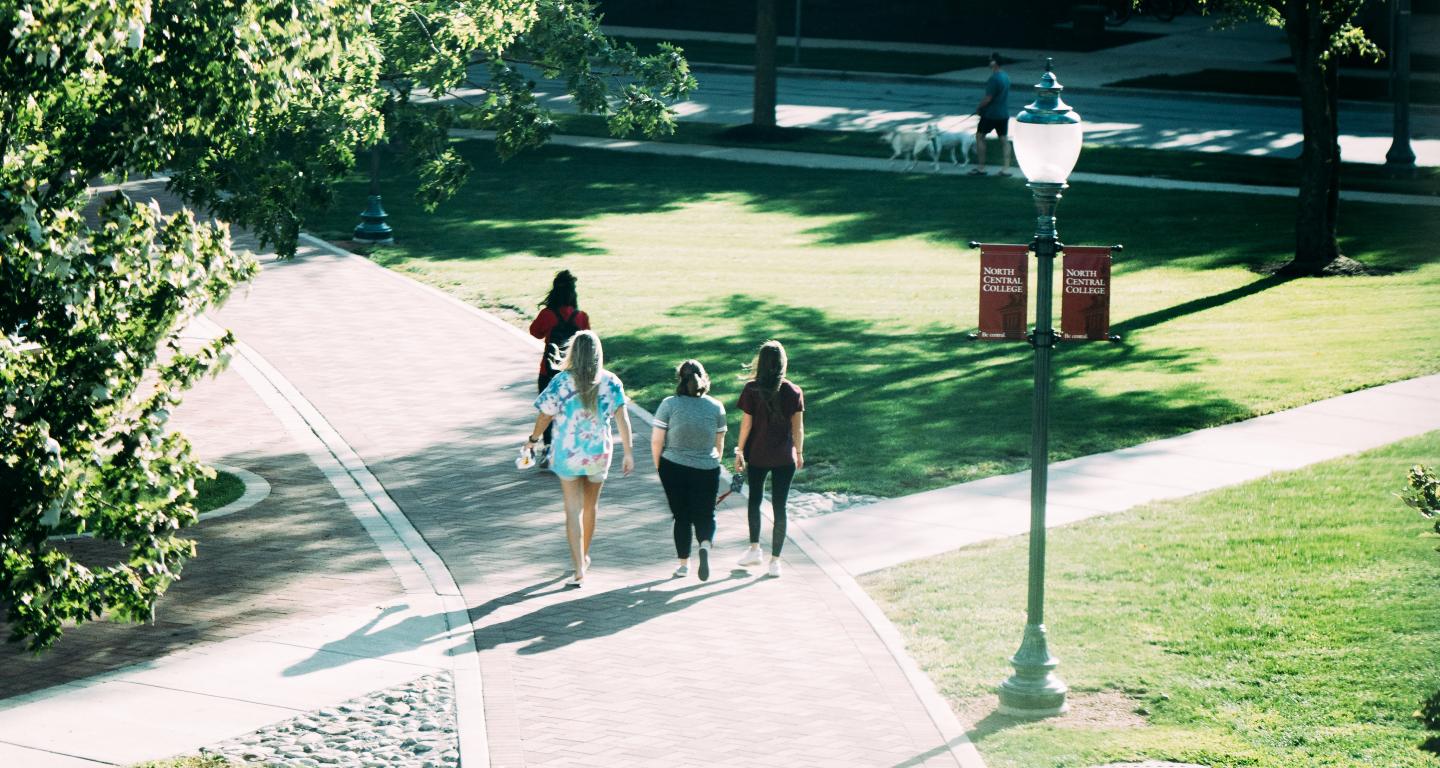 North Central College At-A-Glance
Join the Cardinal family!
North Central College provides students with the confidence, instruction and direction they need to exceed their personal bests inside and outside the classroom and throughout their careers. Founded in 1861 and located just 28 miles west of Chicago in the Historic District of Naperville, Ill.—named among the nation's "Best Places to Live" by Money magazine—North Central is home to nearly 2,700 students and offers more than 90 undergraduate majors, 60 additional undergraduate minors and concentrations, and 19 graduate degree programs.
---
---
---
---
International Study
North Central College has exchange partnerships with universities in Australia, England, France, Germany, Greece, Japan, South Korea, Spain, Sweden and Taiwan. Students may also select one of North Central College's direct enrollment programs in Australia, Botswana, Chile, China, England, Germany, Ireland, Italy, Jordan, Malta, New Zealand, Scotland or Spain. Students may participate in an education abroad program for a semester and/or an academic year. In addition, there are three semester group programs abroad in China/Japan, Costa Rica and England. Twenty-five of the education abroad programs allow students to conduct research, participate in an internship, volunteer or complete a practicum in their degree field.
The College also offers Cardinal Destination Courses Abroad (CDCA) which include a short-term international travel component in May (May term) in countries such as China, Ecuador, England, France, Germany, Greece, Guatemala, Ireland, Japan, Morocco and Spain.
Activities
Students may choose from more than 100 active clubs, special interest organizations, student government boards and preprofessional groups.
They may focus on:
Academics
Community service and social action
Faith and spiritual life
Honor societies
Intercultural
Leadership
Media and publications
Music, art and activities
Sports and recreation
---
---
Athletics
North Central College student-athletes compete in 26 intercollegiate sports (13 for men and 14 for women) in NCAA Division III and the College Conference of Illinois & Wisconsin. North Central College has won 43 team national championships and 151 individual national championships. Student-athletes have earned 1,303 All-America awards and 895 national academic awards.
Baseball (M)

Basketball (M,W)

Cross Country (M,W)

Football (M)

Golf (M,W)

Lacrosse (M,W)

Soccer (M,W)

Softball (W)

Swimming and Diving (M,W)

Tennis (M,W)

Track and Field - indoor and outdoor (M,W)

Triathlon (W)

Volleyball (M,W)

Wrestling (M,W)
Learn more about Cardinal athletics.
---
---
Sustainability
At North Central College, sustainability is the collective effort of students, faculty, staff and visitors working toward the development of a socially just, environmentally responsible and economically functional campus community. Successful projects include solar photovoltaic (PV) panels, solar thermal panels, energy storage systems, geothermal heat pumps, the Community Garden, food scrap composting, the Cardinal Red Bike Program, electric vehicle charging stations, LED lighting, recycling initiatives and much more. North Central College is one of the first colleges to achieve Gold Status through the Illinois Campus Sustainability Compact, which acknowledges North Central as one of the most environmentally responsible colleges and universities in the United States and Canada. In January 2020, North Central was upgraded to a Level II-accredited arboretum for implementing professional practices deemed important for arboreta and botanic gardens. To learn more about the College's sustainability initiatives, visit northcentralcollege.edu/sustainability.
Library
Oesterle Library offers students and faculty ready access to more than 40 million items from 85 college and university libraries in Illinois in addition to more than 250,000 items in our collections, and electronic access to a wide-ranging array of full-text documents.
Accreditation
North Central College is accredited by the Higher Learning Commission of the North Central Association of Colleges and Schools, 230 S. LaSalle Street, Suite 7-500, Chicago, IL 60604-1411. Phone: 800-621-7440.
---
---
Unique Academic Opportunities 
North Central College offers students unique opportunities to practice intellectual and personal leadership and create experiences that will help define their futures.
North Central College Honors Program

Shimer Great Books School

Undergraduate student research

Richter Grants

Rall Symposium for Undergraduate Research

Leadership, Ethics and Values program

Education abroad

Chicago term

May term

WONC-FM 89.1–Named the Best College Radio Station in its market and awarded the Abraham & Brost Award for Best Overall Radio Station in the nation in 2015.

Coffee Lab » Enactus–Students work with coffee farmers abroad to form self-sustainable business practices through a direct trade relationship.

Student publications: The Kindling, The Chronicle, 30 N, Viewfinder, NCCLinked.com

Model United Nations— North Central College is consistently one of the top five delegations competing in the Model United Nations Midwestern Conference.

Forensics—Nationally recognized program

Mock Trial
Performing Arts Opportunities
Concert Choir
Chamber Singers
Women's Chorale
Cardinal Chorus
Opera Workshop
Naperville Chorus
Concert Winds
Symphony Band
Percussion Ensemble
Flute Choir
Clarinet Choir
Brass Quintet
Woodwind Quintet
Chamber String Ensemble
Big Band
Vocal Jazz Ensemble
Jazz Combos
Cardinal Athletic Band