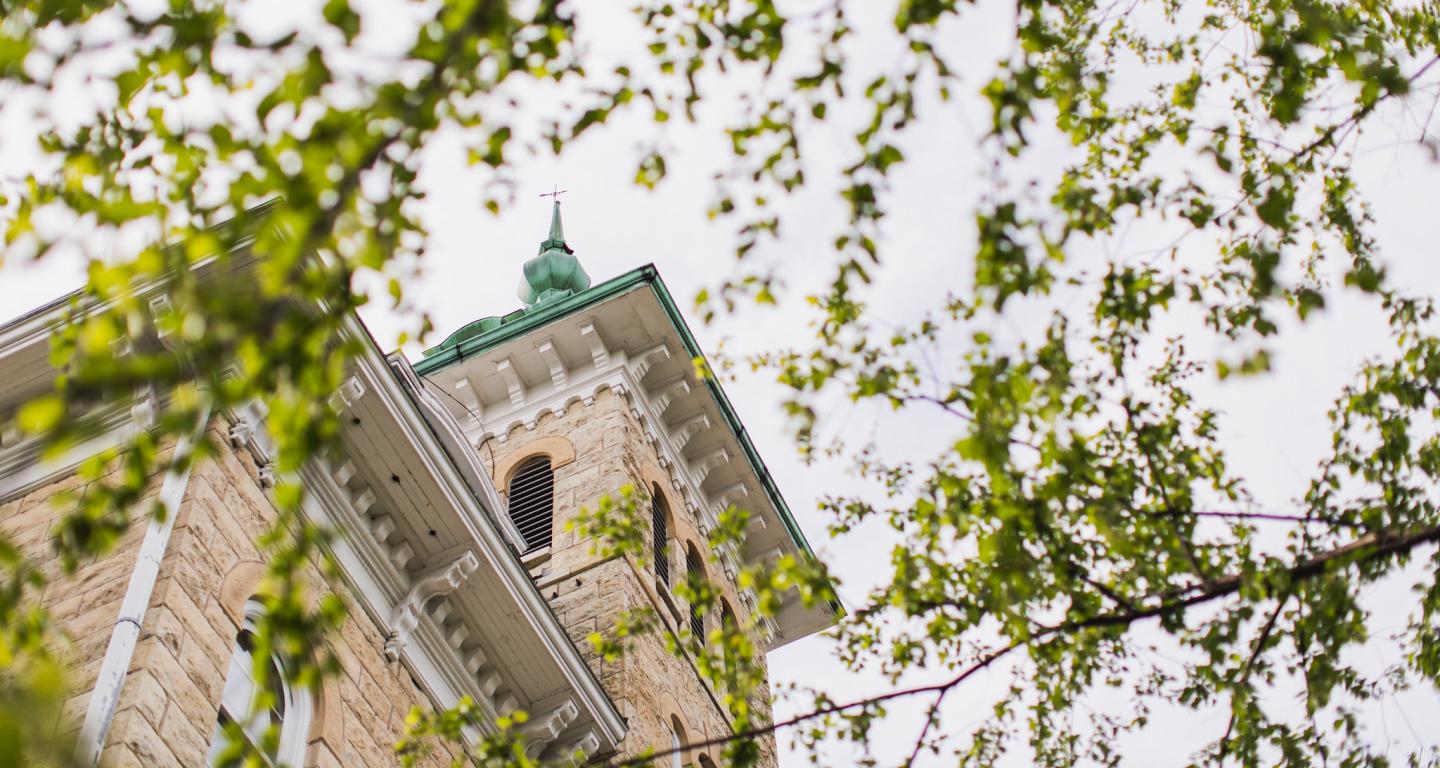 Honors Day 2021
April 22
North Central College is excited to bring you our first-ever virtual Honors Day, so you can enjoy the event wherever you like! Included on this page is a link to our Honors Convocation that will be available all day to view, information about Honor Society events and a schedule for our Rall Symposium that includes links to live and pre-recorded presentations. For more information, please view our virtual Honors Day program.
Congratulations to all students being inducted into an Honor Society. Due to restrictions for gathering in person this year, some groups will be meeting virtually, others in person and a few have decided to postpone or cancel induction ceremonies. If your group is not having a ceremony, your advisor will be communicating how cords will be distributed.
For more information regarding events that are taking place, please refer to page 1 in the Honors Day program.
2021 Rall Symposium for Undergraduate Research
This year's Rall Symposium for Undergraduate Research highlights the work of 95 undergraduate researchers supervised by 49 faculty mentors resulting in 79 presentations. It will showcase two types of presentations: interactive oral sessions featuring students presenting in real time and a pre-recorded oral session.
Twelve interactive oral sessions will be spread over four, one hour time slots. Each session will be hosted through Microsoft Teams, which can be accessed using Microsoft Edge or by downloading the Microsoft Teams app. Attendees can watch students present live and ask questions after each presentation. Links to each interactive oral session are listed in the schedule below.
The pre-recorded oral session will be hosted through Flipgrid. These presentations will be available all day. Viewers can watch the presentations at any time and post questions or comments to the presenters. Around 12:30 p.m., the presenters will log in and respond to any questions posted by viewers. To access the pre-recorded presentations, please click here.
If issues arise when trying to access any of the presentations, please contact one of the Rall Symposium Co-Coordinators:
Brendon Mason: bjmason@noctrl.edu or 630-637-5420
Becky Sanders: rlsanders@noctrl.edu or 630-637-5175
Rall Symposium Schedule of Events
9 – 10 a.m.
Interactive Oral Session #1
Session 1-1: Picturing the Past 
Moderator: Laura Lodewyck
Finding One's Geographical Compass: The Division Lines of Color in "Passing"

North Central's Student Body Through the Great Depression

Imagining the World of Lizzie Siddall
Session 1-2: Investigating Identities
Moderator: Hale Ekinci
The Effects of Sociocultural Factors on Body Image in Female Collegiate Athletes

The Representation of Dominican Masculinity Within the Brief Wondrous Life of Oscar Wao

R-E-S-P-E-C-T LGBTQ+ Elders
Session 1-3: Dissecting Disease
Moderator: Steve Johnston
Quantifying Reactive Astrogliosis During Prolonged Forced Abstinence from Oxycodone Self-Administration

Jordan Nowlin '21, Benjamin Wong '21, Max Farson '21, Megan Vogel '22, Bridget O'Brien '21, Kasie Conness '21, Jack Bastable '22 and Alya Kahn '23

Brucella Bacteriophage Trigger Immune Cell Signaling

Quantification of Fos Activity in the Orbitofrontal Cortex and the Basolateral Amygdala During Oxycodone Incubation

Benjamin Wong '21, Max Ferson '21, Jordan Nowlin '21, Megan Vogel '22, Kasie Conness '21, Bridget O'Brien '21, Jack Bastable '22, Alya Kahn '23
10:15 – 11:15 a.m.
Interactive Oral Session #2
Session 2-1: Protests and Politics 
Moderator: Sophie Hand
Finding Their Voices: Political Protest in East Germany

The People Stopped a Nuclear War: The Influence of Domestic Politics on the Cuban Missile Crisis

The Traditionalism of the French Revolutionary Bourgeois
Session 2-2: Crafting a Calming Culture 
Moderator: Leila Azarbad
The Effects of ASMR (Autonomous Sensory Meridian Response) on Sleep and Relaxation

Development of a Training Module for Student Facilitators of Student-Led Support Groups at Undergraduate Institutions

Emotional Benefits of Brief Creative Movement and Art Interventions
Session 2-3: Communicating during COVID-19
Moderator: Amy Buxbaum
How has COVID-19 Affected Organizational Communication? A 45 Minute Roundtable Discussion

Jette-Mari Anni '23, Elizabeth Arnold '21, Daisy Chadra '21, Isabella Corso '21, Kate Rasmussen '21, Sara Sheridan '22 and Alex Shevtsov '22
11:30 a.m. - 1 p.m.
Pre-recorded Oral Sessions
To access these presentations, please click here.
1:15 – 2:15 p.m.
Interactive Oral Session #3
Session 3-1: Religion and Respect
Moderator: Brian Hoffert
No Human Is Illegal: The Stories Behind the Immigration Process

What Would Jesus Do? How Self-Identified Christians Should Respond to the Immigration Crisis in the U.S.

Religious Pluralism and the Balance Between Community and the Individual
Session 3-2: Interrogating Intolerance and Influence
Moderator: William Muck
A Narrative Study of The Sopranos: Is It Racist?

Yes, but What Kind?: An In-Depth Look at Donald Trump, the Populist

Parental and Community Influences on Racial Biases
Session 3-3: Establishing Enviable Environments
Moderator: Gwendolyn Tedeschi
Restoring the Midwest: A Look into Ecological Restoration in Illinois, Indiana, and Wisconsin

Consumer Perceptions of the Different Types of Corporate Social Responsibility

Local Food's Impact on the Environment and Society
2:30 – 3:30 p.m.
Interactive Oral Session #4
Session 4-1: Probing Perceptions
Moderator: Stuart Patterson
Does Agency Matter? Government Action and Public Opinion

Understanding Chinese Values on Built Environments

A Look at the Benefits of Spanish Acquisition with Heritage and L2 Speakers as Classmates
Session 4-2: Studying Stressful Situations
Moderator: Nicole Rivera
Jumping Out of the Bus's Way: Students of Color's Struggle with Trauma and Stress in the Education System

When Does this Get Easier? Interpersonal Communication Skills and Concepts for Adolescents
Session 4-3: Wondering What Works
Moderator: David Cordero
Market Testing Frameworks for Entrepreneurs: A Comparative Analysis and Application

The Responsibility We Wear

Working Hard or Hardly Working