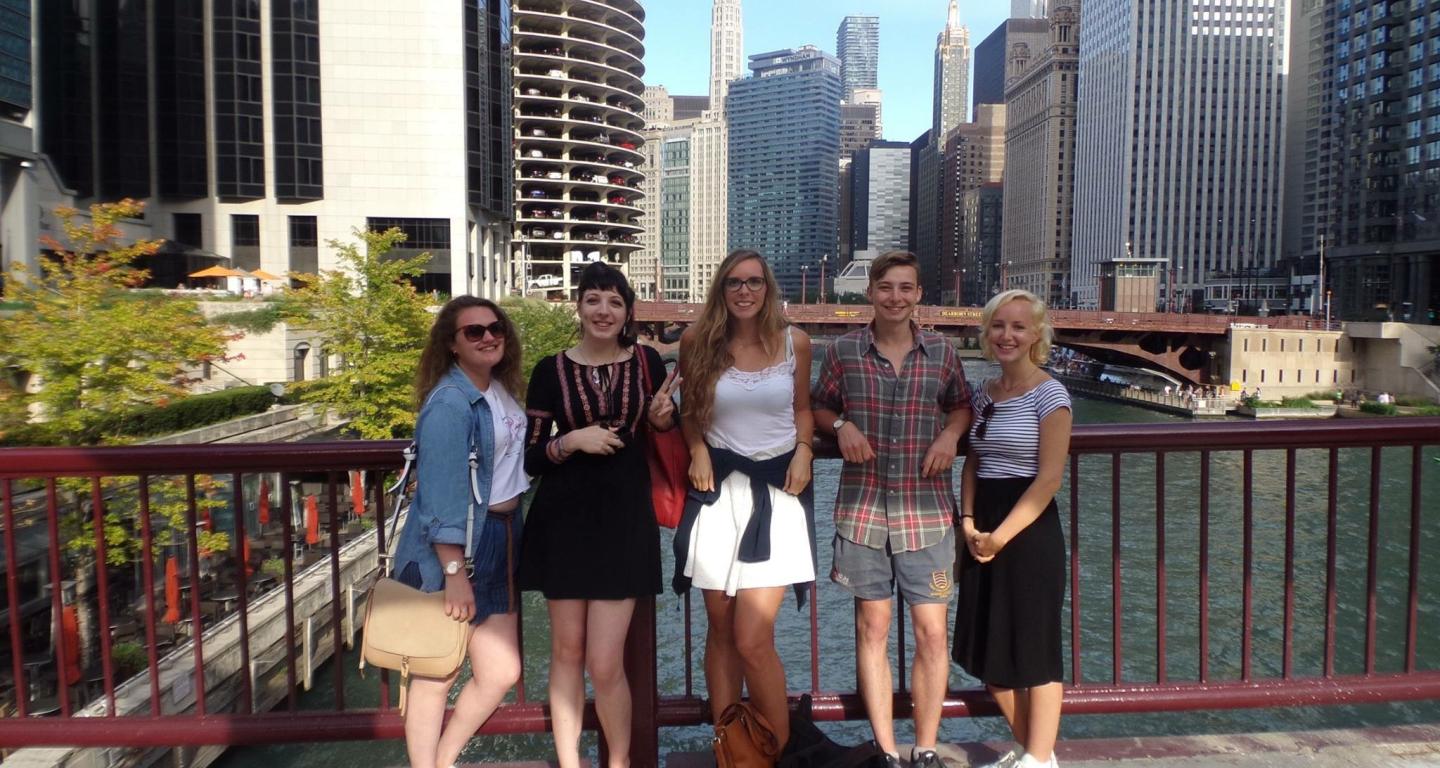 CGE Frequently Asked Questions
General Information
Where is the Center for Global Education located and when are you open?
The CGE is located in Abe House, 48 E. Jefferson Ave. CGE hours are Monday - Friday, 8:00 am-5:00 pm.
What services are offered to international students?
The International Student Services office helps F-1 students maintain their immigration status by offering the following services: 
F-1 Immigration Advising
Mandatory F-1 International Student Orientation (offered each term for new F-1 international students)
Group Information Sessions for Change of Status, Reinstatement and Practical Training (scheduled upon request)
USCIS Application and Notification Assistance
Change of Address
Change of Major
Change of Program Level
Authorization for Reduced Course Load
Program Extension 
Transfer
Signature for Travel
Change of Status
F-2 Dependents
Reinstatement
How can I schedule an appointment with the International Student Advisor or the Director of International Programs?
You can schedule an appointment by calling the CGE at 630-637-5132, e-mailing rjpugh@noctrl.edu or stopping by our office in Abe House.
How long does it take to receive a new I-20?
Please allow five business days to receive new documents and plan accordingly.
Beginning your course of study in the United States
When can I enter the United States?
Up to 30 days before the program start date on your I-20. All students should enter the United States and check-in with CGE and prior to the start date listed on their I-20.
What materials will I need to enter the United States?
You will need your I-20, valid US entry visa, passport and admission letter. Upon arrival at the Port of Entry, you will receive instructions on how to print your I-94 (entry departure record). We will be printing these records during new international student orientation. 

I'm a newly admitted student at North Central College and haven't received my I-20 or DS-2019 yet? What should I do?
Your very first I-20 will be issued by the Assistant Director of International Admission. Please contact the CGE office (630-637-5132) for further information about the status of your I-20.
I'm transferring to North Central College from another US institution. What should I do?
You will need to request a SEVIS transfer. Please note that this can only be done while you are in the US. Once you are accepted into North Central College, you need to request that your SEVIS record is transferred.  You will need to contact the CGE to find out when your new I-20  will be ready. You will then need to check-in at the CIE once you arrive on campus.
My passport will soon expire, is this a problem?
F-1 students must have passports that are valid for at least six months past their date of admission to the U.S. If your country is on the passport list, the six months requirement does not apply, and your passport only needs to be valid on the date of entry to the U.S.
What should I do when I first arrive in Naperville?
All international students should check in with the CGE as soon as possible. To complete check-in, students must:        
    1. Visit CGE to check-in with all of the immigration documents you used to enter to    
    country.
How do I update my address to maintain my valid F1 status?
You can update your address using Merlin and emailing the international student advisor with any changes at jevelasco@noctrl.edu.
What does CGE consider to be a full course load?
A full course load is defined as 8 credit hours a term (Fall, Winter and Spring). Students must be full time enrolled for three consecutive terms or one academic year before they are allowed to take a vacation. For example, if you start in Winter Term, you will be required to be full-time enrolled in Winter, Spring and Summer.

I am in my last term and need less than a full course load to graduate. Do I need to take a full course load?
No, you are eligible to apply for a Reduced Course Load (RCL) based on this information. 
Other students experiencing serious illness and new students struggling to adjust to the English requirements or teaching style of American higher education may also be eligible for a Reduced Course Load.
CGE requires that your academic advisor fills out an RCL form before you register for less than a full course. Set up a meeting with the international student advisor for any reduced course load inquiry.

I would like to lengthen or shorten my program, what does the CGE require?
To extend or shorten the length of your program, please have current documentation, such as an email, from your academic advisor explaining why you need to extend or shorten your program. Once the CGE receives these forms, our office can issue a new I-20 or DS-2019 that reflects your new program end date.

I am going from a Bachelor's to Master's program at NCC.  Do I need a new I-20?
Yes, you will need a new I-20 because you will be starting a new program. Undergraduate students changing levels to graduate study will receive their new I-20 from the CGE. Please contact the international student advisor for further information.
I would like to change academic level (ex: Master's to PhD). What is required?
North Central College does not offer PhD programs. Once you have been accepted to a PhD program, please submit your acceptance letter and transfer verification form to the international student advisor at NCC, who will then transfer your SEVIS record to the new institution.
Optional Practical Training (OPT)
What is Optional Practical Training?
OPT is a program that allows F-1 students to work or intern in their field of study in the United States for 12 months after their program of study ends. CGE must recommend you for OPT by issuing a new I-20. F-1 students will then need to apply through the United States Citizenship and Immigration Services (USCIS) for OPT authorization. It can take up to 90 days to process your OPT Application and issue an Employment Authorization Document (EAD card), so we encourage students to plan ahead and apply early.

How can I find out more about the OPT application process?
The CGE offers an OPT workshop each Spring Term. An email will be sent to all international students with more information. If these times do not match your schedule, you may set up an appointment with the international student advisor to learn more about OPT.
My major is in Science, Technology, Engineering, or Math (STEM), I heard can work for more than a year on OPT, is this correct?
This will be possible only if your program of study is on the STEM list of majors. Please check with the international student advisor to find out if your major qualifies for the STEM extension. The STEM extension is a 17-month extension which may be used once during your entire program of study at all levels. Students who qualify can apply up to 120 days before the end date of their current OPT.  
I'm on OPT and just received a job offer?  Do I need to let you know?  What if I change jobs?
Yes, please notify the CGE about your employer, and any time you change employers.
I'm on OPT and I've moved. How do I update my address?
Please email the international student advisor with your new address.

I don't have my EAD card yet.  My friends have their EAD cards already. Is something wrong?
It takes 90 days from the date you mail off your application for USCIS to approve your OPT. It may then take an additional 1-2 weeks to process the actual EAD card.  If you receive your EAD card before 90 days – great!  However, in most cases, it will take the full 90 days to process your application.
Can I work while I wait to receive my EAD card?
No, you must have your EAD card to work on OPT.
Employment (besides OPT)
Can I work at North Central College?
Yes, F-1 student are authorized to work on-campus 20 hours a week while school is in session and there is no official limit during official breaks. For further information, please visit the employment section of our website.

I am an F-1 student interested in getting a job/internship, what should I do?
After one academic year, F-1 students are eligible to pursue off campus work that is integral to your course of study. This is known as Curricular Practical Training (CPT).
How do I obtain a Social Security Number?
You must have employment in order to apply for a Social Security Number (SSN). Proof of employment can be determined by a job offer letter. You will also need to obtain a SSN letter of eligibility from the international student advisor.
Travel
My visa/passport is set to expire, what should I do?
You can remain in the United States on an expired entry visa, as the entry visa is only required to enter the country. However, if you want to travel outside of the United States and return, you will need to apply for a new visa at U.S. consulate/embassy in your home country. New passports can be obtained through your home country government.
You may remain in the US and continue with your program as long as your are maintaining status here. The entry visa does not determine your length of stay in the US.

I would like to travel back to my home country during the break. What materials will I need to come back into the United States?
You will need an I-20/DS-2019 with a travel signature dated within one year of your travel, your passport, valid visa. When you leave the US, you will need to surrender your I-94 card. You will have to re-print your I-94 record upon your return:
I want to travel to another country. What should I do?
You will need to make sure you check visa requirements to enter that country. You can do this by looking on the website of the consulate or embassy of that country.
My visa is expired and I want to travel to Canada. Do I need to get a new visa?
F-1 students with an expired US entry visa may travel to Canada, Mexico and some of the Caribbean Islands, with some restrictions.This is known as Automatic Revalidation. Students must have a multiple entry visa and the trip must be 30 days or less.
Please note that those with single-entry visas are not eligible for automatic revalidation.
I would like to travel while on OPT, what do I need?
You will need an I-20 with a travel signature dated within six months of your travel, your passport, valid US entry visa, EAD card and job offer letter. Travel outside the United States is discouraged if you have NOT yet received your EAD card, a job offer letter and your Notice of Action from USCIS.
I would like to travel within the United States after my graduation, can I do this?
If you are an F-1 student, you must leave the United States within 60 days of your program end date. If you are on a J-1 visa, your grace period is 30. You may travel within the US during your grace period.
If you have any other questions, please contact the CGE at 630-637-5132