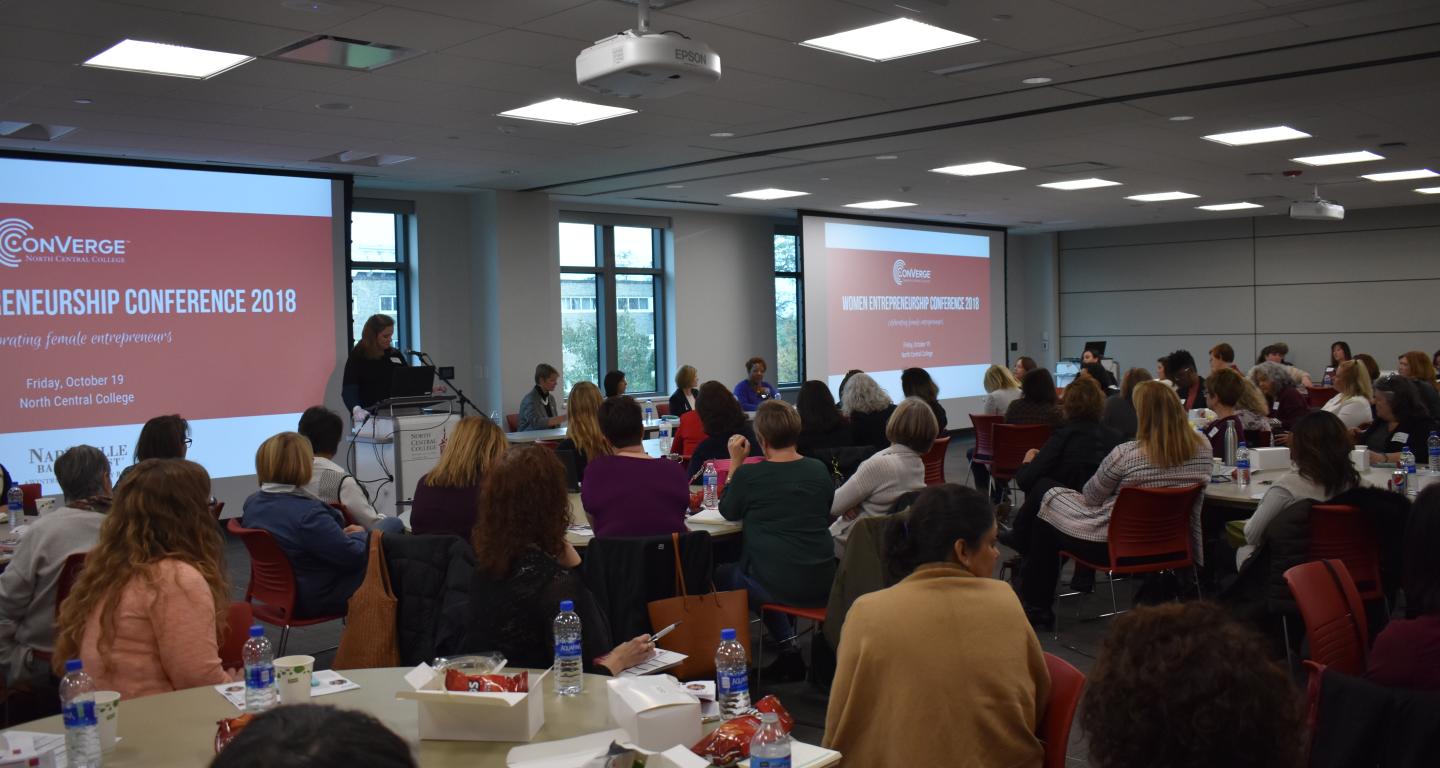 Media Releases
North Central College to host second annual Women Entrepreneurship Conference on October 25
Oct 21, 2019
First of its kind conference in Chicago area aims to advance female entrepreneurship by cultivating a growth mindset
North Central College will host its second annual Women Entrepreneurship Conference on Friday, October 25. In alignment with Women Entrepreneurship Week, the conference is part of a global movement to empower female entrepreneurs  by bringing together various organizations and thought leaders throughout the city to support the advancement of female-owned businesses.
Joining more than 200 colleges and universities worldwide, the first of its kind conference in the Chicago area helps women connect, learn and grow as business owners and entrepreneurs, with a specific focus on aspects of growth. Topics range from overcoming imposter syndrome and prioritizing self-care, to securing funds and scaling a business.
"This conference—hosted by the College's Center for Innovation and Entrepreneurship—is just one of many solutions to help address the current gender gap in entrepreneurship," said Bea Rodriguez-Fransen, conference director and project manager at North Central. "Last year, less than 3 percent of venture capital funds went to women-owned businesses, and we need to start changing that."
The day-long conference will include presentations and hands-on workshops featuring 15 accomplished panelists and speakers, including keynote addresses from Sandy Marsico, CEO of Sandstorm Design, and Jaqueline Camacho-Ruiz, an award-winning entrepreneur and author. New to the conference this year is the Female Founders' Pitch Competition, where students and professionals can compete for funds for their business ideas. 
"To encourage women of all ages to access more funds and mentorship, we're proud to launch the Female Founders' Pitch Competition. It celebrates the accomplishments of female entrepreneurship in a fun and supportive environment," said Rodriguez-Fransen.
For more information or to register, visit: nccie.vbotickets.com/event/Women_Entrepreneurship_Conference_2019/34901.
Conference Details:
Friday, October 25, 2019
Judy G. Stevenson Hall, Wentz Science Center
131 S. Loomis St, Naperville, IL
Free for North Central students
$25 registration fee for community entrepreneurs: includes lunch, admission to all presentations and workshops, free professional head shots, and cocktail and hors d'oeuvres.  Registration deadline is Monday, October 21.
The lead conference sponsor is Naperville Bank & Trust
Schedule:
9:30 a.m. | Check-in, Professional Headshots, Coffee Networking
10 a.m. | Welcome & Panel Discussion
11:30 a.m. | Keynote + Lunch
12:30 p.m. | Networking Break
1 p.m. | Choose from Breakout Sessions
2 p.m. | Choose from Breakout Sessions
3 p.m. | Choose from Breakout Sessions
4 p.m. | Female Founders' Pitch Competition
5 p.m.  Keynote, Awards Ceremony + Cocktail Reception