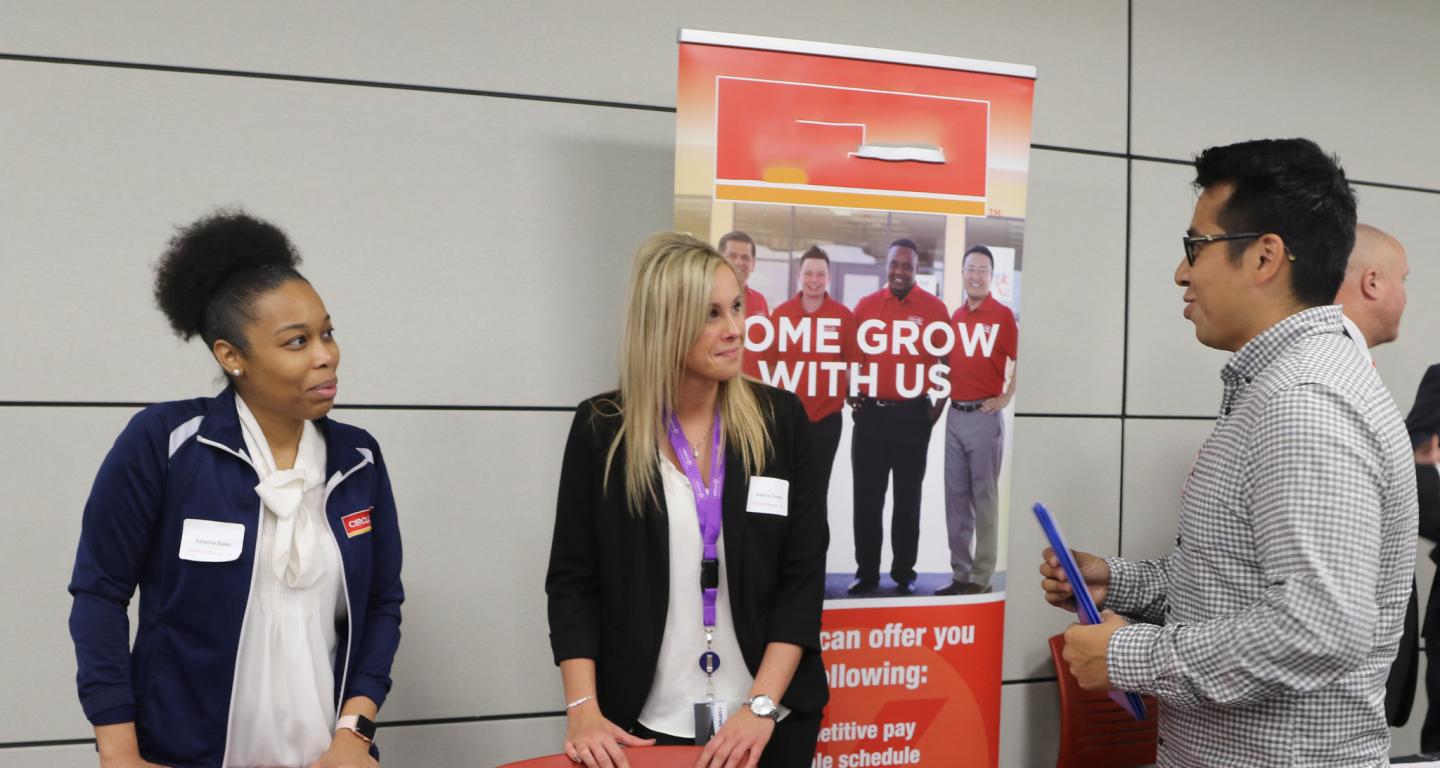 How to Prepare for a Career Fair
Oct 22, 2020
How to Prepare for a Career Fair
A career fair, also known as a job fair, is an event where a variety of employers meet potential employees and provide more information about job openings and career paths. At these events, there are opportunities to network, learn more about jobs, and receive feedback. Employers want to meet a variety of people, and you never know how your skills or experience can contribute to a company or transfer to another industry. It may be beneficial, and necessary, to attend more than one career fair—even career fairs targeted for employees outside of your major. Job fairs are for everyone and welcome undergraduate students, graduate students, alumni, and other members of the community. You may have already done your online college application and even started some schooling, but being prepared for a career fair is ultimately the end goal. Before attending, you will want to know how to prepare for a job fair.
When you pre-register for the event, you will receive a list of the organizations and companies attending the career fair. Research those companies and organizations and decide what career opportunities or companies interest you. Focus on, but do not limit your research to understanding what this company does and how you can use this to make a great first impression. Your research will also provide you with insight into what companies or positions most interest you and what questions to ask at a career fair. Use search engines to find companies and careers that interest you and align with your skillset to make for a good fit. Use platforms like LinkedIn and read descriptions of specific jobs. Reach out to the network you already have—faculty and staff at your institution, your peers, your family, your friends, alumni, and previous supervisors.
Prepare an elevator pitch, a brief speech aimed at persuading and informing your target audience. It's a good idea to practice your elevator pitch for a career fair before the event. Practicing before will ease anxieties, making you more confident when presenting your speech. Everyone gets nervous but being overly anxious could make the recruiter feel uncertain as well. The more you practice, the less anxious you are, and the better your interactions with recruiters will be.
Check your online presence. Update information, edit your online writing, and clean your social media channels. Change old profile pictures—it is best to use a professional headshot. Put some thought into choosing your cover photo. Update "about" sections to focus on who you are as a professional. Scrub the posts and pages that you follow, as well as your own. Make sure everything is well-written and thoughtful.
The night before the career fair, pack necessities and make sure you travel light. If you are asking yourself what to wear at a job fair, keep in mind what is appropriate and comfortable. Not only can these small details affect your mood and body language, but it could also make it difficult to speak to each recruiter and network with other attendees. Other job seekers may have insight on a potential employer or position and getting their contact information may be useful to your post-career fair plans.
Margaret Stacy-Duffy, assistant director of career development at North Central College, explains how to prepare for a job fair. "It's important to reflect on what you hope to get out of it," she said. "Whether your goal is to network with specific companies, learn about internship or full-time opportunities in a specific field, or explore your career options, having this in mind will give insight into how to prepare who to meet with, how to introduce yourself, and the questions to ask employers at the fair."
What to Bring to a Job Fair
Bring a pen, paper, and something you can write on. You never know when you need to take a few notes, and you may come off as unprepared or unprofessional when you have to ask for a pen and paper from a potential employer. If you have business cards, it is a great idea to bring them as well. Being prepared by incorporating the few tips above can help create a first impression that a potential employer will respect.
Bring a professional portfolio. Your portfolio should include work that gives the recruiter an idea of what you have done and accomplished. Organize your portfolio and create easily-identified sections or tabs. Your resume and portfolio should showcase who you are as a professional and your progression in your industry. You should have an online version of your portfolio as well. You may want to have two versions of your portfolio, one with all of your materials and a condensed version.
How do you know if you need two versions of your portfolio? Ask yourself these questions:
•    Do I have a hybrid position, or is that an opportunity?
•    Do I have skills that are transferable to other jobs, positions, or industries?
•    Am I open to another career path or job position in a different industry?
Think about the requirements, qualifications, and skills needed in a particular role and create a resume tailored to this position. Include a link to your portfolio in a follow-up email. Follow-up thank you notes and messages can be short but personalize them. Send them as soon as you can and consider attaching your resume as well.
What to include in your portfolio:
Writing samples
Creative pieces
Copywriting
Editing
Research materials
Notable accomplishments
What to include in your condensed portfolio:
Resume
Cover letter
Include fewer samples than your portfolio
Letters of recommendations
Bring copies of your resume, and make sure you have enough. Your resume should give a general idea of who you are, your skillset, your experience, and your education. If you have multiple versions of your resume targeted at a specific career or job opportunity, make sure to bring enough of each resume to the career fair.
How to Prepare Your Resume or Business Card
Whatever your reason, pursuing a new career or beginning a career path, a business card has many benefits. It's cost-efficient and something tangible you can use to your advantage. The written and visual components of your business card allow you to brand yourself quickly. It communicates your commitment to what you do and to yourself. It's a tool to start a conversation or to focus the exchange on what you want the recruiter to know about you—not where to find your information. A business card works for you even when you are not physically there. Business cards are also something you can use outside of a career fair. Carrying a few with you is a good idea because you never know who you might meet or when an opportunity presents itself. Be sure not to clutter your business card with text—you need white space.
Here's what you should include on your business card:
Full name
Phone number
Email address
Additional contact information
Job title and description
Mission statement
Link to your portfolio if you have one
Social media channels with recent content
You don't want a recruiter to find an error in your resume. Write a well-written resume that is easy to read. Keep your resume organized, utilize white space and bullet points. Your resume should tell your story—who you are and how you have grown. The recruiter should see a clear progression in you as a professional. Include accomplishments and achievements, and do not forget to connect these to your responsibilities. Avoid exaggeration and clichés. Include action words that encourage the recruiter to visualize you in the job position you want.
If you are not sure which career path suits you, take time to think about your skill set, interests, and values. A great resource is your institution's office of career development or career services. Make an appointment with a career counselor to get valuable advice on anything from resume guidelines to first and second interview tips.
Questions to ask your career counselor or advisor:
What careers or positions can I pursue with my major?
Are my resumes and cover letters written effectively?
What questions will recruiters ask me at the career fair?
Are there any additional services I can take advantage of to prepare for the career fair?

Questions to ask yourself when you are choosing which career path to pursue:
What are my goals?
How do the companies align with me as a person and professional?
What are my top priorities?
Am I qualified for this position? If not, what do I lack—experience, education, skills?
What is the culture of the position, career, or company, and how does it align with my values?
Will this position showcase my strengths?
As a job seeker, you should use all of the research you gather to your advantage. Tailor your responses and questions to suit that company or career path. Prepare responses that answer the recruiter's questions about you—if you're qualified for this job opportunity or if you will be a good fit at the company, why you're interested in this position and company, and what you can bring to the job or company.
 
Ask yourself why you are interested in the company and the skills you would contribute to the job. Prepare thoughtful questions to ask at a career fair and avoid asking what a company does—besides, your research should have already answered that question before the career  fair. The earlier you ask questions about the responsibilities of the job, the more the conversation will focus on what makes you qualified for that specific position. By the end of the conversation, there will be no question of whether you are qualified. Ask your potential employer about the history of the open position. It is beneficial to know if this is a new position and why it was necessary for the organization. When the job is a pre-existing role within that company, it would be beneficial to inquire about the responsibilities of the position. Ask questions about the company's culture. What is the top priority at the company and how does that affect this role?
Make sure you are facing the other person and be conscious of all parts of your body. We tend to only focus on our facial expressions. Turn your head, shoulders, torso, and feet in the direction of the other person. There may be a time where you are looking for an opportunity to interrupt a prospective employer speaking with other attendees. Read the recruiter's body language, are their toes pointed towards each other, or does their body language give you space to briefly interrupt, but not come off as rude? Enter the conversation with a firm handshake and be confident--your confidence will speak wonders.
Virtual Career Fair
A virtual career fair is an event where a potential candidate and participating companies or company representatives meet virtually to discuss career opportunities. These events can be more convenient because it takes away some of the distractions you encounter with traditional career fairs.
Virtual Career Fair Preparation
Register ahead of time just like you would for a traditional career fair so you'll get a list of the participating companies. Do your research and prepare questions. Review and edit your resume, portfolio, and social media profiles before the event and upload materials so that they are immediately available to the recruiters. Remember to edit and practice your elevator pitch for a virtual career fair.
Get to your device early enough to log in on time and give yourself extra time just in case you experience difficulties logging on. Make sure your device supports the platform you are using and think about your location ahead of time. Your device should be sturdy. Using a phone may prove to be distracting. If you can't find a quiet environment, make sure you have headphones. Test the camera on your device to make sure you can accommodate a face-to-face meeting.
You will not be there in person, so you need to make sure you are communicating your enthusiasm through your device. Body language is still important in a face-to-face interaction during a virtual career fair. Expect to use the chat functions within the platform. Your interactions through chat functions should be well-written and thoughtful. Some recruiters want to meet face-to-face, so dress appropriately—well at least from the waist up. Your background should be clean, distraction-free, with good lighting. Don't sit directly in front of a window and make sure your light source is above and behind your device. Before ending the interaction with the recruiter, be sure to ask for contact information, inquire about the process moving forward, and offer to send your resume to the recruiter.
After the event, follow up with recruiters. Don't use generic thank you messages. Take what you have learned and apply it to the next career fair you attend. It is rare to leave a career fair with an offer or interview, so don't be discouraged and be prepared to attend more career fairs. Think about this experience and make adjustments if necessary. Keep practicing and preparing for the next opportunity. If there are no current positions, don't be afraid to stay in contact with the recruiter or the company and ask for future networking opportunities.
Kamari Jordan is a graduate assistant in the Office of Marketing and Communications. She creates content for web and print and is pursuing a Master of Arts in Liberal Studies. Kamari received a bachelor's degree in Communication and Media Arts from the University of St. Francis (IL).