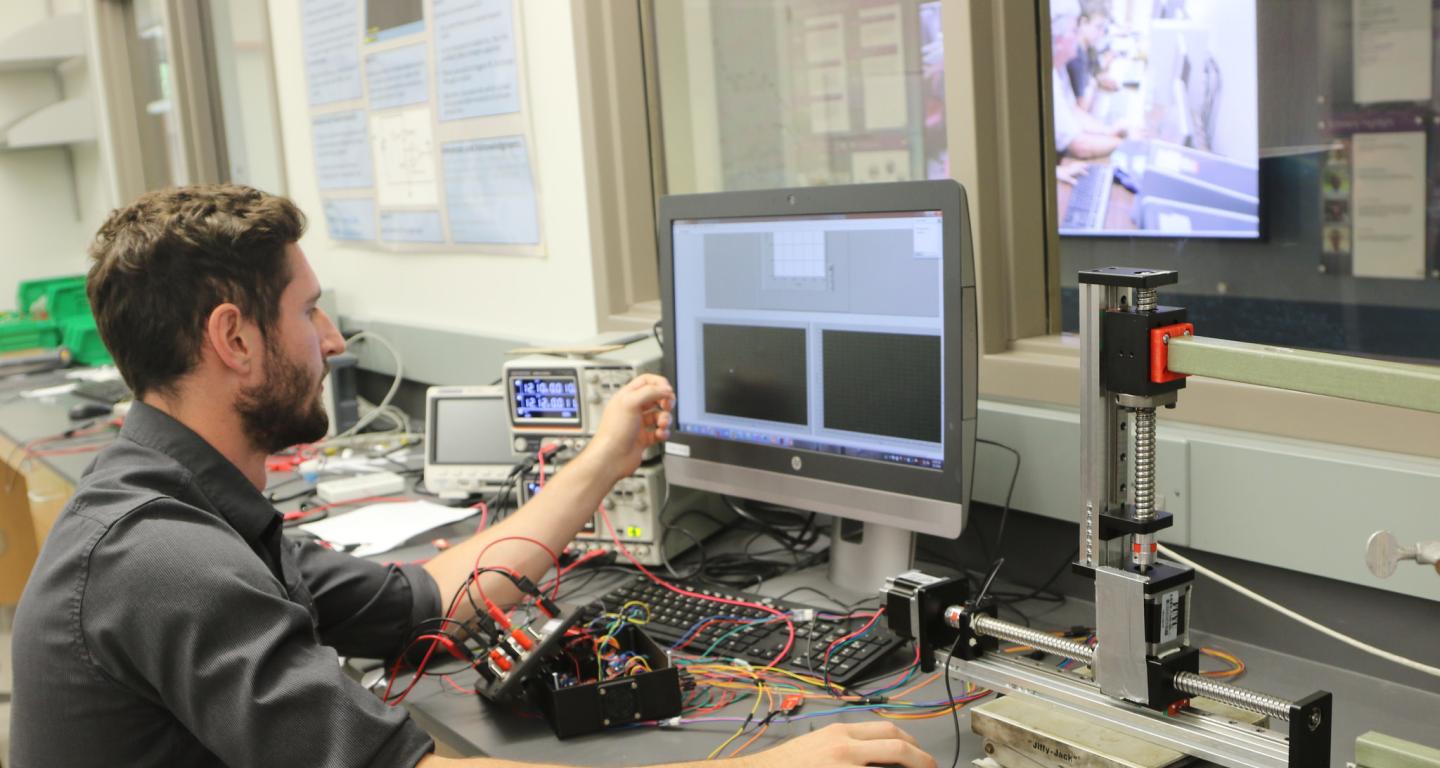 What Do Electrical Engineers Do?
Feb 10, 2021
What is electrical engineering?
What is electrical engineering? When it comes to studying engineering, there are a number of different branches you can learn. One of those main specializations is an electrical engineering program. This type of engineering is the design, building and maintenance of devices and systems that are powered by or produce electrical power. 
Throughout history, electrical engineering jobs have played a huge role. From Thomas Edison's invention of the electric lightbulb to Philo T. Farnsworth's invention of television, pioneers in electrical engineering have largely shaped how we live today.
Since the work of these great pioneers, the field of electrical engineering has grown tremendously, expanding into a number of specialized categories. These include power generation and transmission navigation systems, motors, batteries, control systems and more. With the increased use of electronics and electrical systems in our lives today, it is no surprise that electrical engineers continue to greatly impact the world. 
What do electrical engineers do?
In short, electrical engineers help keep our world running. From the tiny microchips inside our cell phones to large aircraft electrical systems, electrical engineers not only create these devices and navigation systems, but keep them running smoothly. With the expansion of electricity and technology, there are a number of degree programs, career paths and opportunities in the field of electrical engineering that impact what electrical engineers do on a day-to-day basis. 
Job duties for electrical engineers may include:
Evaluate electrical systems, products, components and applications
Design new ways to use electrical power to develop or improve existing products and systems
Perform detailed calculations to develop manufacturing, construction and installation standards and specifications
Direct the manufacture, installation and testing of electrical equipment to ensure that products meet specifications and codes
Investigate complaints from customers or the public, evaluate problems and recommend professional electronic engineering solutions
Work with project managers on production efforts to ensure that projects are completed satisfactorily, on time and within budget
Stay up-to-date on the latest research and technologies
What kind of degree do electrical engineers have?
Similar to most fields of work, it is highly recommended, if not required to earn a bachelor's degree. Earning an electrical engineering degree prepares you with the necessary skills and knowledge to begin your career. With that, it is important to look for an engineering and technology program that provides a strong background in science and mathematics, as well as professional training and hands-on experience where you can put forth your problem-solving skills.
Among other engineering institutions in Illinois, at North Central College a combination of inspiring mentors, engaging coursework and state-of-the-art facilities all add to your success as an engineering student. Opportunities such as research and internships will also be vital to growing your knowledge and work experience in the field. 
An electrical engineering program like this provides engaging coursework such as calculus, modern physics, engineering design and more, while shaping students' professional capabilities through hands-on training and practical experience. This is invaluable when it's time to enter the workforce as a professional engineer, even for entry-level positions. To further the growth of knowledge and experience, some students receive their master's degree as well. 
Will I need a master's degree?
A graduate degree in electrical engineering or a student with a mechanical engineering degree can be advantageous for those students looking to receive higher earning potential, additional certifications or go into advanced, specialized career paths. This path is also recommended if you are interested in working in research and development or becoming a university instructor.
Is Electrical Engineering a good degree?
A degree in electrical engineering is a great choice for those passionate about science, technology and mathematics. There are numerous benefits when you choose to work in this field. Some benefits include competitive pay, the chance to work in a variety of industries and being on the forefront of today's innovations, while working alongside mechanical engineers and computer engineers. In addition to those, you will also be well prepared for employment in a wide range of companies and research labs. If you are wondering, "What is mechanical engineering?" or "What is computer engineering and how will I work alongside other specialized professionals as an electrical engineer?", we have your answers! Learn more about the mechanical and computer engineering individual responsibilities to better understand the scope of these industry professions.
What courses will I take?
With this degree, you will learn important analytical, technical and engineering skills through course such as:
Calculus
Differential equations & linear algebra
Computer science
Python
Classical physics
Modern physics
Basic electronics
Engineering design
Technical writing
Professional ethics
Engineering finance
Embedded processors
Electrical simulations
Applied statistics
Digital logic
Circuit analysis
Computer systems
Electromechanics
Analog and digital signals
Motors and actuators
Power electronics
Solid state physics
Electronic controls
Independent projects
With expert faculty by your side, courses like calculus, engineering design, circuit analysis and more will help you develop core competencies pertaining to electrical components and a variety of specializations. An electrical engineering program like this will also help you strengthen your problem-solving skills, internal and external communications and critical thinking skills. These competencies and skills will be valuable for your career and everyday life, preparing you to enter the electrical engineering field with confidence. 
What kind of jobs do electrical engineers do?
Today, there are countless industries that rely on electronic components and machines, making the profession of electrical engineering very promising for the future. As a result, electrical engineers can find work in a variety of industries such as: 
Aerospace
Automotive
Engineering services
Manufacturing
Telecommunications
The federal government
Research and development
Utilities and construction
In these fields, there are a multitude of roles electrical engineers can choose to be. Below you can find some of them, along with information detailing what they do.  
With an electrical engineering degree, you can apply to be:
Research Engineer: Here you can work in a lab, testing and inventing. These engineers are responsible for discovery-stage technology behind any new electronic product.
Design Engineer: A design engineer visualizes how the future product will look, thinking of possible scenarios for the application of new technology and chooses the best one.
Project Engineer: The project engineer oversees others when working on a new product or technology. Having a high proficiency in multiple electrical engineering disciplines, as well as strong leadership skills is key. Internal and external communications are also critical to this role.
Test Engineer: These engineers keep technology working properly, making sure nothing goes wrong. In the case that something goes wrong, they are there to troubleshoot.
System Engineer: The skills of a system engineer help with proper installation and maintenance of the systems created.
Application Engineer: Using whatever resources are available to them, application engineers adapt existing equipment and technologies to fulfill the needs of their employers. 
What is the general work environment like?
As stated previously, electrical engineers can find themselves in a number of industries from research and development to the federal government. For many jobs, electrical engineers tend to work indoors in offices. However, at times they also may visit sites to assist with any electric power outages or oversee equipment.
What do electrical engineers make?
In terms of pay, electrical engineers make a relatively high salary. According to the U.S. Bureau of Labor Statistics, the median annual wage for electrical engineers was $99,070 in May 2018. The lowest 10 percent earned around $61,000, and the highest 10 percent earned more than $153,240. Like most degrees, your pay depends on what kind of work experience you have. As most can guess, the more practical experience you have, the higher the chance you have to make more in electrical engineering jobs. Digging deeper, PayScale breaks it down, providing the pay versus experience level for electrical engineers.
An entry-level electrical engineer with less than one year of hands-on experience can expect to earn an average total compensation (includes tips, bonus, and overtime pay) of $65,813 based on 2,946 salaries. 
An early career electrical engineer with one to four years of experience earns an average total compensation of $70,804 based on 9,741 salaries. 
A mid-career electrical engineer with 5 to 9 years of experience earns an average total compensation of $83,395 based on 4,601 salaries. 
An experienced electrical engineer with 10-19 years of experience earns an average total compensation of $97,043 based on 2,743 salaries. In their late career (20 years and higher), employees earn an average total compensation of $108,270.
PayScale also provides the median annual wages in May 2018 for electrical engineers in the top industries in which they worked:
Research and development in the physical, engineering, and life sciences: $108,130
Navigational, measuring, electromedical, and control instruments manufacturing: 100,630
Semiconductor and other electronic component manufacturing: 99,810
Electric power generation, transmission and distribution: 96,920
Engineering services: 93,850
Overall, the field of electrical engineering is a promising one. It is projected that the employment of electrical engineers will grow two percent from 2018 to 2028.
Why do we need electrical engineers?
If you are interested in an electrical engineering career or getting a dual degree in engineering, it will take hard work and will be worth it. An aspiring electrical engineer will lead the way in electrical projects and electrical circuits that can benefit renewable energy and so much more! It is important to find a degree program that will let electrical engineering students explore different aspects of engineering in order to be the best they can be. 
Electrical engineers play a key role in everyday life. From flipping a switch on in your house to using medical equipment such as medical imaging scanners, electrical engineers are the ones that make these innovations and electrical components work and grow.  Without them being on the forefront, answering tough electrical questions, our world would be a different place. 
If you are interested in learning more about electrical engineering, be sure to visit North Central College's web page on their electrical engineering degree programs. 
Kara Kots is a social media specialist for North Central's Office of Marketing and Communications, where she contributes her content, writing and communication skills.