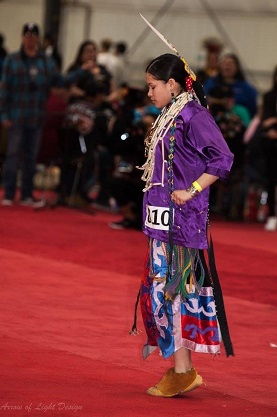 In addition to being a first-generation college student and athlete, Leonard also identifies as a proud member of the Native American Hoocak Nation, covering parts of Wisconsin and northern Illinois. Hoocak, or Ho-Chunk as it is more commonly spelled, means people of the big voice. 
"Ho-Chunks are very prideful and thoughtful in the sense that we don't have a word for sorry, meaning everything we say and do is exactly what it should be," stated Leonard. "As a member of the Ho-Chunk Nation I try to live without regret and follow my elders so that our culture can continue." 
One way Leonard follows the Ho-Chunk tradition is by participating in pow-wows, Native American gatherings where tribes from all over North America come together to dance, sing and eat. 
"I try my absolute best in everything I do because I am very proud to be Ho-Chunk, and I want to make my tribe proud," expressed Leonard. "Being Ho-Chunk makes me feel powerful and strong, because I know I have so many people behind me. Ho-Chunks always take care of their own, and they support one other in everything they do."