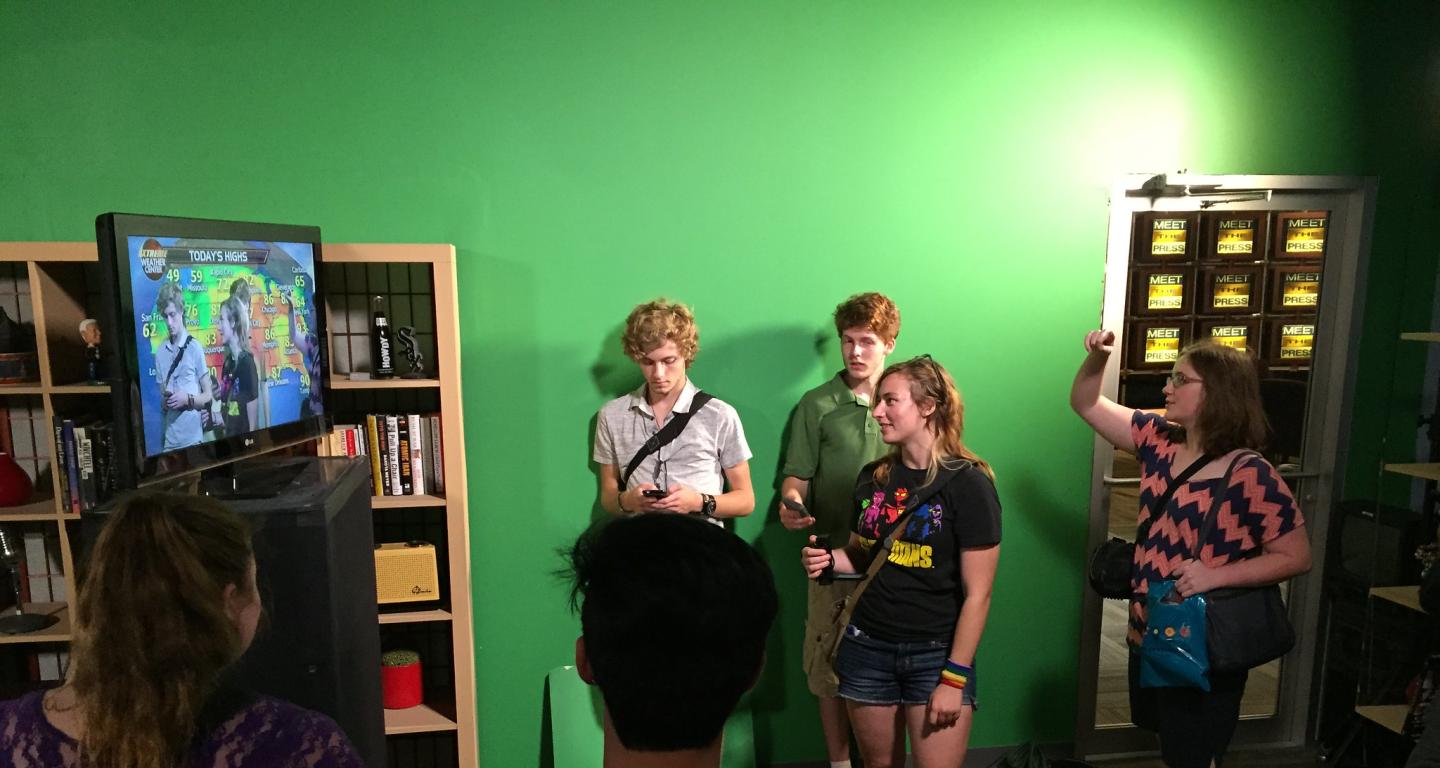 What is Media Studies?
Reviewed by Jacob Imm
Aug 18, 2021
What Is Media Studies?
In today's digital age, it can often feel like just about everything relates back to the media. Whether you're scrolling through Instagram to check on a friend or reading the latest news, different forms of media seem to surround us at any given moment. 
The increasing prevalence of modern mass media is also the reason why it's so important for passionate and critical thinking students to pursue degrees in this growing field.
Media studies is an umbrella term that encompasses nearly every aspect of modern life. From creating video games, to analyzing journalism,  to answering the question, "What is interactive media?", the scope of modern media studies is nearly limitless. If you're interested in a career in media, read on to learn more about what a media studies program will entail, as well as the many opportunities for graduates in this field.
Media Studies Degree Overview
First and foremost, let's answer the question that most readers are probably asking: "What is media studies? "
The term "media studies" refers to the history, content and impact of various forms of widespread communication. The vast range of media that we encounter in our world  can be generally broken up into two categories:
Contemporary media – This category incorporates more modern forms of media and visual communication, such as social media, digital journalism and video games.
Traditional media – This category refers to older forms of media practice such as the written word, radio and broadcast television. 
Within a media studies course, students will learn the following key concepts:
Media language and communication techniques

Representation and interpretation of media

Audience and consumption of media

The institutions that uphold the media and how they are evolving
Core Coursework
Media studies is a broad term that covers a number of different academic subjects. At North Central College, for example, media studies majors can choose from four different degree paths: a bachelor of arts degree in convergent-media, a bachelor of arts degree  in interactive media technology, or a bachelor of arts degree in journalism and media communication.
Core classes for a media studies major at North Central College will include:
Digital Media Writing – This introductory course teaches students the fundamentals of an assortment of digital media platforms, including websites, mobile applications and social media. In this class, students will spend much of their time practicing writing styles for each type of media content and platform. 
Media Law and Ethics – Legal concepts play an important role in the ethical production of media, especially in the modern world where information is more accessible. This core class focuses on the legal restraints and ethical issues regarding media in all its forms. Students who take this course will learn constitutional, copyright and broadcasting laws and how they apply to different types of media and communication.
Digital Art and Design – This introductory course specializes in the more artistic elements of media production. Students will learn the basic elements of—and gain hands-on experience in—artistic digital media, such as computer graphics, graphic design and digital imaging. 
Global Media in a Digital Age – This course will emphasize the global perspective of media. Students will learn fundamentals related to worldwide mass communication, economics and politics in media, and the impact of the U.S. media on the world. 
Bachelor of Arts Degree in Convergent Media-Specific Courses
Each specialization within the media studies department will also incorporate a unique set of core courses and electives. Students who pursue a bachelor of arts degree in convergent-media can expect to take classes such as:
Web Design

Writing, Rhetoric and Digital Studies: Text/Technologies

Screenwriting

Social Media

Introduction to Professional Writing
Bachelor of Arts Degree in Interactive Media Technology-Specific Courses
The field of interactive media technology places a greater emphasis on user-input-based communication. This means that students who opt for the interactive media technology track will take on a slightly different course load:
Graphic Design I: Typography

Introduction to Computer Programming

Introduction to Website Development

Mobile Applications Development

Motion Graphics
B.A. in Journalism and Media Communication-Specific Courses
Finally, some media studies students may choose the more traditional and reporting-based track of journalism and media communication. This field leans more toward expository writing, as well as local and national news. 
Journalism and media communication majors will take a unique set of courses, including:
Newsgathering I

Multimedia Production Capstone

Introduction to Broadcasting

Video Storytelling
Concentrations
In addition to specific degrees, media studies majors may also pursue a broader educational path related to their preferred concentration. At North Central College, media studies majors can personalize their college experience by selecting one of three concentrations within the field:
Journalism – A concentration in journalism will place a heavy focus on written and photographic journalism. The journalism path will also incorporate more modern and nuanced forms of communication, such as social media, narrative writing and persuasive writing. 
Broadcast media – Broadcast media has long been an essential form of communication. This concentration will focus mainly on television and radio programming, as well as more specific crafts, such as editing, screenwriting and broadcast news. 
Interactive media studies – Interactive media studies is by far the most contemporary and technology-based concentration within this department. Students who pursue an education in interactive media studies will learn the fundamentals of a wide variety of media forms, such as: web design, 3D graphics, audio and video production, and virtual reality.
Which Should I Choose: Journalism or Media Studies?
With the evolution and impact of technology on modern communication, the journalism industry has grown to heavily rely on other forms of media. This means that the fields of media studies and journalism often overlap in terms of information and practices. 
With this in mind, however, it's important to understand the differences between the two—especially when choosing a college major. Let's take a look at what each of these unique paths has to offer, as well as what they have in common:
Journalism – Journalism is all about reporting on a story. While we often associate journalism with a traditional newspaper or TV news, the field has expanded into social and digital media—some of the most common vehicles used in media studies. Despite their similar practices, journalism continues to have a narrower goal of gathering evidence constructing content to be shared with the public, and reporting.
Media studies – The term media studies is used to describe a much wider scope of communication compared to journalism. The concept of media combines culture, stories and entertainment into one, complex field. Media studies without a concentration in journalism is going to be a more flexible, technology-based path that is less about objectively reporting information and more about analyzing creative content and how audiences consume it.
In other words, if you're interested in reporting, writing and sticking with the facts, journalism is the major for you. If you'd like to work in the broad category of media—from technological advances to artistic expression—then a general media studies education will be a better option in the long run.
Is Media Studies Limited to Artists?
While many aspects of media involve creativity, the field itself is not exclusive to artists. Although writing, digital art and photography are some major elements of media studies, there are plenty of other subjects that non-artistic students can focus on in this industry. 
Media studies graduates may go on to work in non-artistic careers, such as:
Technology development and programming

Marketing and advertising 

Television producing

Event planning

Media research

Copy editing
These positions (among many others in the media field) place a greater focus on technical work and knowledge of the media industry, rather than strictly creative or artistic abilities. If you have a passion for media as a whole, there is certainly a branch of media that will work for you.
Career Outlook for Media Studies Graduates
Media studies is a broad term that encompasses a variety of industries, which is exactly why graduates of this department have a plethora of job opportunities in the modern world. Since media studies cover such a wide range of topics and skills, students who graduate from this program may go on to work in any of the following fields:
Journalism

Social media

Marketing and advertising

Film, TV, and video game production

Web design

Public relations
According to the Bureau of Labor Statistics, employment in the field of media and communication is expected to increase by 4% over the next decade. In addition to steady job opportunities, the average salary for a professional in this field is currently around $60,000 per year, with plenty of room for growth.
Earn Your Degree in Media Studies 
Media studies is a compelling career path that more and more students are pursuing. The first step toward success in this field is earning your degree at an accredited college or university. 
When you enroll in a thorough media studies program—like the one at North Central College—you'll gain valuable communication skills, learn relevant information and even get some professional experience through publishing, video production or graphic design internships in the Chicago area, to help flesh out your resume. 
Start your career off on the right foot, and request more information about the media studies program at North Central today!
Sources:
Balan, R. S. (2020, December 21). Why Should I Study a Media Studies Degree in 2021? MastersPortal.Com.

https://www.mastersportal.com/articles/2739/why-should-i-study-a-media-studies-degree-in-2021.html 
North Central College. (2019). Media Studies. 
https://www.northcentralcollege.edu/college-arts-sciences/media-studies 
Adam, S. G. (2008, December 31). Thinking Ahead: The Difference between Journalism and Media. Poynter. 
https://www.poynter.org/archive/2008/thinking-ahead-the-difference-between-journalism-and-media/ 
AGCAS Editors. (2019, August). What can I do with a media studies degree? | Prospects.ac.uk. Prospects.

https://www.prospects.ac.uk/careers-advice/what-can-i-do-with-my-degree/media-studies 
U.S. Bureau of Labor Statistics. (2021, April 9). Media and Communication Occupations : Occupational Outlook Handbook: : U.S. Bureau of Labor Statistics. Bureau of Labor Statistics.