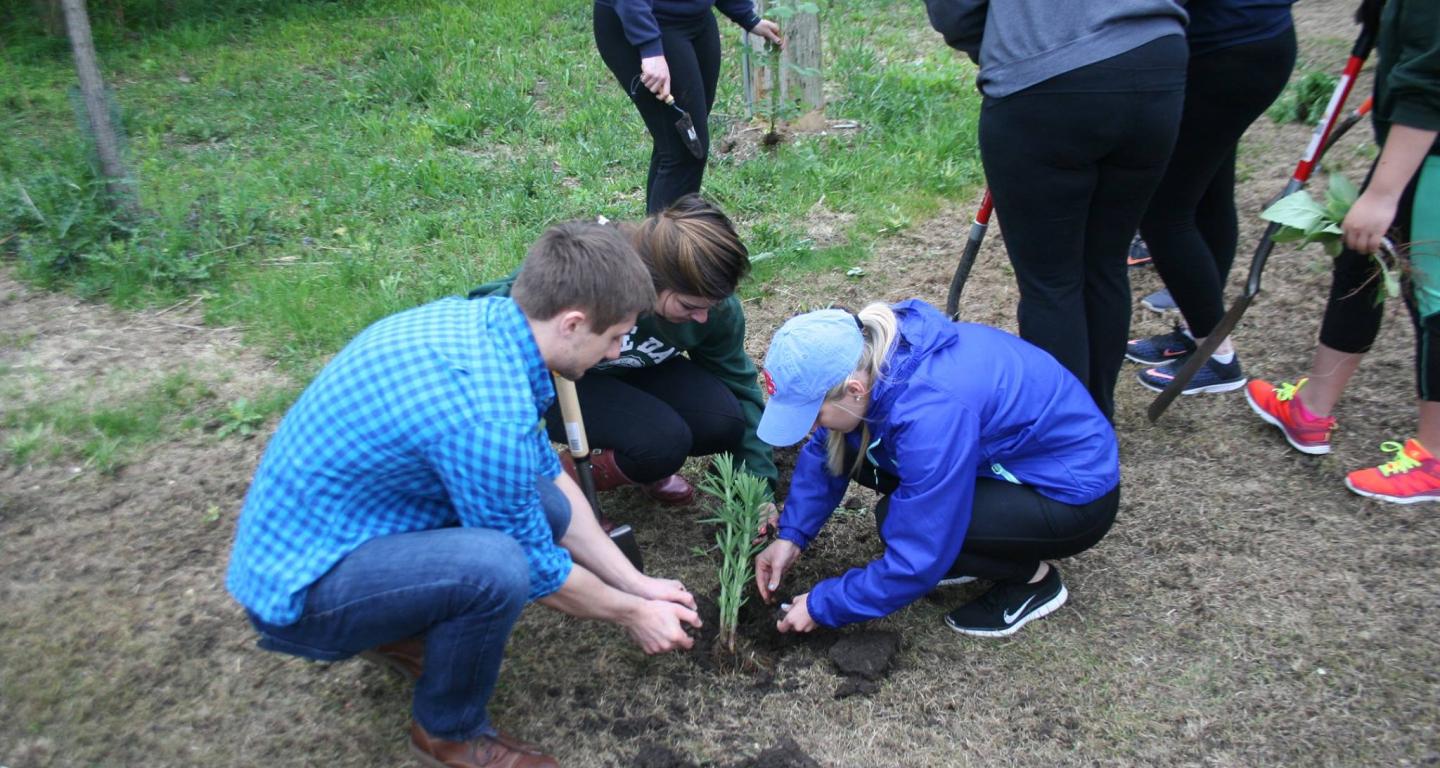 How to Become an Environmental Scientist: 5 Tips
Aug 26, 2022
How to Become an Environmental Scientist: 5 Tips
If you care about the environment and are fascinated by earth science, becoming an environmental scientist could be the ideal career fit for you. In this article, we'll explore what an environmental scientist does, and then we'll offer five tips that can set you on the way to a fulfilling career path in this exciting and important field. If you find yourself asking, "What do environmental scientists do?", make sure to read up on their daily jobs and roles before committing to the field of study.
The environment that exists around us is teeming with science—it's basically one big laboratory filled with so much for us to learn, explore and uncover. Environmental specialists use their knowledge of the physical world—including natural sciences like physics, organic chemistry, geology, and biology—to help protect the environment and improve human health.
Given the broad nature of this field, the day-to-day duties of environmental science careers can vary greatly depending on their area of focus or specialty. Some environmental scientists work primarily in the field, collecting soil, food, water, or air samples, while others do most of their work in the lab, analyzing and assessing those samples. Still, others do office-based work developing plans, preparing reports, and working with government agencies, non-governmental organizations (NGOs), or private companies to implement regulations and policies and to ensure that they are being adhered to. Since there's a good variety of jobs in this field, each environmental studies job's salary can differ greatly. All of this is done in the name of keeping our environment safe and people healthy.
Whether you are someone who likes to get their hands dirty out in the field, or if you are more of a policy or data wonk, there's a place for you in this expansive field.
If an environmental scientist sounds like the career for you, here are five tips to get started in the field.
Tip 1: Explore the Outdoors
One of the best ways to find out if the field of environmental study is for you is to literally explore it. That's right, head outdoors and experience nature firsthand. You can go to a local park, take a walk in the woods, or visit a body of water. Some questions to consider include:
Do you love the outdoors and have a strong appreciation for the environment?

Do you want to make sure that people treat the environment with respect, and at the same time want to ensure that the environment is safe for people to use and enjoy?

Do you have a burning curiosity about how people and the environment interact with one another?
Spending time outdoors and among nature is a great way to ponder questions like these that could help fuel your interest in becoming an environmental scientist. It's important to point out here that the environment doesn't just mean the natural world. It also means the built environment where most people live and work. However, even in the built environment—or perhaps especially in the built environment—it's important to consider the natural and human impact on our air, water, and food systems.
Tip 2: It's Never too Soon to Learn
Even if you're still in high school, you can tailor your education to set yourself up for success in college and beyond. Get on track to becoming an environmental scientist by taking natural science classes like biology, organic chemistry, and physics. You can also hone your math skills in high school by taking classes like algebra, geometry, trigonometry, and calculus (or pre-calculus). A strong foundational knowledge of the sciences and mathematics will be important as you dive deeper into this field.
When applying to colleges, it's also helpful to be involved with a wide range of extra-curricular activities. Find out if your school offers any science or math clubs, and if so, participating in those clubs is a great way to continue to explore your interest in becoming an environmental scientist and to boost your college application at the same time.
Tip 3: College Is Key
In order to become an environmental scientist, you will need a bachelor's degree or higher in a related field. This is where college is key to making this career a reality for you. Environmental scientists can major in natural science degree programs like biology, chemistry, geology, or physics, which are offered by the vast majority of accredited colleges. Some colleges also offer specific minor or major degree programs in environmental studies and/or environmental science. These programs are designed to provide students with broad exposure to this field, and to complement core coursework in biology, chemistry, math, and physics.
For example, at North Central College in Naperville, Ill., students can minor or major in environmental studies. Students majoring in this field can choose from three specialized environmental science degree tracks:
Society and the Environment, which includes humanities courses on environmental ethics, history, and literature.
Science and the Environment, which includes courses in ecology, climate change, and energy.
Sustainable Business, which includes courses in sustainability, green business, and environmental economics.
Regardless of their chosen specialty, students majoring in environmental studies must develop a detailed understanding of complex environmental issues at the local, regional, national, and global levels. In order to build this base of knowledge, students can expect to take core courses, including:
The Science of Climate Change

People and Nature

U.S. Environmental Issues

Introduction to Environmental Economics

Environmental Problem Solving
Beyond these core courses, a wide range of elective courses are also available in this far-reaching field, including:
Ecology and Evolution

Biostatistics

Chemical Analysis

Environmental Justice

Energy and the Environment

American Environmental History

Sustainability in a Changing World
Tip 4: Learn Outside the Classroom
To become an environmental scientist, a critical part of your education should take place outside the classroom as well. At North Central College, hands-on learning is built into the core curriculum for their environmental studies major as a required "experiential component" for environmental studies majors. In this part of the curriculum, students gain real world experience by conducting independent research or completing an internship.
Students can collaborate directly with their faculty mentors to design their research or independent study program. As for an internship, schools often have existing partnerships with local or regional organizations that can help connect students to meaningful internship opportunities within the community.
There are endless opportunities to pursue exciting internships in this field through government agencies, non-profits, and private companies. Some options to consider are:
National Oceanic and Atmospheric Administration (NOAA)

National Park Service

National Science Foundation (NSF)

United States Environmental Protection Agency (EPA)

United States Geological Survey (USGS)

Environmental Defense Fund

Sierra Club

World Wildlife Fund (WWF)

Council on Environmental Quality

Student Conservation Association

U.S. Green Building Council
And there are a whole lot more! In addition to gaining valuable hands-on experience, a major benefit of landing an internship is that the work experience can lead directly to future job opportunities in the field.
Tip 5: Pursue a Graduate Degree
For most entry level positions in this field, a graduate degree is not required. However, if you are looking to advance your environmental science career to the next level or if you wish to teach at the college level, a master's degree might be your ticket.
Before pursuing this route, make sure you conduct a cost-benefit analysis of the extra time and money it will take to achieve an advanced degree. Most importantly, research your ideal career path and determine if a graduate degree is needed to achieve your career goal. If it is, then it's simply a matter of finding the right school and graduate degree program for you.
If you know early on that you want to pursue an advanced degree, some colleges offer combined bachelor's and master's degree programs in environmental science. If you choose to go this route, you can save time and money by completing both your bachelor's and master's degree programs in as few as five years.
Career Opportunities
Now that you have a general understanding of the path toward becoming an environmental scientist, it's important to have a clear picture of the career outlook in this field. According to the U.S. Bureau of Labor Statistics (BLS), employment for environmental scientists is expected to grow 8 percent over the next 10 years, which is about on par with other occupations. There are many threats facing the environment on both the local and global levels, and while that's not great news for the environment, it does mean that there will be increasing demand for experts who can help conquer those challenges.
According to the BLS, "(Environmental scientists) will continue to be needed…to analyze environmental problems and develop solutions that ensure communities' health. Businesses are expected to continue to consult with environmental scientists and specialists to help minimize the impact their operations have on the environment."
As previously mentioned, environmental scientists work in a wide range of capacities and across all industries, including government agencies, NGOs, and private companies. Some of the most popular career fields for environmental scientists include:
Compliance

Education

Environmental consulting

Environmental engineering

Waste management

Water quality management

Wetlands protection
Learn More
If you wish to learn more about what it takes to earn a degree in environmental studies and set yourself up for an exciting and meaningful career as an environmental scientist, check out the environmental studies program at North Central College.
Jeremy Borling is the director of communication at North Central College. He has spent his more-than-15-year career in communications working in the fields of higher education and financial services. He has a BA degree in journalism from North Central College, and a MS degree in communication from Boston University.