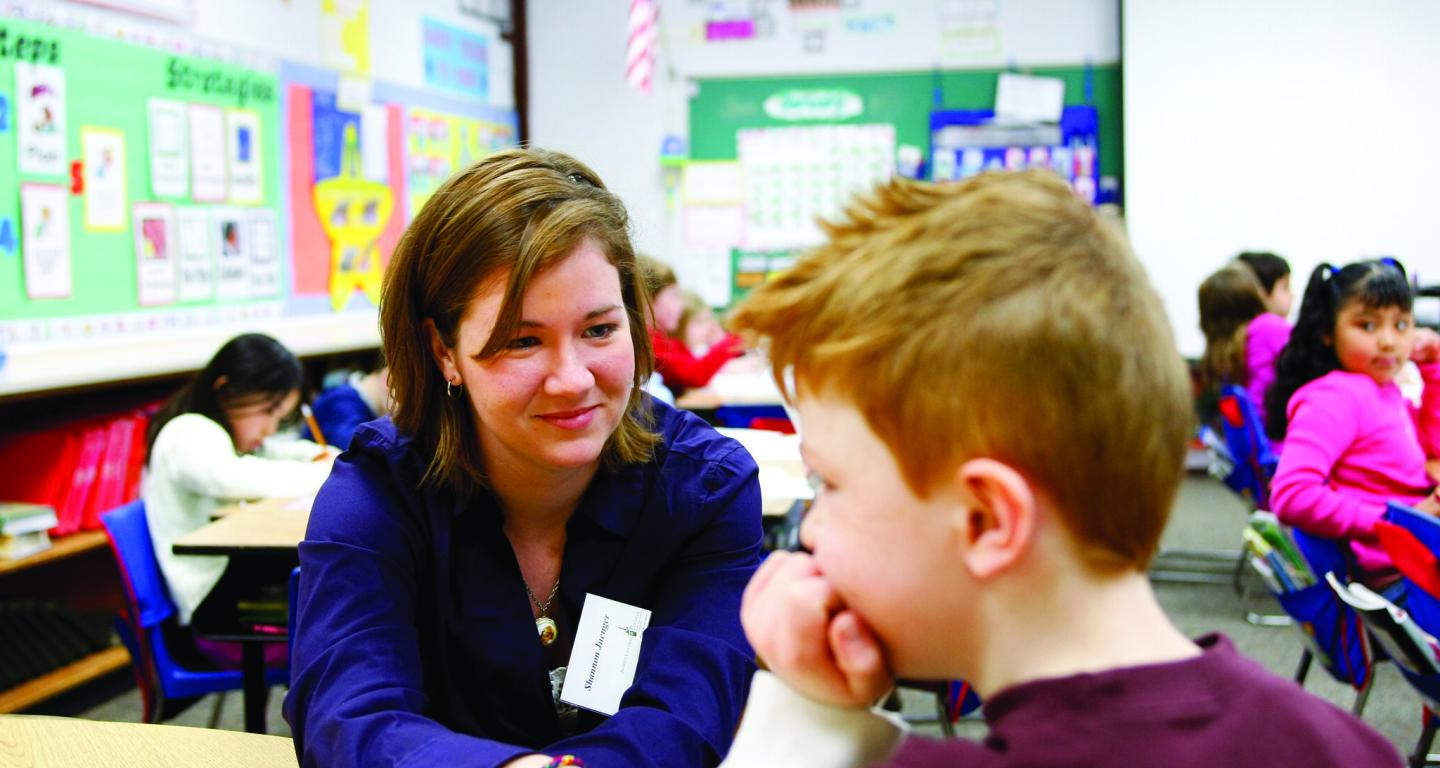 What Can You Do with an Elementary Education Degree?
Nov 04, 2022
What Can You Do with an Elementary Education Degree?
So you're looking to get a degree in elementary education, but you aren't sure what's out there for you. You may have even asked: "What can you do with an elementary education degree?" 
This article will discuss the career path and the job and career opportunities available to those with an elementary education degree.
It should come as no surprise that most people who graduate from college with an elementary education degree go on to teaching careers, typically working as classroom teachers in the first through eighth grades. However, you may be surprised to learn that classroom teaching isn't the only thing you can do with an elementary education degree. In fact, the skills you will learn and develop as an elementary education major can help prepare you for a wide range of jobs inside and outside of the teacher education field, including careers in the corporate, non-profit, and higher education sectors.
So, wondering how to become an elementary school teacher? In this article, we'll start by delving into the types of college courses required for early childhood education majors, along with the skills that elementary education majors will hone throughout their elementary education program. Then we'll get into the different career paths that elementary education degree-holders can pursue, including the different career options available outside of the classroom.
Elementary Education Courses
An elementary education degree can typically be completed in four years and includes a classroom residency and field experience (a.k.a. student teaching assignment) inside an elementary school. Throughout their education, students will learn classroom management, leadership, and lesson planning skills while also developing deep content knowledge in the areas they will be expected to teach. These include core content areas such as math, science, history, and reading/literacy. In addition to earning their bachelor's degree, students must also earn the necessary licensure in the state they plan to teach.
Professional education courses that may be required to earn an elementary education degree include:
Foundations of Teaching and Learning

Education Technology

Equitable Learning Environments

Teaching Students with Disabilities

Elementary Methods courses in Literacy, Social Studies, Language Arts, Mathematics, and Science
Students will also take content preparation courses in the following areas:
Earth Science (Biology, Chemistry)

Mathematics

Social Science (Global History, Geography, Political Science)

Health Education (School Health, Physical Activity)
Transferrable Skills
It's probably safe to assume that anyone reading this article has been a student and has benefitted from the knowledge that dozens of teachers have imparted to them throughout their education. And while we've all had a few teachers along the way who weren't necessarily our favorites, if you're considering a career in elementary education, it's a good bet that you've benefited from several teachers who have challenged and inspired you. They shared their love of learning with you, opened your eyes to new concepts and exciting ideas, and who have supported you in ways that extend far beyond the classroom setting.
In order to be the type of elementary school teacher who inspires others, it takes a lot more having basic content knowledge. Great teachers possess a host of skills that can be applied inside and outside the classroom. Some of those important skills include:
Communication (speaking, listening, and writing)

Decision-making

Teamwork and collaboration

Leadership and management

Organization and efficiency

Compassion and understanding

Patience and adaptability
Individuals with these skills are well prepared to succeed in several different career fields, which is why elementary education majors are well qualified to work in fields far beyond the classroom.
Career Paths
There are a few different career paths that elementary education majors can pursue. The most obvious one is teaching in a traditional school setting. Many elementary education majors are happy to spend upwards of 30 years in the classroom teaching, and influencing countless students along the way. This makes sense since teaching is often ranked as one of the most fulfilling careers. And while the starting pay for teachers can be on the low side, a long career as an educator can pay off in terms of satisfaction, pay, and work-life balance. 
Intuit, the global technology platform best known for TurboTax and QuickBooks, published an article on their MintLife Blog ranking "The 20 Most Fulfilling Jobs." Teachers ranked No. 7 on their list, stating, "Teachers get the pleasure of preparing today's youth for their future. In addition to helping students become well-rounded members of society, teachers can become mentors—someone that students feel comfortable turning to … Some may also find a love for the work-life balance that can come with the role, as some teachers get the option of taking summers off to rejuvenate their mind for the next school year."
After several years in the classroom, other teachers decide that they are interested in transitioning to a career outside the classroom. One tried-and-true career path is for classroom teachers to transition into school leadership roles such as a dean or assistant principal, or eventually to a principal role leading an entire school or an administrative role helping lead at the district level. The classroom experience is critical to success in these roles, but note that school leadership roles often require a master's degree as well as additional teacher certification or licensure in school administration. 
School leadership has a lot to offer in terms of variety, and the ability to make an impact at the school level instead of just a single classroom, not to mention increased pay (according to the U.S. Bureau of Labor Statistics, the average elementary, middle and high school principal made over $96,000 in 2019). 
The website Teach.com describes the role of a principal as one with "a lot of power, but that also comes with a lot of responsibility, specifically to state and federal standards… It can be a challenging, highly visible job, but the role of a principal has plenty of task variety and offers the satisfaction of making real change. If lesson plans and lunchtime quiz grading has got you down, the high risk, a high reward of administration might be a good fit for you."
When people think about the role of the principal, they might think about students being sent to the principal's office as a consequence of misbehaving at school. But the job offers a lot more than that. Sure, enforcing school rules is a part of it, but according to the BLS, the job also includes:
Hiring, performance management, and professional development for teachers and other staff members

Planning and implementing schoolwide events and services

Parent and community relations

Budgeting and purchasing

Planning, creating, and enforcing policy

Tracking and analysis of data
Education Jobs Outside of Teaching
Elementary education majors are well qualified for many careers outside of the school, including in corporate and not-for-profit settings. As previously mentioned, teachers typically possess several transferable skills that can set them up for success far beyond the classroom, chief among them: communication, collaboration, leadership and management skills. Read on for a few career ideas outside of the school that elementary education majors can transition to if the classroom is not for them. In most cases, it would be helpful for a candidate to have a least a few years of teaching experience to fully prepare for these teaching-adjacent roles.
Educational consultant: Educational consultants often work at the district level or for private companies that help support, train and build capacity for teachers at a number of different schools.

After-school program director: If you love working with kids but the classroom isn't your thing, running an afterschool program might be for you. Afterschool programs can help students with their homework or provide tutoring in different areas. But often, it's also just plain fun, organizing arts and crafts projects, sports activities, and other games to keep kids active and engaged.

Corporate trainer: If you'd rather work with adults than the younger set, a corporate trainer might be your speed. Employees at large corporations often undergo training several times throughout the year. This training can include learning the company's culture, rules and expectations for being a successful employee, brushing up on important business policies, regulations and legal requirements in their industry, especially in areas like finance and marketing. Corporate trainers are typically the ones who help design and administer these trainings or work with supervisors.

Admissions counselor: A college campus is a special place, and one way to stick around college and at the same time advance your career is as an admissions counselor or recruiter. In this role you get to talk to high school students about their goals and dreams, share your college experiences, and help set them up for future success.
As you can see, there's a world of career opportunities that await those with an elementary education degree. And while the most common career path is teaching and changing lives in the classroom, an elementary education degree can also provide the foundation for one day running an entire school or transitioning to a fulfilling career outside of the school building in various industries. Learn more about North Central College's elementary education degree program.
Jeremy Borling is the director of communication at North Central College. He has spent his more-than-15-year career in communications working in the fields of higher education and financial services. He has a BA degree in journalism from North Central College, and a MS degree in communication from Boston University.
Sources:
"The 20 Most Fulfilling Jobs + The Psychology Behind Them." Intuit MintLife. 
"How to Become a Principal." Teach.com.