April 25 - North Central hosted its annual Hail & Farewell Banquet

for all military-affiliated students at the Naperville VFW. Five North Central student-veterans were inducted into the SALUTE National Veterans Honor Society. Mitch Moore '24, student veterans alliance president, served as emcee. Speakers included Pablo Araya '83, a Navy veteran, and Matt Burden, North Central vice president of information and technology, CIO. An Army veteran, Matt actively serves as the official mentor to our student-veterans. North Central Trustee Steve Rubin, a Marine Corps veteran, also attended.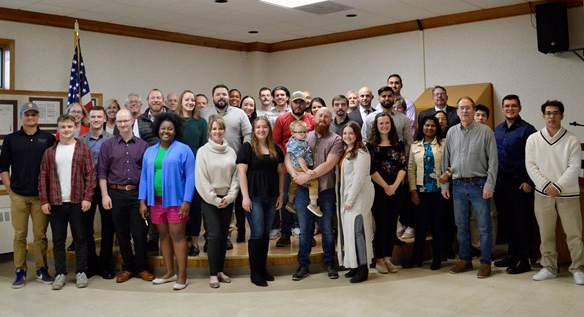 We recognize our student, alumni, and faculty/staff veterans for their service and for the many assets they bring to our campus — including global perspective, self-discipline, maturity, critical thinking, goal-focused approach, teamwork, leadership skills and experience. Likewise, we are inspired by the commitment of our ROTC cadets in training to become military officers. Thank you! 
North Central proudly participates in the Post 9/11 GI Bill and Yellow Ribbon veteran benefit programs. Visit northcentralcollege.edu/veterans to learn more about our outstanding services for our student veterans.