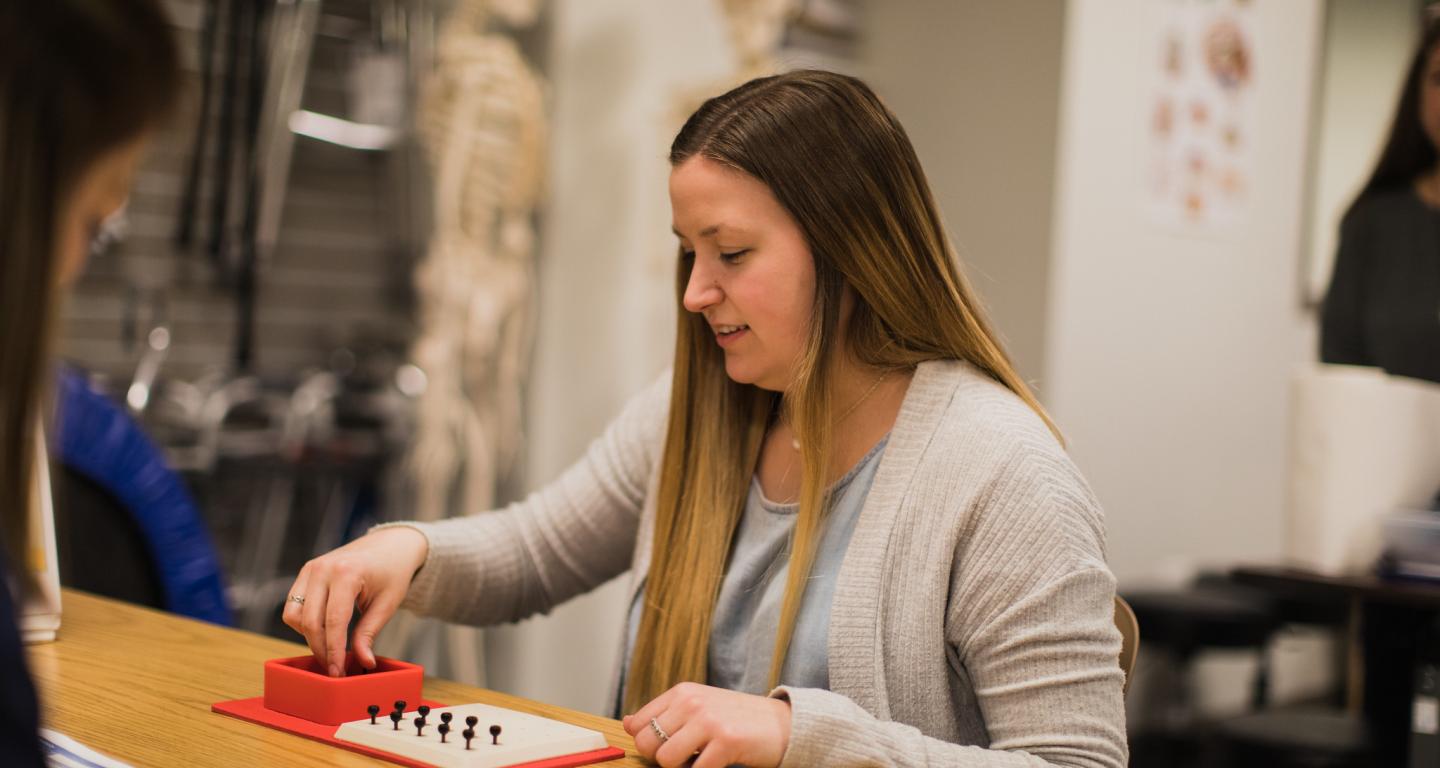 Becoming an Occupational Therapist
Jul 18, 2023
How Do You Become an Occupational Therapist?
Are you interested in pursuing a career in occupational therapy (OT), or wondering how long you need to go to OT school? Read on to learn how to become an occupational therapist by earning a bachelor's and master's degree in occupational therapy so that you can decide if it's the right career path for you.
Career Outlook
Occupational therapy practitioners are in high demand across the country and the future looking bright for this growing field. According to the U.S. Bureau of Labor Statistics, employment for occupational therapists is projected to grow nearly 20 percent over the next 10 years, which is much faster than the national average for all occupations.
U.S. News & World Report included occupational therapy on its list of the best medical jobs that don't require medical school, and CNBC ranked occupational therapy as no. 5 on its list of the 11 most meaningful college majors and how much they pay.
The CNBC report highlighted key markers such as income (the median salary for an occupational therapist is $88,500) and high degree of career satisfaction (89% of practitioners who say their work "makes the world a better place."
What Does an Occupational Therapist Do?
According to the American Occupational Therapy Association (AOTA), "Occupational therapy is the only profession that helps people across their lifespan to do things they want and need to do through the therapeutic use of daily activities (or occupations). Occupational therapy practitioners enable people of all ages to live life to its fullest by helping them promote health, and prevent—or live better with—injury, illness or disability."
It's understandable why occupational therapy and physical therapy tend to get confused with one another. While both fields help improve a patient's movement, the difference lies in the goal. Physical therapy is the field of improving body movement, which bases most of its tenets on rehabilitation science.
Examples of ways in which occupational therapists help people include:
working with children to help them participate fully in school;
working with individuals who have recently been injured to help them regain specific skills and abilities that they need to care for themselves or perform their jobs; and
working with elderly people to help them maintain or regain the ability to perform everyday functions.
At the most basic level, occupational therapists help people who may be disabled, sick or injured perform day-to-day tasks that they either need or want to do, which can include eating, getting dressed, driving a car or using a computer.
Occupational therapists work with people of all ages, and in urban and rural environments, and they work in a number of different settings, including:
hospitals
rehabilitation centers
schools
patients' homes
What Qualifications Do You Need to Become an Occupational Therapist?
So, before navigating how to become an occupational therapist, many may wonder: what degree do you need to be an occupational therapist? The answer varies, however, there are specific qualifications that need to be met to pursue a career in OT.
Earn a master's degree and complete prerequisite courses
As a prospective occupational therapist you need a master's degree, plus all states require occupational therapists to be licensed.
Pass the NBCOT
Occupational therapists are required to pass the National Board for Certification of Occupational Therapists (NBCOT) exam to earn their certification and the title of Occupational Therapist Registered, or OTR. The NBCOT exam is the only professional certification or licensure exam offered for occupational therapists.
To obtain a license to practice occupational therapy, you need both an occupational therapy degree from an accredited occupational therapy program as well as your NBCOT certification.
Comply with state-specific requirements
Certain states may have additional requirements, such as the payment of fees, continuing education and work experience, so it's important to understand the unique licensure requirements for the state in which you'd like to pursue occupational science or other health careers.
How Long Do You Need to be in ot school?
The amount of time it takes to become a certified and practicing occupational therapist can vary from OTA program to OTA program and state to state, but typical master's degree programs take about two years—a year of academic coursework followed by a year of full-time clinical fieldwork and hands-on work experience.
Of course, prior to earning your master's degree in occupational therapy, you will need to have earned your bachelor's degree from a four-year institution.
What Is the Best Major for OT?
Since a career as a licensed occupational therapist requires a master's degree, there are a list of OT school requirements you should plan for. No matter which occupational therapy school you go to, there is no one specific undergraduate major that is required, or that will make you a "better" registered occupational therapist. That being said, there are a number of different undergraduate majors that dovetail nicely with an advanced degree in occupational therapy. In no specific order, helpful undergraduate majors include:
Biology
Sociology
Exercise Science or Kinesiology
Education
Aside from the majors, you should also consider if you want to fast track your occupational therapy education. Some schools offer dual admission bachelor's/master's degree programs in occupational therapy, which is effectively a pre-occupational therapy undergraduate degree that flows directly into a master of occupational therapy program. Programs such as these offer an efficient and streamlined process toward your goal of becoming a registered occupational therapist.
Each occupational therapy program will have a set of prerequisite course requirements, so make sure to check your preferred school's requirements before applying.
For example, North Central College offers a continuous 24-month master of occupational therapy program with enrollment beginning in the fall of each year and students completing their master's degree in August of their second year.
The hybrid OT program offers 70 percent residential courses and 30 percent online courses, with fieldwork placements in and around Naperville, Ill., and Chicago. The area features many of the best healthcare facilities and organizations within the Midwest and numerous job prospects upon graduation.
North Central also offers a bachelor's/master of occupational therapy dual admission program, which provides direct admission to the College's master of occupational therapy dual degree program as an incoming freshman.
With the security of dual admission, students have a clear pathway toward achieving their goals when starting their occupational therapy profession by focusing on undergraduate studies while connecting early with graduate faculty, advisors, other students and potential employers.
Jeremy Borling is the director of communication at North Central College. He has spent his more-than-15-year career in communications working in the fields of higher education and financial services. He has a BA degree in journalism from North Central College, and a MS degree in communication from Boston University.
This article was updated on July 18, 2023.