Feature News
A summer spent on groundbreaking research
After just a year at North Central, Emmanuel Boadi Agyekum '26 worked on a project for Fermilab
Nov 03, 2023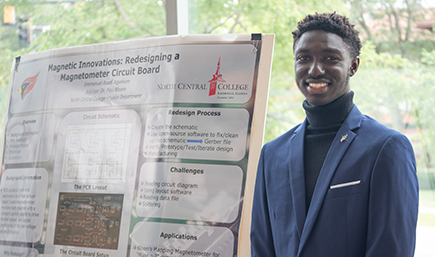 Emmanuel Boadi Agyekum '26 has wanted to be an engineer since he was a boy growing up in Ghana. In August 2022, he arrived in the U.S. to study electrical engineering at North Central College. The next summer, he got an exciting opportunity to work on research that could change the face of physics. 
Tell us about the research opportunity.
When summer engaged learning opportunities for undergraduate students were announced, one of my professors suggested I apply to work with Dr. Paul Bloom, associate professor of physics, on Fermilab's Muon g-2 experiment.  
 
I was one of three students selected, but I didn't have a specific role at first. It's a particle physics project, and I'm majoring in electrical engineering and minoring in math. But when we ran into issues with the magnetometer circuit board we were using to measure the trajectories of charged particles, we couldn't continue until we fixed the issues by redesigning the circuit board. I led that redesign.
What was exciting about the work?
The redesign involved creating a schematic, testing and iterating several times over — just like it's done in the field. The scientists working on this experiment will use the redesigned circuit board and it will now be mass manufactured.
How did you choose to attend North Central?  
While at home in Ghana, I saw a photo of a student with a Ghanian tie and flag on the North Central website. It was Stephen Ehumah '23, who is also from Ghana. I contacted him and he encouraged me to apply to North Central because there's a supportive community of students from Africa. That was important because I was going to be far from my family. I'm now involved with NCC for Africa and a student engineering organization, plus I'm a residence hall assistant. I really like the diversity at North Central. As an international student, you're able to make connections and get involved, which helps create a sense of belonging.
Learn more about majoring in electrical engineering at North Central College.