Biology
Jonathan Visick
Professor of Biology, Chairperson, Department of Biology
Contact
+1 630 637 5185
jevisick@noctrl.edu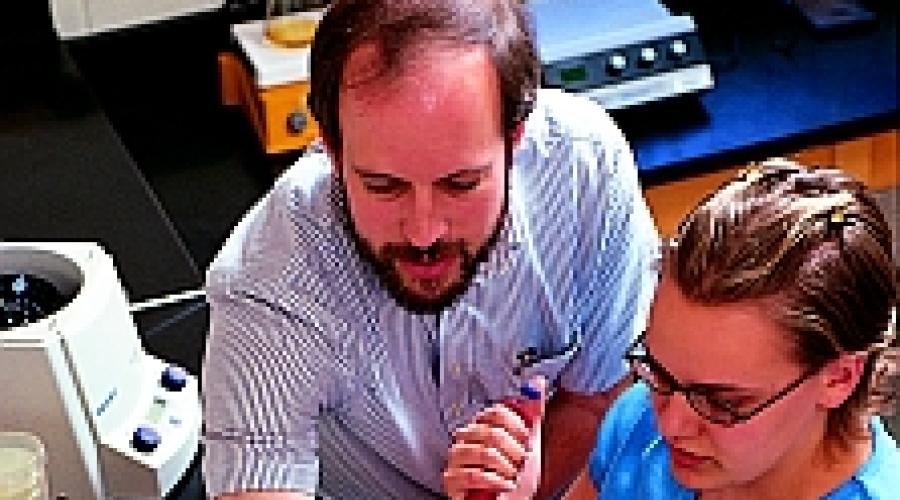 Dr. Jonathan Visick has been on the Biology faculty at North Central College since 2000. He teaches introductory biology, non-majors' biology, genetics and bioinformatics. His research lab studies the functions of PCM, a protein-repair enzyme that recognizes isoaspartyl damage to proteins, in the bacterium Escherichia coli.
Dr. Visick began working with PCM as a post-doctoral fellow in the laboratory of Dr. Steven Clarke at UCLA. Previously, as a graduate student in the Department of Microbiology at the University of Washington, he studied the regulation of insecticidal protein synthesis by Bacillus thuringiensis. His undergraduate studies in microbiology were completed at Brigham Young University.
More than 50 North Central students have been research collaborators with Dr. Visick. Their efforts were funded by an AREA grant from the National Institutes of Health from 2008 to 2012. Dr. Visick has co-authored a bioinformatics textbook with Dr. Caroline St. Clair. He has also taught at the University of Puget Sound and Whitman College and was an HHMI-funded visiting scholar at Lewis and Clark College in 2010.
Download CV
Selected Scholarship
Selected Publications:
VandenBerg, K. E.*, S. Ahn*, and J. E. Visick. 2016. (p)ppGpp-dependent persisters increase fitness of Escherichia coli deficient in isoaspartyl protein repair. Appl. Environ. Microbiol. 82:5444-5454.
Hicks, W. M.*, M. V. Kotlajich*, and J. E. Visick. 2005. Recovery from long-term stationary phase and stress survival in Escherichia coli require the L-isoaspartyl protein carboxyl methyltransferase at alkaline pH. Microbiol. 151:2151-2158.
Visick, J. E., J. K. Ichikawa, and S. Clarke. 1998. Mutations in the Escherichia coli surE gene increase isoaspartyl accumulation in a strain lacking the pcm repair methyltransferase but suppress stress-survival phenotypes. FEMS Microbiol. Letters 167:19-25.
Visick, J. E., H. Cai, and S. Clarke. 1998. The L-isoaspartyl protein repair methyltransferase enhances survival of aging Escherichia coli subjected to secondary environmental stresses. J. Bacteriol. 180:2623-2629.
Visick, J. E., and S. Clarke. 1997. RpoS- and OxyR-independent induction of HPI catalase at stationary phase in Escherichia coli and identification of rpoS mutations in common laboratory strains. J. Bacteriol. 179:4158-4163.
Visick, J. E., and S. Clarke. 1995. Repair, refold, recycle: how bacteria can deal with spontaneous and environmental damage to proteins. Mol. Microbiol. 16:835-845.
*indicates undergraduate co-authors
Pedagogical Publications:
St. Clair, C., and J. E. Visick. 2015. Exploring Bioinformatics: A Project-Based Approach (second edition). Jones and Bartlett Publishers, Sudbury, MA.
Visick, J. E.. 2006. Compensation for summer research with undergraduates: issues and options. CUR Quarterly 26:182-184.
External Funding:
NIH Academic Research Enhancement Award (AREA) grant from the National Institute on Aging, 2008-2010.
ASM Undergraduate Research Fellowship, 2009.
Council on Undergraduate Research Summer Fellowship, 2002.
Merck/AAAS Undergraduate Science Research Program Grant: support for student stipends for interdisciplinary research in biology and chemistry, 2005-2008.
Student Research Publications:
Carstens, C. K.* 2015. Filamentation in protein repair-deficient Escherichia coli. Proc. Natl. Conf. Undergrad. Res. 2015, pp. 20-27.
Courses Taught
BIO 151 & 152: Biological Investigations
BIO 251: Genes and Evolution
BIO/CSC 242: Bioinformatics