Economics
Ryan Decker
Assistant Professor of Economics; Director of the Center for Financial Literacy
Contact
+1 630 637 5248
rmdecker@noctrl.edu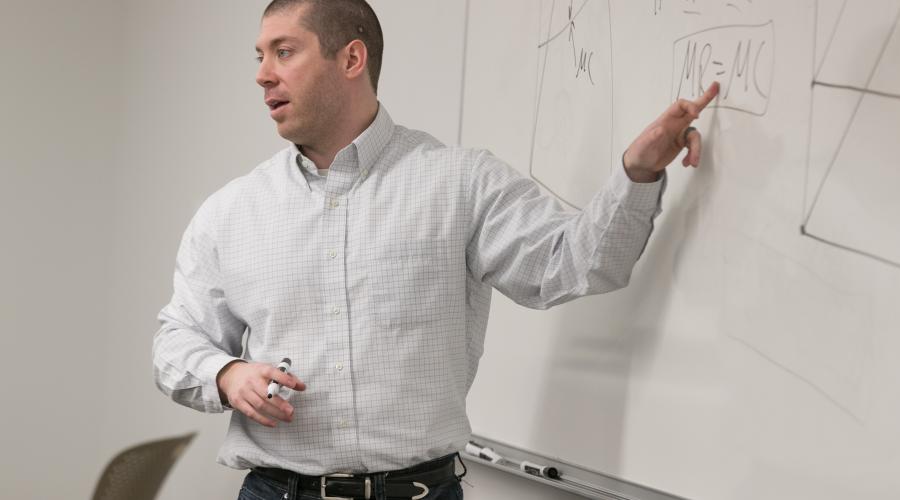 Dr. Ryan Decker is an Assistant Professor of Economics and Finance. Dr. Decker is also the Founding Director of North Central College's Center for Financial Literacy.
Dr. Decker is a proud graduate of North Central College. Dr. Decker earned his Ph.D. in Economics at the University of Illinois at Chicago.
After his doctoral work, Dr. Decker spent a number of years as an experienced Manager at PricewaterhouseCoopers (PwC). Dr. Decker worked predominantly in the Financial Transactions Transfer Pricing practice, based in Chicago. Dr. Decker became a national expert on treasury-related transfer pricing issues and assisted treasury and tax teams of multinational corporations in designing, pricing, documenting, and defending transactions including intercompany revolvers, loans, cash pooling, and other financial instruments.
Aside from focusing on financial transactions, Dr. Decker worked with clients in the consumer products, large manufacturing equipment, and web-based sectors. Dr. Decker achieved considerable experience with intellectual property-related transfer pricing issues. Dr. Decker assisted a large multinational client (global revenue approx. $80B) strategically negotiate a series of bilateral and unilateral Advance Pricing Agreements in the US, and abroad, related to intellectual property licensing transactions in the consumer products industry.
Dr. Decker is a published author and is experienced in performing macro- and microeconomic research and analyses relating to a variety of issues including transfer pricing adjustments in recessionary environments, the economic useful life of advertising, incentives within licensing arrangements, interest rates, and profit split methodologies encompassing multiple taxing jurisdictions.
Dr. Decker is happy to bring his invaluable expertise from working with the world's largest corporations into the classroom. Dr. Decker's real-world applications of economics and finance help bridge the gap between classroom theory and actual international business incentives and operations.
Additionally, Dr. Decker is passionate about improving financial literacy at all levels of society. Dr. Decker is an accomplished international public speaker on financial literacy topics and is the founder of NCC's Center for Financial Literacy. Dr. Decker runs financial education programs for college students, high schools, not-for-profit organizations, large and small corporations, and the local community. You can frequently find Dr. Decker speaking somewhere about personal finance. Dr. Decker believes that every member of society should have an opportunity to be financially literate.

Outside of the classroom, Dr. Decker is an entrepreneur as he founded and runs one of the nation's first sports betting arbitrage comparison services. CentArbitrage is the leading affordable sports arbitrage service that searches U.S. sports books for risk-free arbitrage opportunities and reports them to users via Discord in real time. To read more, visit CentArbitrage.com
Download CV
Selected Scholarship
Decker, R., Chandrasekhar, K., and Rostagno, M. (December 29, 2016). Negative Interest Rates: A Transfer Pricing Perspective, Tax Management Transfer Pricing Report, Vol. 25. https://www.pwc.com/gx/en/tax/transfer-pricing/assets/bloomberg-bna-transfer-pricing-report-negative-interest-rates-a-transfer-pricing-perspective%20.pdf
Decker, R., Dadzie, R., Dust, A., and Lostumbo, N. (November 23, 2015). Profit Splits Post-BEPS: Quantifying an MNE's Intangibles, Tax Notes International, Volume 80:8. https://www.pwc.com/us/en/tax-services/publications/profit-splits-post-beps.html
Decker, R., Dust, A., and Lostumbo, N. (2014). The Economic Useful Life of Advertising, Ford Taurus: A natural experiment case study. Working Paper.
Decker, R., Fijol, D., Ilic, I. (2016). Chapter 6: Resale Price Method (RPM) and Alternatives to Traditional Buy-Sell Distributors. In William H. Byrnes (ed), Practical Guide to U.S. Transfer Pricing, Third Edition, LexisNexis Group. https://store.lexisnexis.com/products/practical-guide-to-us-transfer-pricing-third-edition-skuusSku60720
Decker, R., Fijol, D., Ilic, I. (2016). Chapter 4: Finding and Selecting Comparables. In William H. Byrnes (ed), Practical Guide to U.S. Transfer Pricing, Third Edition, LexisNexis Group. https://store.lexisnexis.com/products/practical-guide-to-us-transfer-pricing-third-edition-skuusSku60720
Courses Taught
SBEN 210 Personal Finance
ECON 200 Principles of Microeconomics
ECON 310 Economics of Sports
ECON 365 Econometrics
FINA 370 Wealth Management
ECON 320 Industrial Structure and Public Policy