CSC
Stephen Renk
Professor of Computer Science Emeritus; Coordinator of Master of
Contact
630-637-5170
screnk@noctrl.edu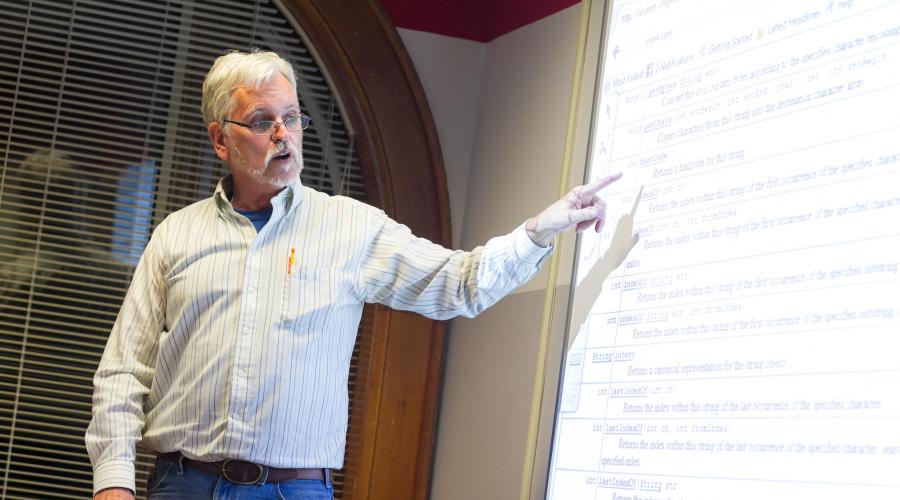 I started teaching computer science at the University of Iowa when I was 25 years old. Over the years I have taught over 35 different classes. While I was still at the UI, I created a computer assisted instruction (CAI) authoring and delivery package that was deployed nation-wide in many of the largest K-12 schools in the country. To support the system, I created the first Apple-based networked instructional management system in the country. My software supported graphics, animation and audio at a time when multimedia was in its infancy. This experience instilled a life long passion for multimedia. I wrote my first video game in 1978.
I am the president of Argos Consulting, a private company that I started in 1979 to do computer software design and development. The company has done contract work for some of the country's largest corporations, including Microsoft, Albertsons, and Jewell/Osco as well as developing software to support research at Universities.
In the mid 80s I left teaching briefly to become the director of a Consortium that provided the computing resources for 3 Colleges (Coe, Cornell and Mount Mercy). This position convinced me that I didn't want to be an administrator, so I returned to my true love, teaching and I've been doing it ever since. In addition to computer science, I also have degrees in statistics, instructional design and administration.
In the last 10 years, I have developed an interest in international travel. I have taken study abroad groups to China, Japan, Germany, Greece, France, Ireland, Italy, Mexico, London and Oxford.
Selected Scholarship
PUBLICATIONS
Factors Affecting Academic Success in Introductory Computer Programming, Univ. Mchigan International, Ann Arbor, 1987.
The Micro Connection: A Bilingual Educators Guide to Microcomputers and Instructional Technology, Stolurow, Renk and Cubillos, NCMACD Press, Iowa City, IA, 1984.
SOFTWARE PUBLICATIONS
Compman_I, CEEDE 1982, Revised 1983. A computer management system for tracking and routing students through computer based materials. Provides local area networking capabilities for educational laboratory settings.
What Are the Chances? - An Introduction to Probability, CEEDE 1982. A collection of beginning statistics lessons featuring graphics and animation.
ATAS, CEEDE 1982. An automated test generation authoring aid and item banking system that stores and retrieves test items coded by objectives. Formats and prints test, quizzes and study guides.
The Spelling Bee, CEEDE 1981. A drill and practice spelling program featuring user definable computer generated digital audio.
The One Armed Bandit, CEEDE 1981. A gaming simulation in elementary mathematics featuring drill and practice.
Electric Math Paper, CEEDE 1981. An elementary mathematics drill and practice module teaching the mechanics of arithmetic.
MACDS/MACAS, CEEDE 1980, Revised 1983. The first commercial LAN based authoring and management system in the world created for the Apple platform. A complete authoring and delivery system for the development of computer-assisted instructional modules. Supports graphics, animation, content delivery and intelligent branching running on a local area network.
REVIEWER:
Thompson Learning Press,
Journal of Teacher Education,
College Mathematics Journal,
John Wiley & Sons, Computer Science Division
ACTIVITIES:
Founding member of the Illinois Higher Education Computer Science Articulation Panel - This panel is responsible for reviewing and approving the computer science curriculums of all of the colleges and universities in Illinois for intra-institution transfer.
Admissions panel, Illinois Math & Science Academy Admissions Committee - 20 year member of the application screening panel.
Over 35 national and international presentations at conferences.