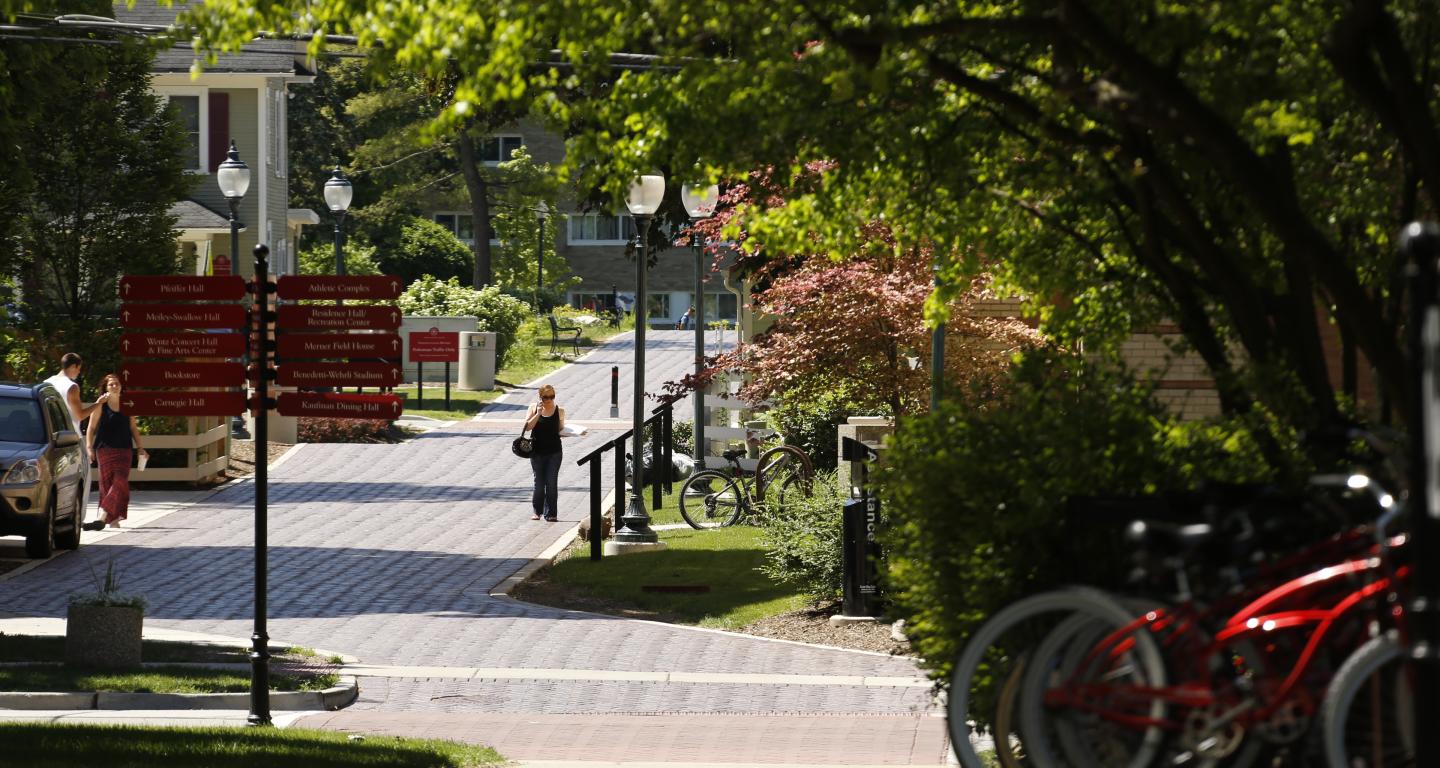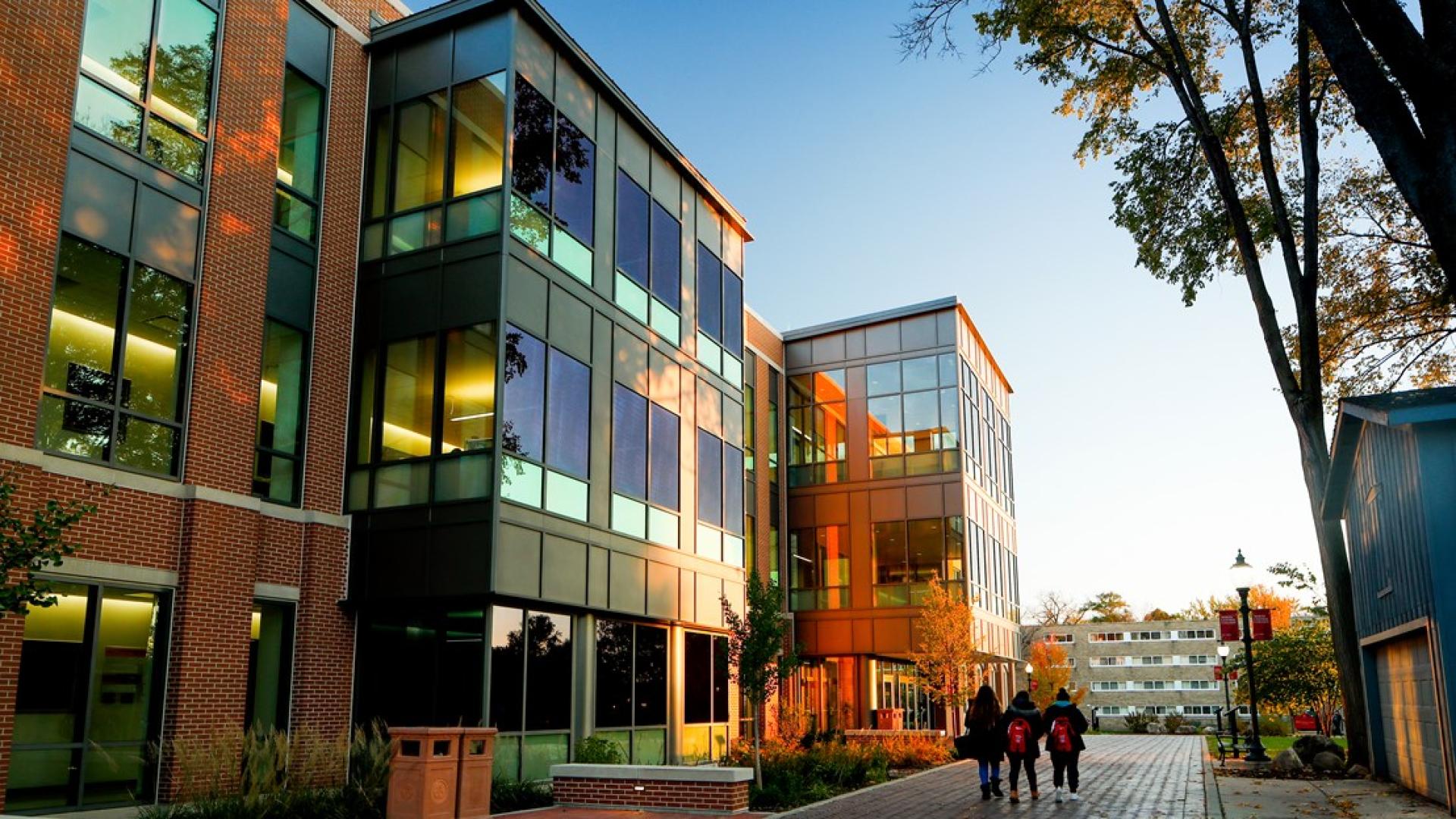 North Central's cutting edge science center synthesizes sustainable design and a state of the art research facility. This 125,000 square foot building was built to LEED silver standards and includes a wide variety of sustainability features, including:
A 59.52 kWp solar system, generating approximately 4% of the building's large energy demand
White membrane roof improves energy efficiency and decreases the heat island effect
Electrochromic glass windows on the west side of the building sense how much solar heat gain is coming in through the windows and automatically adjust the glass tint to provide the correct solar load based on the indoor space requirements. In addition to reducing heating and cooling demands, this also increases comfort for occupants
Energy efficiency lighting and occupancy sensors
High efficiency HVAC system
Low flow fixtures and dual flush toilets
Rain gardens surround the building, which provide a habitat for pollinators and help mitigate and manage storm-water runoff
Permeable pavers on the west side of the building allow rainwater to infiltrate to the ground below. As the water goes through the layers of the permeable pavers pollutants are filtered out and the same benefits listed above for rain gardens are achieved.
Whenever possible, North Central renovates and repurposes existing buildings to meet the college's changing needs. While new buildings are often more efficient, it takes 10 to 80 years to overcome the negative carbon impact that comes with new construction versus renovation. Repurposing buildings also saves green spaces on campus and reduces waste. Recent building renovation projects have included the Oesterle Library & Learning Commons and the School of Business & Entrepreneurship.
North Central's newest residence hall incorporates a variety of sustainability features without compromising for comfort and style. The building was completed in just 9 months and build to LEED silver standards. Locally manufactured precast panels create an airtight seal, reducing energy demand and allowing for faster construction. Other features include: 
30 solar thermal panels, which account for approximately 30% of the hot water needs of the building
White membrane roof, reducing the heat island effect and increasing energy efficiency 
Energy efficient windows 
Radiant floor heating 
Energy efficient lighting 
Low-flow water fixtures 
Rain gardens surrounding the building 
The nearby spring fed pond was enlarged during construction to help stormwater management 
Residence Hall/Recreation Center
The Residence Hall/Recreation Center is the heart of sustainable development on North Central's campus. This one-of-a-kind building is a 265-bed residence hall wrapped around a 100,000-square-foot recreation center. The building meets the needs of students requesting safe and comfortable living options and neighbors expressing a desire to maintain the quality of green space within the neighborhood. The structure is LEED (Leadership in Energy and Environmental Design) Silver certified, featuring:
1,632 solar pv panels can be found on roof the Residence Hall and Recreation Center, providing approximately 22% of the building's electricity.  View the real-time energy production HERE.
Energy-efficient windows and lighting
Individual thermostats
Geothermal heating and cooling system
Pre-cast building envelope
White membrane roof
Water-efficient fixtures
Low VOC adhesives, sealants, paints and carpets
Construction/manufactured materials purchased regionally and made with recycled content
Covered bicycle storage
The building has preserved precious green space by combining a residence hall and recreation center. The Residence Hall/Recreation Center's sustainable features enable it to use 17.5 percent less energy than if built with traditional features. 
Wentz Concert Hall and Fine Arts Center
The Wentz Concert Hall and Fine Arts Center exemplifies social sustainability as it brings the campus and city communities together to socially enhance creativity, promote education, and preserve culture. Further, the building houses state-of-the-art lighting and HVAC-automated systems to reduce energy consumption.