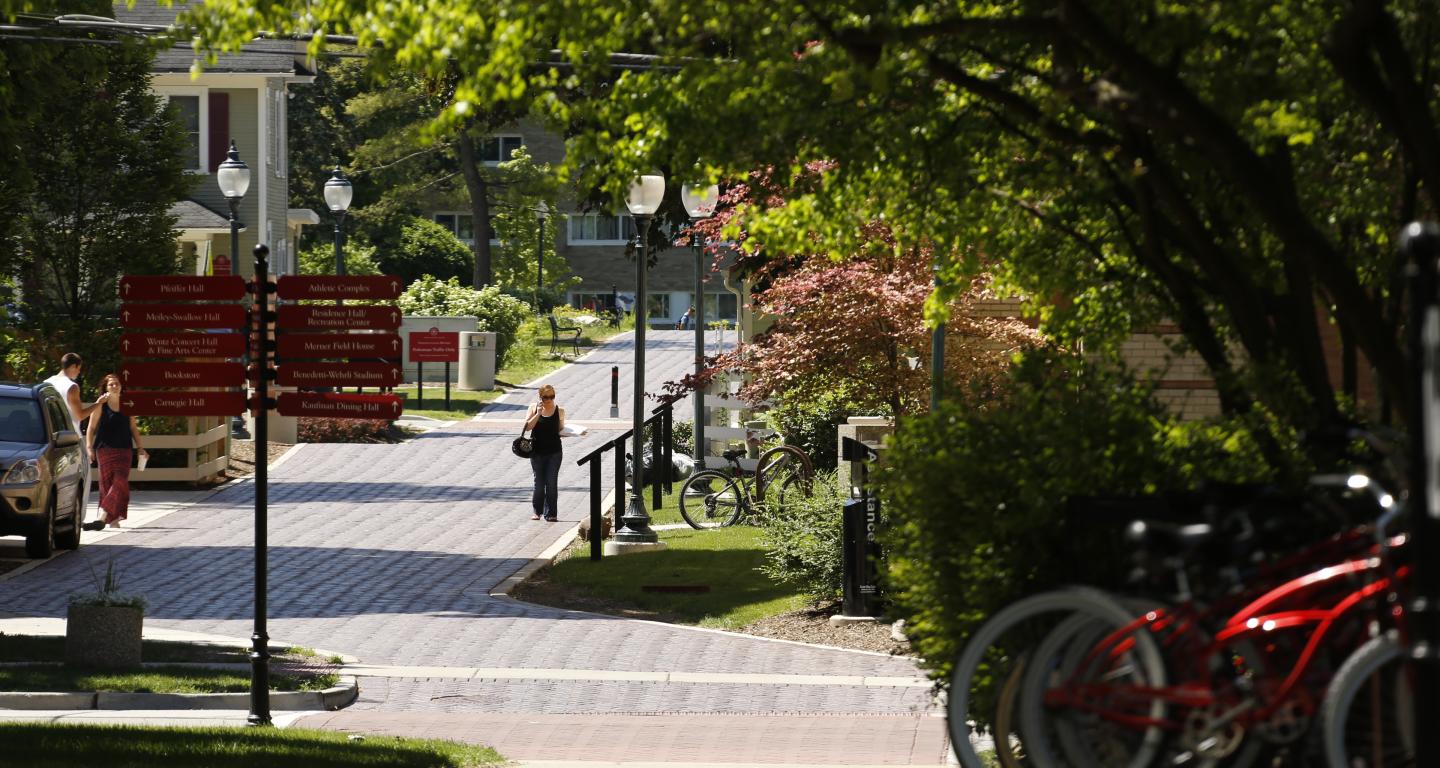 Residence Hall/Recreation Center
The Residence Hall/Recreation Center is the heart of sustainable development on North Central's campus. This one-of-a-kind building is a 265-bed residence hall wrapped around a 100,000-square-foot recreation center. The building meets the needs of students requesting safe and comfortable living options and neighbors expressing a desire to maintain the quality of green space within the neighborhood. The structure is LEED (Leadership in Energy and Environmental Design) Silver certified, featuring:
Energy-efficient windows and lighting
Individual thermostats
Geothermal heating and cooling system
Pre-cast building envelope
White membrane roof
Water-efficient fixtures
Low VOC adhesives, sealants, paints and carpets
Construction/manufactured materials purchased regionally and made with recycled content
Covered bicycle storage
The building has preserved precious green space by combining a residence hall and recreation center. The Residence Hall/Recreation Center's sustainable features enable it to use 17.5 percent less energy than if built with traditional features. 
Wentz Concert Hall and Fine Arts Center
The Wentz Concert Hall and Fine Arts Center exemplifies social sustainability as it brings the campus and city communities together to socially enhance creativity, promote education, and preserve culture. Further, the building houses state-of-the-art lighting and HVAC-automated systems to reduce energy consumption.
The preservation of the historic Grace Evangelical church, renamed Meiley-Swallow Hall, is a sustainable action the College pursued not only as a benefit for expanding curriculum, but also to benefit the aesthetic value of the building and its surrounding historic neighborhood.  Additionally, landscaping efforts to increase the tree population of the property has provided the surrounding urban neighborhood with a healthier environment.