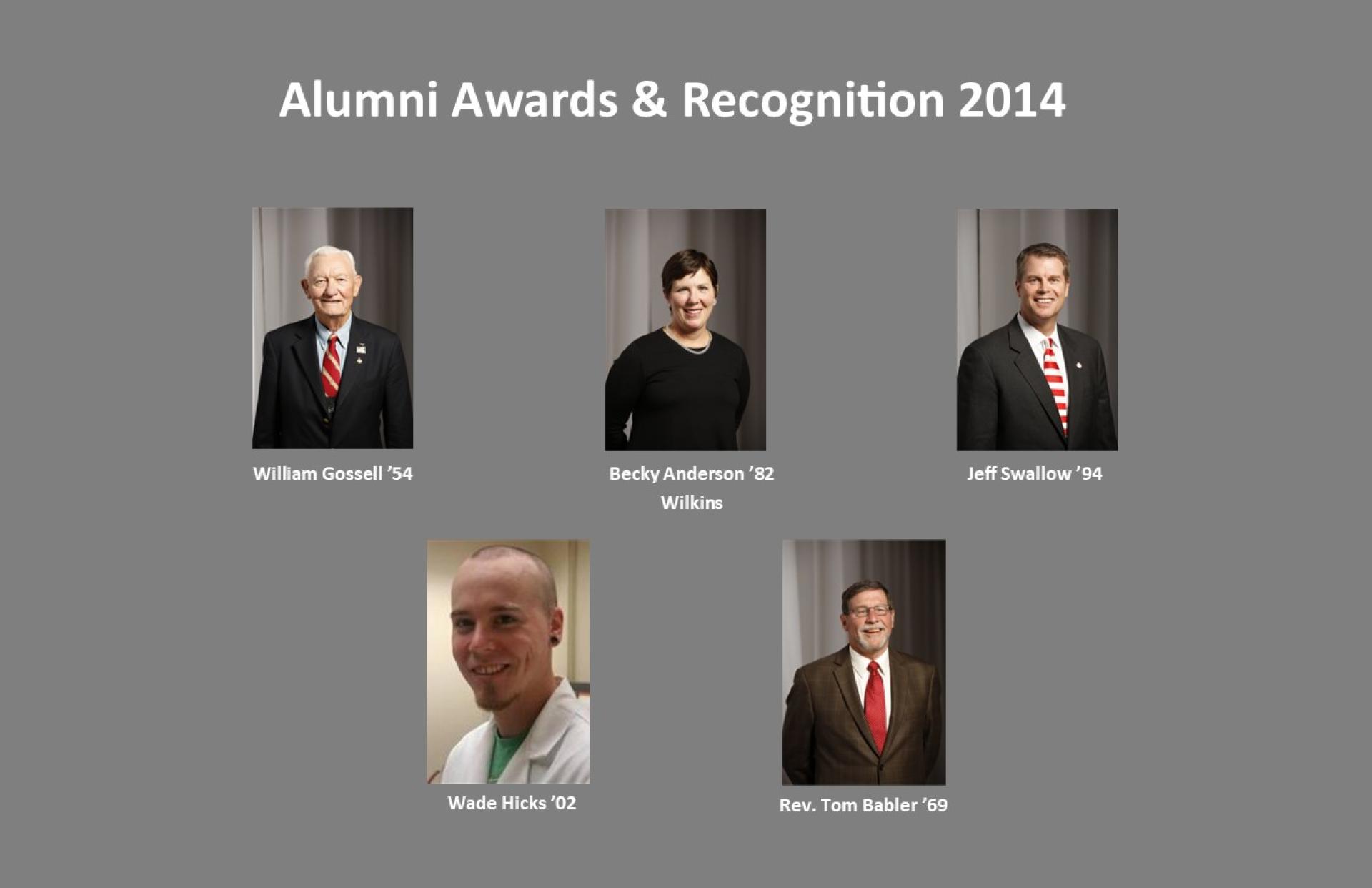 William Gossell
Class Year: 1954
Outstanding Alumni Award Winner 2014
Major General William Gossell '54 has led a successful career in the aviation industry and in the United States armed forces, proudly serving his country as a pilot for nearly three decades, both on active duty and in the reserves. Bill earned four letters in three sports at North Central College. After graduation, he began flight training as a naval aviation cadet. He was commissioned in the U.S. Marine Corps in 1955 and received his wings in 1956. Bill was on active duty for four years, including service in the Far East. He continued to serve in the military reserves and was honored to be named a general by the Marine Corps in 1981. He also pursued a civilian career in aviation insurance and most recently, he was president of Southern Aviation Consultants.
In his spare time, Bill has been an active member of several professional organizations including Marine Corps Aviation Association, Navy League of the United States, Reserve Officers Association and the Dallas-Fort Worth Marine Metroplex Council.
After retirement, Bill continued to work long hours in the community, taking on the challenge of collecting and distributing toys to thousands of children as chair of the Dallas-Fort Worth Marine Toys for Tots Program. He was also an organizer of the charity Dallas Military Ball and an elder at his church.
Bill has stayed connected to North Central College through his generosity and return visits to campus over the years. He and his wife Marjorie created the Gossell Endowed Scholarship at North Central College. 
---
Becky Anderson Wilkins
Class Year: 1982 
Outstanding Alumni Award Winner 2014
Becky Anderson '82 Wilkins is recognized worldwide as a leading independent book retailer who has tirelessly promoted the importance of reading and value of book publishing. As an owner of Anderson's BookShops in Naperville and Downers Grove, Ill., Becky has built the company's reputation to such stature that it attracts prestigious author visits. Yet Becky remains just as committed to community programming and partnering with local school districts to support reading and literacy with programs like Naperville READS. She has also sought to boost the cause of independent retailing and helped form what became IndieBound, which promotes both independent booksellers and a broader "shopping local" philosophy for all types of local businesses.
Among her many honors, Becky most recently won a Hall of Fame Award from the Illinois Reading Council. In 2011, Anderson's BookShops was named Publisher's Weekly Bookstore of the Year, one of the highest accolades a book retailer can receive. Also in 2011, Becky served as president of the American Booksellers Association (ABA) and in that role personally delivered books to the White House Library and met President Barack Obama. The company and Becky's leadership and service have been recognized numerous times on a state and local level, as well.
Becky has enriched the campus culture of her alma mater through a partnership to bring visiting authors, including notables like Caroline Kennedy, Bill Bryson, Madeleine Albright and Garrison Keillor, to campus for author talks and book-signings. She also served a key role as an alumni representative on the Presidential Search Committee in 2012.
As a student at North Central, Becky studied book publishing in Germany with the help of a Richter Independent Study Fellowship. Her family roots in Naperville date back to 1875 and she represents the fifth generation of retail ownership. Becky and her family represent a long legacy of support for the College as neighbors, alumni and friends. 
---
Jeff Swallow
Class Year: 1994 
Outstanding Alumni Award Winner 2014
Dr. Jeff Swallow '94 is a visionary corporate leader, North Central College trustee and generous philanthropist, with a special interest in providing financial assistance to students obtaining their college degrees. Currently president and chief executive officer of Magnetrol International Incorporated in Aurora, Jeff has spent his career in planning, implementation, administration, and management of growing and expanding manufacturing environments. The success of Magnetrol reflects his wise management and business acumen.
After completing an associate's degree at Lincoln College in Lincoln, IL, Jeff received his bachelor's degree at North Central College in 1994 and called crossing the stage at Commencement "one of my proudest moments." To honor both schools, he established the Magnetrol Judy G. Stevenson Scholarships that fully funds the educations of selected Lincoln College transfer students for two years at North Central College. The scholarships are named for his late mother, who together with Jeff supported numerous capital projects on campus and other scholarships. Meiley-Swallow Hall is named in the family's honor and to commemorate the many ties between the family and the College.
Jeff obtained his M.B.A. from Northwestern University in 2001 and a Ph.D. from Benedictine University in organizational development in 2008. His research interests include issues of organization development and behavior and international management.
He became a charter member of North Central College's Board of Trustee Associates in 1997 and has served on the Board of Trustees since 2006. 
---
Tom Babler
Class Year: 1969
Wall of Witness Award Winner 2014
Reverend Tom Babler '69 has dedicated his life to ministry and leadership in the Northern Illinois Conference of the United Methodist Church. Prior to his retirement in 2012, he led congregations in the Illinois communities of LaMoille (Community United Methodist), Ottawa (Epworth United Methodist Church), Aurora (Bethany of Fox Valley), Naperville (Community United Methodist) and Sandwich (United Church of Sandwich). 
As a visible member of the clergy in these communities, Tom would embrace leadership opportunities to better those communities. He served on the Mayor's Advisory Task Force on Gambling in the City of Aurora in the 1980s, coordinated programs for the Naperville Ministerium/Naperville Interfaith Leaders Association, and worked actively as a volunteer with DuPage Public Action to Deliver Shelter (PADS). Internationally, his ministry work and study resulted in travel to Singapore, Africa and Jerusalem.
Throughout his career, he has remained involved with Garrett-Evangelical Theological Seminary, where he received his master of divinity degree in 1973. He has been on the board of trustees there for 40 years and currently holds the title Life Trustee. Tom received a distinguished alumnus award from Garrett in 1997 and continues to be involved as an adjunct faculty member, leading a group focused on vocation formation and church leadership. Mentoring in the ministry is his passion.
At North Central College, Tom and his wife Mary Peoples Babler '70/M '98 are loyal and generous supporters of the Albright-Wesley Society and enjoy campus events. Tom assisted with the search in 2014 to hire a new campus chaplain and helped plan the Inauguration Worship Service for President Troy D. Hammond in May 2013.
T
---
Wade Hicks
Class Year: 2002
Alumni Recognition Award Winner 2014
Dr. Wade Hicks '02 is pursuing a research career in molecular biology at one of the world's most prestigious research organizations: the Wyss Institute for Biologically Inspired Engineering at Harvard University in Boston. He was named a senior research fellow in Systems Biology after completing a four-year postdoctoral research fellowship, also at the Wyss Institute.
Wade raised the bar in North Central's science department for student research. He was among the first to publish and present his results at the national level and he was the first student to partner with Jonathan Visick, professor of biology, investigating damaged protein in bacterium Escherichia coli (E. coli). Wade discovered a passion for research that ignited his academic career and earned a Richter Independent Study Fellowship for conducting research at the University of California, Los Angeles.
Upon graduation, Wade began his science career as a research assistant at Loyola University Medical Center. In 2004, he was accepted into the doctoral program at Brandeis University, where he pursued his passion for molecular biology and authored research articles for prestigious publications like Molecular and Cellular Biology and Science. 
In 2010, he began his work at Wyss, where he has focused on metabolic engineering to develop novel bacteria that address sustainability issues related to industrial chemicals.
Wade is a loyal and generous alumnus who enjoys sharing his love of science with students interested in the microbiology field.