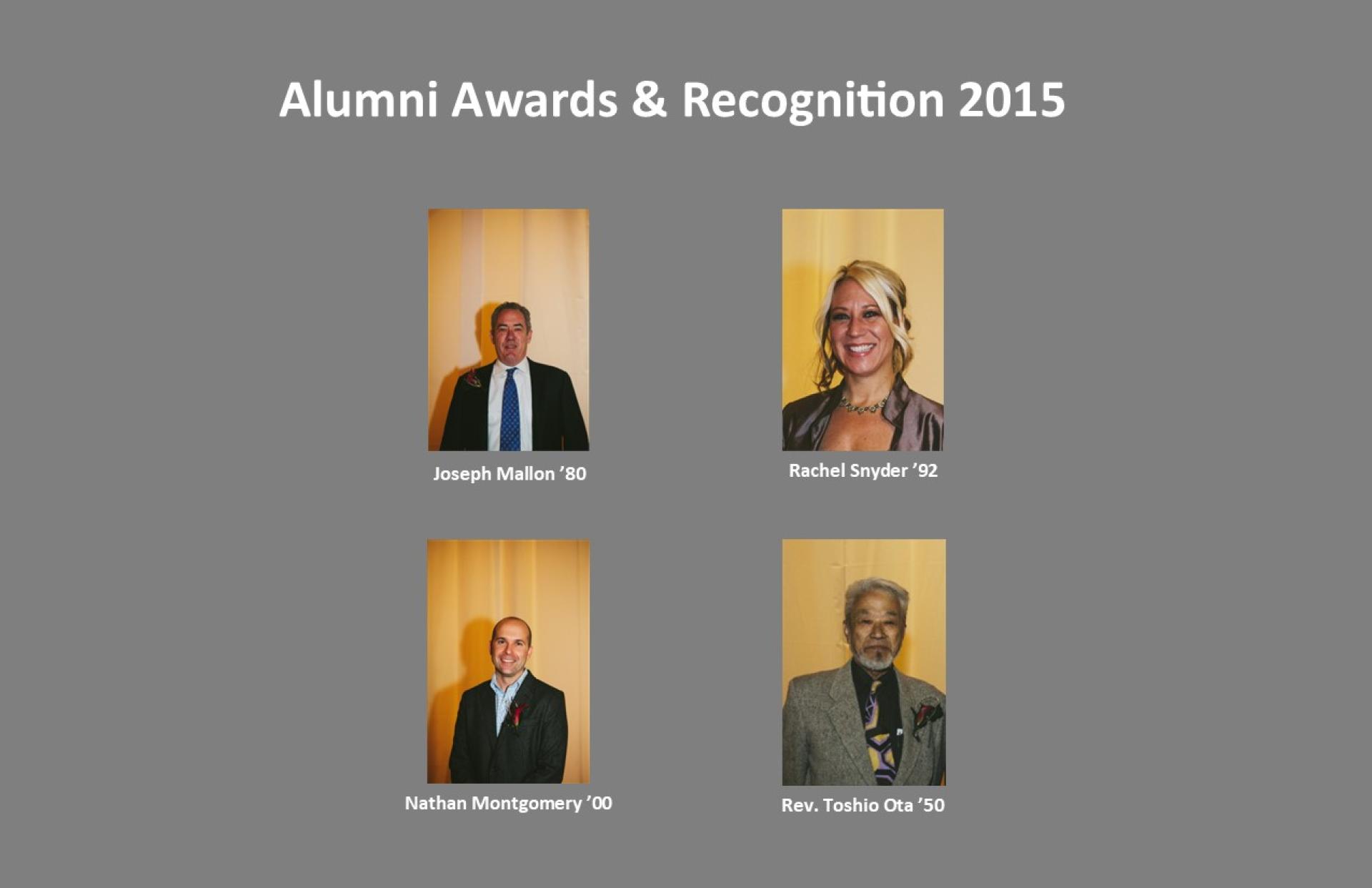 Joseph Mallon
Class Year: 1980
Outstanding Alumni Award Winner: 2015
Joseph recently concluded an extremely successful 25-year career as a corporate tax attorney with Deloitte & Touche. While there, Joe also served as national leader of the firm's tax knowledge management group.

Joe stands as a remarkable model for how North Central's liberal arts and science education prepares alumni for whatever path they choose. After graduating from the College with a double major in accounting and political science, Joe went on to earn his law degree from The John Marshall Law School in Chicago. His career included positions at Bankers Life and Casualty and Littell machine company prior to Deloitte & Touche.

Joe is preparing to launch a second career in a dramatically different field: medicine. In true liberal arts fashion, he's shifting gears and working toward yet another educational and professional milestone—a master's in Chinese medicine. He plans to complete his degree at the Pacific College of Oriental Medicine, then begin practicing full time within the next several years.

Joe has remained an engaged and committed alumnus since graduation and has acted as a College Trustee since 2005. A member of the Board's executive committee, he chairs the audit committee and serves on the academic affairs committee. Joe also has returned to campus to speak with students about leadership, ethics and values. He has generously supported the Brilliant Future campaign as well as fundraising efforts for construction of the College's Residence Hall/Recreation Center and Al B. Carius Track.
---
Rachel Louise Snyder
Class Year: 1992 
Outstanding Alumni Award Winner 2015
Rachel is an acclaimed writer, professor and public radio commentator with a gift for pursuing her research with uncommon passion and persistence.

After earning her degree in English at North Central, Rachel eventually went on to receive an M.F.A. in creative writing from Emerson College. Her first book, "Fugitive Denim: A Moving Story of People and Pants in the Borderless World of Global Trade," won an Overseas Press Club Award and was named one of the year's "best business books" by The Library Journal. Her work immersed her in the culture of Cambodia, where she lived for six years. Her second book, a novel titled "What We've Lost Is Nothing," was published last year.

Rachel serves as an assistant professor in the M.F.A. creative writing program at American University, but her role there only scratches the surface of the scope of her professional activities. Her writing has appeared in The New Yorker, The New York Times Magazine, Slate, Salon, The Washington Post, Chicago Tribune, New Republic
and more. She has hosted the nationally syndicated global affairs series "Latitudes" on public radio, and her stories have aired on NPR's "Marketplace" and "All Things Considered." She has traveled to more than 50 countries.

Rachel is a strong supporter of North Central's powerful sense of community. She recalls that the College took a chance on admitting her and, in doing so, changed her life forever. She's been demonstrating her "boundless gratitude" ever since, most recently donating her speaking fees to sponsor a one-time North Central scholarship.
---
Nathan Montgomery
Class Year: 2000 
Alumni Recognition Award Winner 2015
Nate distinguished himself as an exceptional student scientist and researcher during his time at North Central and, clearly, he was just getting started.

Nate fed his passion for biology at the College, where he was named Outstanding Major in Biology in 2000. His dedication to his field—and to North Central's campus—was clear even on graduation morning, when at 6 a.m. he wasn't sleeping but wading knee-deep in Fort Hill Pond, planting seedlings to support the ongoing health of the ecosystem.

While researching yeast genetics at North Central, Nate mastered an approach to science that served him well as a doctoral student at the University of North Carolina at Chapel Hill (UNC). He quickly became one of the top doctoral students in genetics and molecular biology in the country, winning a Howard Hughes Medical Institute Predoctoral Fellowship valued at $200,000 and the Kenan/Edwards-Hobgood Fellowship at UNC. He also received UNC's Sarah Graham Kenan /Hobgood Outstanding Graduate Student and Walter L. LaMar Residency Excellence awards.

After continuing his education with a medical degree in 2011, Nate spent four years completing a pathology residency. He now serves as a hematopathology fellow at UNC Hospitals. 
---
Rev. Toshio Ota
Class Year: 1950
Wall of Witness Award Winner 2015

Toshio represents the epitome of a global servant-leader.

Toshio arrived at North Central as an international, nontraditional student from Japan soon after World War II. He had become a Christian in 1932, graduated from Hosei University in 1935 and served as an English teacher in Japan until 1948. Although he never spoke of the challenges involved with remaining a Christian and teaching the language of his nation's enemy, it is clear that the Japanese Secret Service monitored his actions throughout the war. The fact that he moved three times in order to teach in three different prefectures in Japan also reflects the extent of his hardship; that practice is virtually unheard of among Japanese public school teachers.

Toshio earned a scholarship from the Inter-Board Committee and traveled to the United States to attend North Central College. He graduated in 1950 and, powered by his strong faith, visited churches around the country. He earned a master of religious education degree in 1952 from Evangelical Theological Seminary before returning to Japan to serve as professor of Christian education at Japan Biblical Seminary in Tokyo.

Toshio was ordained as a minister of the United Church of Christ in Japan in 1963. Several years later, he founded a Christian high school, Keiwa Gakuen. He served as its principal, sending many of its students to North Central until he retired.

In 1978, Toshio was conferred an Honorary Doctorate of Divinity by North Central. He was posthumously conferred "Zuihou-shou" by the Japanese government.

Toshio's son Takao Ota' 65, daughter Kazuko Saito' 68, and grandson Masayuki Saito' 96 have all followed in Toshio's footsteps and graduated from North Central.