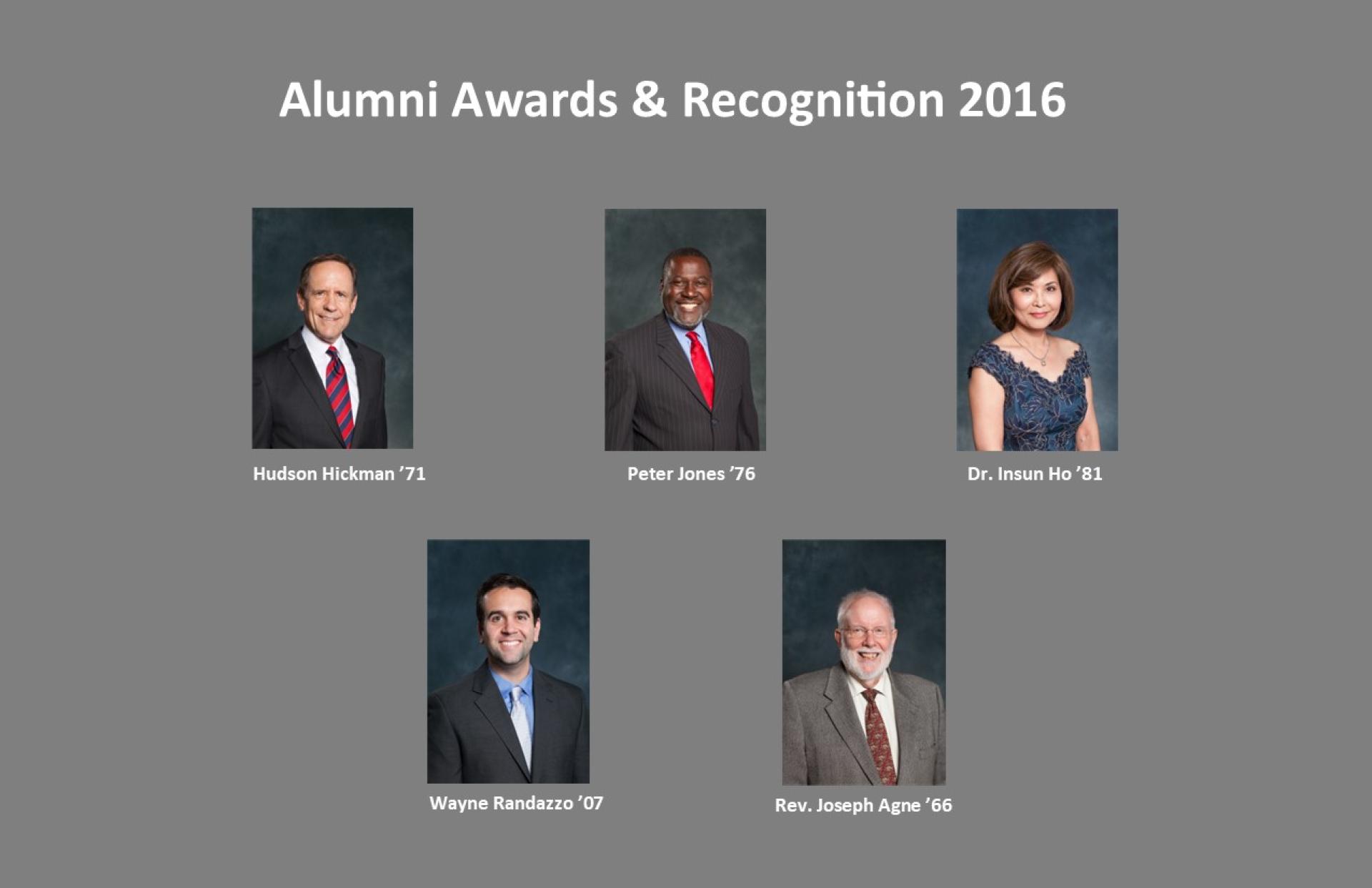 Hudson Hickman
Class Year: 1971
Outstanding Alumni Award Winner 2016

Hudson Hickman '71 has spent his career producing movies and some of Hollywood's most memorable television shows. He's known for his work on Aaron Spelling productions "The Love Boat," "MacGyver" and "Hotel." Over his career, he was worked for many of the major Hollywood studios in a variety of production roles.

Most recently, he produced "Dolly Parton's Coat of Many Colors," a movie that was released in December 2015 based on Parton's childhood memories.

Prior to his more recent producing endeavors, Hudson was senior vice president of production for MGM Worldwide Television, supervising the production of all MGM Television projects, and vice president of post production. During his tenure at MGM, Hickman was involved in the production of more than 25 movies and more than 700 hours of episodic television, including "Stargate SG-1," television's longest running science fiction series; "Dead Like Me," the critically acclaimed Showtime series;  "The Outer Limits"; "Stargate Atlantis"; "The Magnificent Seven"; and "Stargate Universe."

A native of Mississippi, Hickman produced documentary segments for "Mississippi Rising," a celebrity telethon in 2005 that raised $15 million for the victims of Hurricane Katrina and the Mississippi Hurricane Recovery Fund.

At North Central, Hickman majored in speech communication and was mentored by the late Don Shanower, professor of speech communication/theatre emeritus. Upon graduation, Hickman received a graduate assistantship in theatre at Texas Tech and graduated with a master of arts in 1974. Making connections with a film crew in his native Mississippi led to a job in Hollywood with Aaron Spelling Productions.

He and his wife Susan have two daughters and reside in Sherman Oaks, Calif.
---
Peter Jones
Class Year: 1976
Outstanding Alumni Award Winner 2016

Peter Jones '76 is a visionary senior business leader and entrepreneur and serves as CEO of Mind Safety Management, LLC, based in Washington, D.C. He cofounded the firm in 2003 and it continues to thrive in the field of business consulting. Jones has more than 35 years of experience in investment banking, general business management, strategic planning and fiduciary oversight.

Prior to Mind Safety Management, Jones served as chief financial officer for M-Cubed Information Systems, Inc. During his time there, he was honored as Small Business Person of the Year by the U.S. Small Business Administration (1998).

Jones previously enjoyed a long and successful career with The Equitable Life Insurance Society of the United States (acquired by AXA Financial in 1991). He began there as an investment analyst in 1982 after graduating with a master of business administration degree from the University of Rochester. When he left Equitable in 1993, he was a vice president at Equitable Capital Management and had served executive roles in New York and London.

At North Central, Jones majored in speech communication and political science while participating in forensics, the College Union Activities Board and WONC-FM 89.1 He has maintained his loyalty and commitment to his alma mater by serving on the North Central College Board of Trustees since 1991.

Jones resides in Washington, D.C.
---
Dr. InSun Ho
Class Year: 1981
Outstanding Alumni Award Winner 2016
Dr. InSun Ho '81 is an accomplished research scientist and project manager whose work impacts worldwide healthcare initiatives. Currently, she is at the forefront of the healthcare diagnostics industry in monitoring and complying with worldwide regulations for restricted substances that have a potential risk to human health or the environment. Her 24-year career at Abbott Laboratories, a global leader in laboratory health care diagnostics, has encompassed a range of responsibilities that span the roles of research scientist (1992) to management lead/senior project manager. Her current role involves providing guidance and direction for responses to international regulation developments within the diagnostic healthcare industry.
Ho has played an integral role in projects including development of laboratory diagnostic tests, troubleshooting, problem solving of product technical issues for customers such as hospitals and reference labs, and product improvements. Her project teams have focused on infectious disease blood tests for diagnosis of Hepatitis, HIV and German measles as well as blood donor screening tests used to ensure a safe blood supply.
Her current position addresses the increasing global concerns for the safety of chemicals in healthcare industry products and the need for medical instrument and test kit manufacturers to respond to regulatory changes across the world. Ho oversees restricted substance management programs to ensure proper management of chemicals contained in Abbott's products.
Ho has received recognition on numerous occasions from Abbott and she has served on women's networking committees promoting the role of women professionals and women in science.
A biology major at North Central College, Ho went on to the University of Illinois at Urbana-Champaign for a master's degree in biology and a Ph.D. in agronomy. She was a postdoctoral research associate prior to joining Abbott. In 2013, Ho earned Project Management Professional (PMP) certification from the Project Management Institute.
Ho is married to Dr. Kevin McGowan '79 and they live in Gurnee, Ill. They have two adult children.
---
Wayne Randazzo
Class Year: 2007
Alumni Recognition Award Winner 2016
Wayne Randazzo '07 continues to ascend new career heights in the field of sports broadcasting. In 2015, he was named host of the New York Mets pregame and postgame shows on WOR-AM. Considered to be one of the top 30 sportcasters under 30 (according to the Sportcasters Talent Agency of America), Randazzo achieved one of his dreams in 2015 as he covered the Mets playoff series with the Chicago Cubs and then the World Series against the Kansas City Royals.
While majoring in broadcast communication at North Central, he began his sports radio career in 2005 as an intern with WGN-AM's sports department. He was a sports anchor/reporter for the Illinois Radio Network and served as sports director for WONC-FM 89.1. "I was on the air from day one," he says about WONC.
After college, Randazzo spent time as a freelance sports anchor for both WMVP-AM/ESPN 1000 and WGN-AM before joining CBS Radio Chicago in 2011. He has worked as a scoreboard update anchor on WSCR-AM  670 The Score. In November 2013, he began delivering sports reports on sister-station WBBM-AM/Newsradio 780 and FM 105.9.
Randazzo also has been a broadcaster for the Big Ten Network, ESPN3, Chicago's Comcast Network 100, MLB.com and the Chicago Sky.
His long-term goal is to attain the role of a full-time major league play-by-play announcer.
Randazzo continues to reside in Chicago during baseball's off-season.
---
Rev. Joseph Agne
Class Year: 1966
Wall of Witness Award Winner 2016
The Rev. Joseph Agne '66 represents a lifelong dedication to social justice that was nurtured by the Rev. George St. Angelo '43, chaplain at North Central College. Agne embraced the social activism that developed on campus, like organizing the buses to travel to Selma, Ala., during the civil right movement. His parents would not allow him to participate, but he turned that disappointment into a lifelong motivation to champion human rights by addressing racial issues and inclusiveness.
While serving as pastor at Memorial United Methodist Church in White Plains, N.Y. (beginning in 1997), he received a community service award from the Westchester County Chapter of the New York Civil Liberties Union in 2002 in recognition of his work for racial and social justice. The American Muslim Women's Association honored him in 2004 for building bridges in its diverse community. He has been arrested many times during non-violent protests on behalf of the disenfranchised.
Agne has devoted his talents to the Dr. Martin Luther King Jr. Institute for Nonviolence of Westchester and the World Council of Churches Programme to Combat Racism. He has led antiracism workshops through the Racial Justice Connection, which he organized.
An Oak Park, Ill., native, Agne attended Evangelical Theological Seminary from 1967 to 1969, and received a master of divinity degree from Wesley Theological Seminary in 1972. He served churches in Aurora, University Park and Harvey, Ill., and was the Global Ministries staff person for the Northern Illinois Conference Council on Ministries.
In 2004, Agne inspired North Central's campus as the keynote speaker for the annual Rev. Dr. Martin Luther King Jr. breakfast.
In May 2007, Agne received his doctorate in ministry from New York Theological Seminary. Since 2010, Agne has been serving United Methodist congregations in Colorado, first as pastor for family life and social justice at First United Methodist Church in Boulder and today as pastor of Cedaredge Community United Methodist Church in Cedaredge.
His life partner is Dana Jones and they have four children.