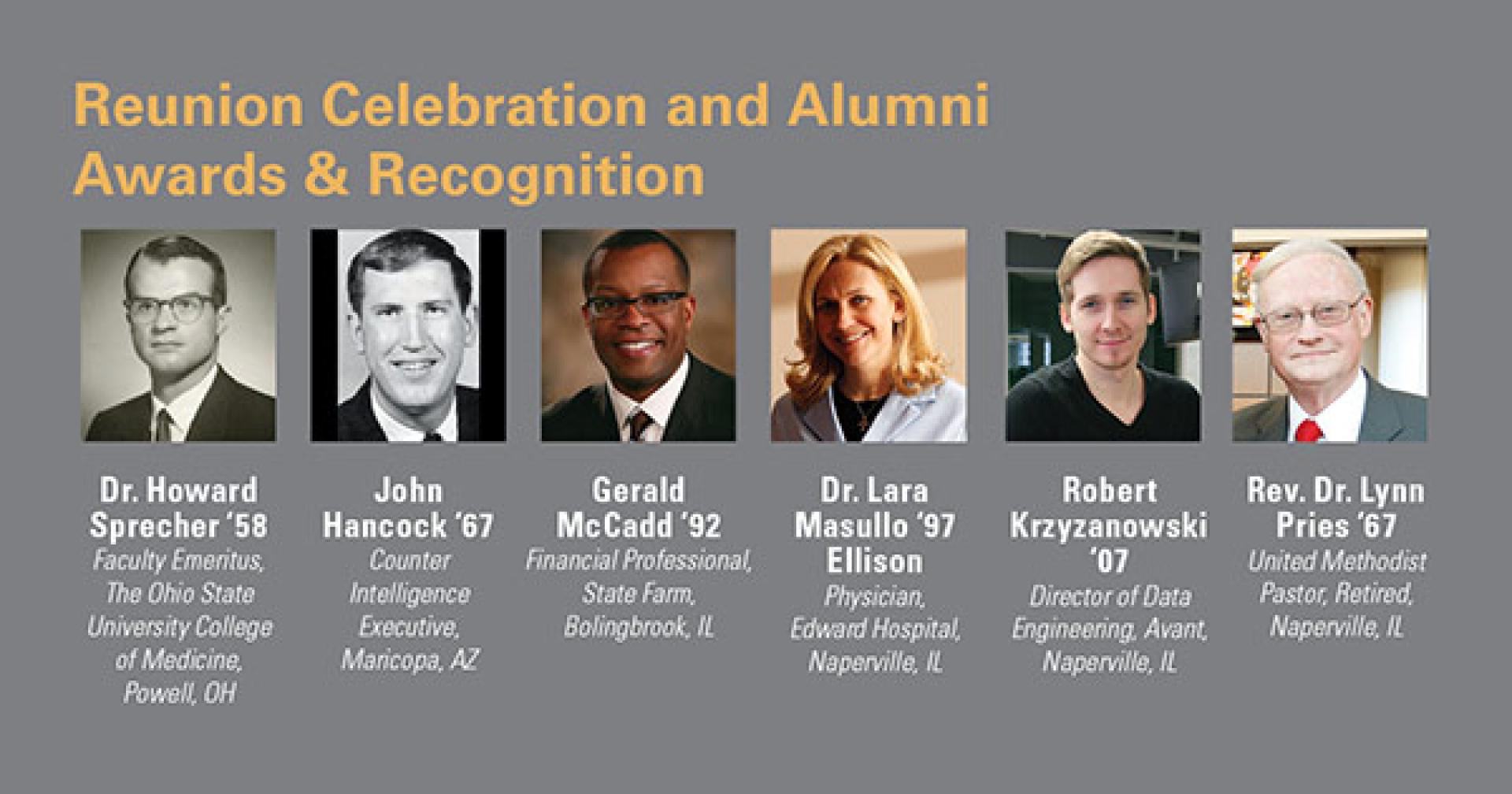 Dr. Howard Sprecher
Class Year: 1958
Outstanding Alumni Award Winner: 2017
Howard Sprecher '58, Ph.D., is the foremost expert in the nation on fatty acid metabolism, synthesis of complex lipids, and prostaglandins and other eicosanoids.
He has been recognized globally for his research in these areas on numerous occasions. Sprecher was honored to be a guest lecturer at the Nobel Prize in Physiology or Medicine ceremony in Stockholm, Sweden, in 1982. Sprecher has presented a total of 45 invited lectures in a host of different countries.
Recognized for his outstanding research, Sprecher has served on the editorial boards of numerous important journals, including Lipids, Progress in Lipid Research, the Journal of Biological Chemistry and Archives of Biochemistry and Biophysics. Sprecher is also the author of more than 200 publications in prominent scientific journals.
Sprecher has done revolutionary work on total synthesis of labeled fatty acids for metabolic studies. In fact, he is so well known for his explanation of Docosahexaenoic acid (DHA) formation in mammals that it was named after him, now known as the "Sprecher Pathway."
In 2000, Sprecher was honored with the Award in Lipid Chemistry by the American Oil Chemists Society (AOCS).
Sprecher currently serves as professor emeritus in the department of molecular and cell biology at The Ohio State University College of Medicine. He retired after 26 years on the Ohio State faculty, during which time he went from assistant professor to associate professor to full professor in 1972. In 1995, he held the chair of the medicinal biochemistry department.
Prior to arriving at Ohio State, Sprecher received his Ph.D. from the University of Wisconsin in 1963 and was a postdoctoral fellow with lipids expert Ralph Holman at the University of Minnesota's Hormel Institute from 1963 to 1964.
Sprecher lives in Columbus, Ohio.
---
John Hancock
Class Year: 1967
Outstanding Alumni Award Winner: 2017
John R. Hancock '67 is a highly respected expert in the field of national security. He served for more than 40 years as a professional security officer in both corporate and governmental capacities. He is a former career security and counterintelligence executive with the U.S. Department of State's Diplomatic Security Service and has received five Meritorious and Superior Awards for serving with distinction. He retired in 2003 but continued to provide consulting services until 2009.
While with the State Department, Hancock managed the security programs for the Moscow and Beijing embassy projects that involved the most complex, challenging and robust security programs ever undertaken by the U.S. government. In carrying out those responsibilities, Hancock chaired an interagency group of policy makers in addressing national procedural and operational security issues.
During his career, Hancock rose to the highest security level, having worked in the Executive Office of the President, White House Office. He provided advice and consultation regarding the accessing and control of national security information within the White House.
Hancock also served the Department of Defense as an assistant director of the Defense Investigative Service and has worked with the State Department Embassy Task Group as a special advisor at the inception of the Strategic Defense Initiative Organization (known as the "Star Wars" program), managing all industrial security field management operations.
Hancock has consulted as a national security expert for the private sector and as an advisor to the Personnel Security Research Center in the development of skill sets required for various government and industry security disciplines.
Hancock lives in the Phoenix area with his wife Connie, and the couple has three grown children and grandchildren. He spends his free time exploring the mountains of southern Arizona.
---
Gerald McCadd
Class Year: 1992
Outstanding Alumni Award Winner: 2017
Gerald McCadd '92 is a top-ranked, nationally recognized financial professional in the insurance and financial services industry. In 2002, he established his agency in Bolingbrook, Ill., partnering with State Farm. Since then he has been consistently recognized for ranking in the top 4 percent of agents nationwide.
As an agent, McCadd has devoted 15 years to serving individuals, families, businesses, and community organizations by providing financial services and assistance during all types of life events.
McCadd's experience with the North Central College track and field program was very instrumental in his success in life. He was a four-time All-American athlete and participated on North Central's first indoor and outdoor track national championship team in 1989.
Community involvement is very important to McCadd. He currently serves as treasurer of North Central's Board of Trustee Associates and has been a member of the board since 2003. McCadd is the past president of the Bolingbrook Area Chamber of Commerce and a former elected official in DuPage Township.
McCadd is keeping his legacy alive on campus; his daughters Christian and Elizabeth started their academic and athletic careers as part of the Class of 2021 at North Central College. 
---
Dr. Lara Masullo Ellison
Class Year: 1997
Outstanding Alumni Award Winner: 2017
Lara Masullo '97 Ellison, D.O., is regarded in the greater Chicago area as one of the best physicians in her field. Voted as one of the city's favorite "kids docs" by Chicago magazine in 2010, Ellison has a career's worth of accolades and professional memberships to back up her selection.
As a doctor of osteopathic medicine, Ellison specializes in family medicine at Edward Hospital in Naperville, where she has been on staff for 11 years. She has been the chair of the Edward Hospital Quality Committee since 2014 and is in her second year as chair of the Edward Hospital Provider Satisfaction Committee.
Ellison completed her residency at MacNeal Memorial Hospital in Berwyn, Ill. She excelled in medical school at Midwestern University in Downers Grove, where she was recognized as being in the top 10 percent of her class during her fourth year.
While at North Central, Ellison was similarly dedicated and recognized as a leader. She was a lab assistant and did medical research along with North Central faculty. She was inducted into Beta Beta Beta, the biology honor society and served as president of that organization.
Beyond her academic and professional careers, Ellison is a devoted and generous alumna, having established the Max Lacewell and Brianna Sharp Memorial Scholarship at North Central. The scholarship is named in honor of two of Ellison's patients; both died of a rare form of brain cancer called diffuse intrinsic pontine glioma. She is also the president of the Young Men's Service League, having originated the Naperville chapter of that organization. She is in her second year as a member of the Naperville National Charity League.
Ellison lives in Naperville with her husband Shane Christopher Ellison '95 and their five children: Aidan, Talia, Logan, Gavin and Portia.
---
Robert Krzyzanowski
Class Year: 2007
Alumni Recognition Award Winner: 2017
Robert Krzyzanowski '07, Ph.D., is making a name for himself in the financial technology industry at the fastest-growing online marketplace lender in the world. He serves as director of data engineering for Chicago-based lender and tech startup Avant. With his help, Avant has raised more than $1.8 billion in funding in just over four years and become a member of the "unicorn club," reserved for startup companies valued at more than $1 billion.
Krzyzanowski started at North Central as a middle school student in the Lederman Scholars program, which offers a college-level curriculum to secondary school students. He graduated from the College at age 16 as a College Scholar with a B.S. in computer science, mathematics and physics.
He went on to the University of Illinois at Chicago (UIC) and earned a Ph.D. in math at age 23. While at UIC, he won the MSCS Teaching Assistant Award, given each year to outstanding teaching assistants in the math department.
Krzyzanowski wrote a paper called "Fuzzy Logic and Combinatorial Multi-Objective Optimization," which he presented and was published in the 2007 Proceedings of the National Conference on Undergraduate Research.
As an undergraduate, Krzyzanowski took first place in the Associated Colleges of the Chicago Area programming competition, was the highest scorer at North Central on the prestigious William Lowell Putnam Mathematical Competition, and was nominated by faculty for the 2006 Student Lincoln Laureate Award. He was a member of the North Central chapter of the international community service organization Circle K and competed on the College's nationally ranked forensics team.
Krzyzanowski speaks three languages: English, Polish and Japanese, which he taught himself.
---
Rev. Lynn Pries
Class Year: 1967
Wall of Witness Award Winner: 2017
The Reverend Dr. Lynn Pries '67 channeled his deep faith, compassion and energy for social justice into church ministry and college chaplaincy. Pries served as campus chaplain at North Cenral for 20 years, nurturing the faith of thousands of students as a pastor, mentor, role model and counselor. 
Pries grew up in Eyota, Minn., and attended North Central at the urging of his pastor, the Rev. Dale Wordelman '56. As a student, he was mentored by the late Rev. George St. Angelo '43, who served as a model for engagement in social justice and civil rights. When Pries was appointed to his chaplain position in 1994, he hoped he could emulate St. Angelo's leadership in ministry and social justice.
In addition to leading worship and connecting North Central with the United Methodist Church, Pries helped organize, lead and chaperone the Appalachian Service Project and alternative spring break service trips; New Beginnings Vacation Bible School and New Visions music and drama touring groups; and annual GospelFest concerts.
His most satisfying reward came from helping prepare students for the ministry and other church vocations.
Pries was recognized in 2001 as Chaplain of the Year by the United Methodist Foundation for Christian Higher Education as a testimonial to the respect Pries cultivated for his work.
Prior to his appointment at North Central, Pries served United Methodist churches in the Illinois communities of Channahon, Aurora, Cicero and Worth. During this time, he completed a master's of divinity at Evangelical Theological Seminary on North Central's campus and doctor of ministry at Garrett-Evangelical Theological Seminary.
In more recent years, Pries focused on establishing the Albright-Wesley Society, a fund supporting student ministry activities and scholarships. He's also helped to shape North Central's new master's in nonprofit management and leadership program, which has a ministry leadership component.
He is married to Donna Allison '67 Pries and they have two adult children and four grandchildren.