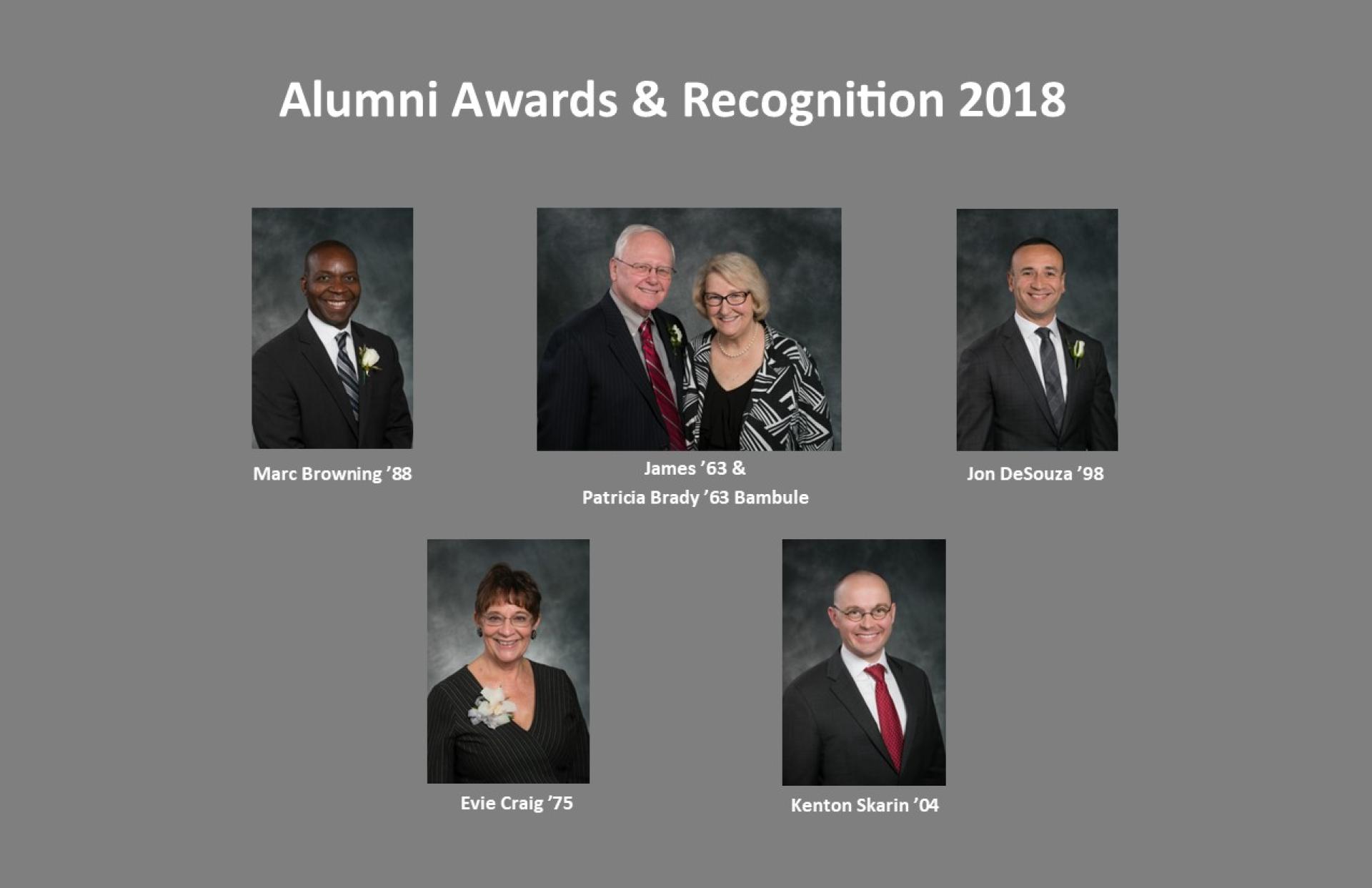 James & Patricia Brady Bambule
Class Year: 1963
Outstanding Alumni Award Winner: 2018
James '63 and Patricia Brady '63 Bambule are two of North Central College's most loyal alumni and generous donors. James and Patricia met at North Central College and both are now retired. Patricia was a longtime teacher in Lisle, Ill. James was an entrepreneur, having spent the majority of his career as the principal of Performance Door Company in Texas. James and Patricia have given back to the College consistently and significantly as alumni. Their gifts include the Bambule coat check room in Wentz Concert Hall and the Bambule Riverwalk Gateway. 
---
Marc Browning 
Class Year: 1988
Outstanding Alumni Award Winner: 2018
Marc Browning '88 is one of the most influential figures in mental health in Illinois. He is the director of the Linden Oaks Medical Group Counseling Center, a registered nurse and a licensed clinical psychologist. Browning has a diverse professional background that includes entrepreneurship, clinical private practice, forensic psychology and adjunct faculty status. During his time at North Central, Browning started at quarterback for the football team. He is in the top 10 in school history in several categories. Browning holds an A.A.S. degree in registered nursing from the College of DuPage. He also has a master's degree in clinical psychology and a doctorate in clinical psychology and psychology from Argosy University Chicago.
---
Evie Craig 
Class Year: 1975
Outstanding Alumni Award Winner: 2018
Evie Craig '75 is a leading nonprofit administrator and executive director of The Arts Asylum, a low-cost workspace for artists and performers in the Kansas City area. She recently completed 12 years as president and CEO of reStart, Inc., Kansas City's only homeless agency that serves all populations. Craig helped grow reStart's annual budget from $1.33 million to $7.17 million in just over a decade. She also secured funding for permanent housing, helped double the Street Outreach program in size and worked to house homeless veterans. Craig was named to the 2015 Influential Women in Kansas City Business. Craig earned a B.A. degree from North Central and an M.A. in English from Indiana University in 1981.
---
Jon DeSouza 
Class Year: 1998
Outstanding Alumni Award Winner: 2018
Jon DeSouza '98 is one of the nation's top executives in industry and technology. He is the president and CEO of HARTING Americas, one of the leaders in industrial connectivity across North America. DeSouza brokered a partnership between HARTING and North Central College that included donating the HARTING Electronics Lab inside the Dr. Myron Wentz Science Center. Equipment in the lab will help students work with the latest real-world technology as part of the introduction of North Central's new engineering programs. DeSouza has also worked with North Central to provide internships to students and bring a HARTING business conference to campus. DeSouza has a B.A. in international business and is proficient in Portuguese and Spanish. 
---
Kenton Skarin 
Class Year: 2004
Alumni Recognition Award Winner: 2018
Kenton Skarin '04 is an accomplished and reputable attorney with Jones Day, a global law firm with 43 offices on five continents. Skarin has represented clients in cases involving diverse issues in civil rights, administrative law and wrongful convictions. Skarin previously served as deputy general counsel for the Office of the Governor of Illinois. He was also a law clerk to the Honorable Clarence Thomas of the U.S. Supreme Court in 2012 and to the Honorable J. Harvie Wilkinson III of the U.S. Court of Appeals, Fourth Circuit in 2009. After graduating with a B.A in history summa cum laude, Skarin attended Northwestern University where he earned a J.D. degree, magna cum laude.