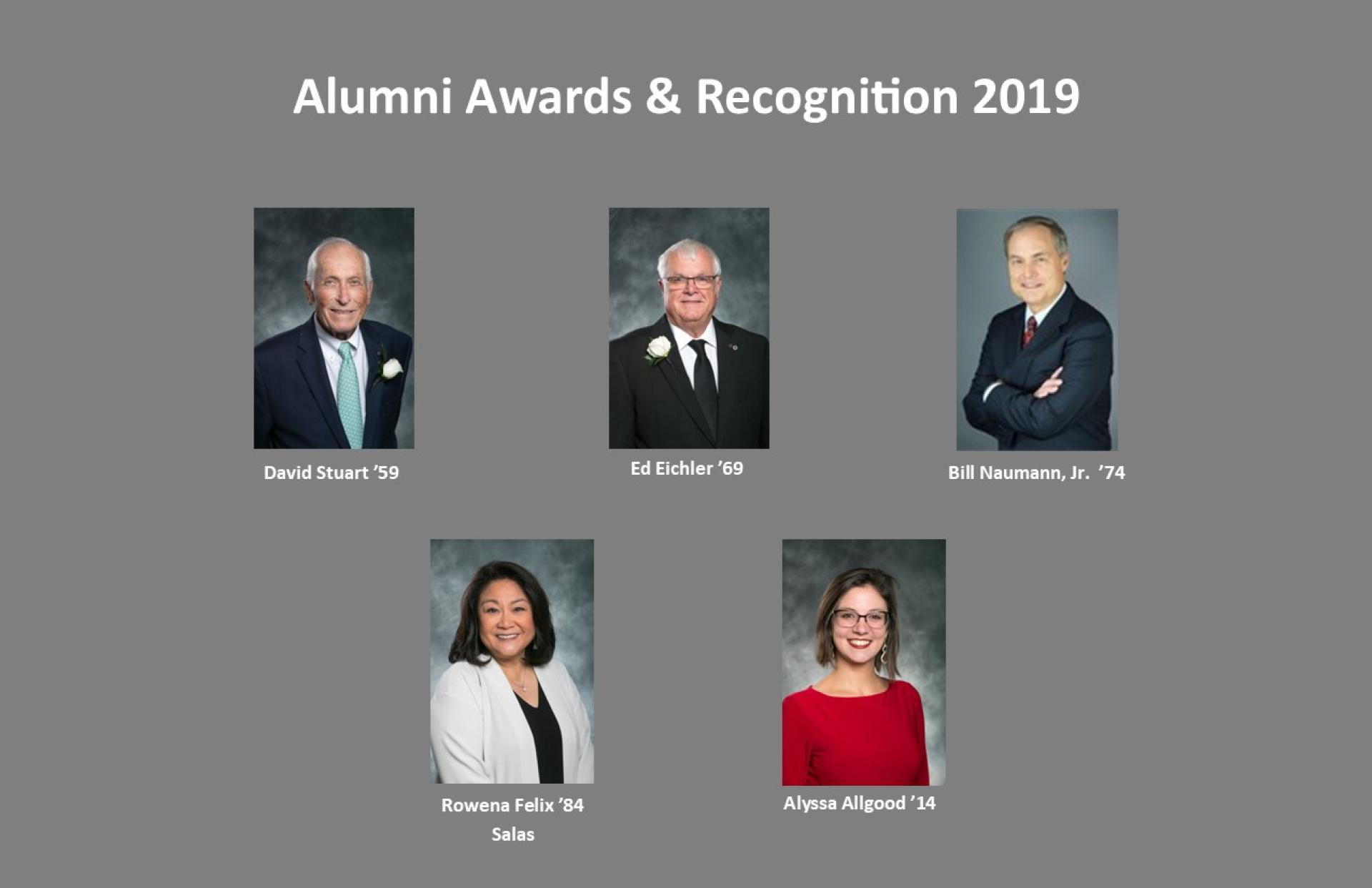 David Stuart 
Class Year: 1959
Outstanding Alumni Award Winner 2019
David Stuart '59 has been a devoted alumnus of North Central College for 60 years. As North Central's first full-time director of alumni relations, he visited more than half of the College's alumni. He held the position from 1961 to 1967, served as a driving force behind the creation of the 50-Year Club—of which he is now a member—and revitalized Alumni Weekend, athletic banquets and the "N" Men's Association.
In 1967, Stuart launched a new career as special agent with Northwestern Mutual Life Insurance. He thrived in this field as well, going on to become a member of the Million Dollar Round Table, an independent association of the world's leading life insurance and financial services professionals.
Through the years, Stuart has remained committed to the College. He has served on North Central's class reunion committees and frequently returns to campus for athletic and music events. He and his wife JoAnn Heilman '59 Stuart are generous philanthropists, supporting causes such as Lurie Children's Hospital, Alice Lloyd College (Ky.) and, of course, North Central. They established a scholarship for four students—one from each class year—and made a $25,000 gift to the Dr. Myron Wentz Science Center. The latter gift is recognized with a bench at the building's southwest entrance.
---
Edwin H. Eichler 
Class Year: 1969
Outstanding Alumni Award Winner: 2019
Edwin H. Eichler '69 has earned a reputation as an innovative and visionary leader in a career that spans half a century.
After earning his bachelor of arts degree in speech from North Central College, Eichler taught English for three years at Haines Middle School in St. Charles, Ill.
Following the 1972 school year, Eichler had the opportunity to return to his hometown of Pigeon in Michigan's Thumb region to join Pigeon Telephone Company. In 1988, he succeeded his father John in the role of president and chief executive officer.
Eichler spearheaded the launch of Thumb Cellular, a cellular phone service provider, and Agri-Valley Services, an internet service provider. The trio of communication businesses were reorganized into Agri-Valley Communications, Inc., in which Eichler is still heavily involved today.
Eichler has also been instrumental in the success of Bay Port State Bank, where he assumed the role of chief executive officer in 1997. As CEO, Eichler led the bank's successful reorganization in 1999, and he continues to be involved in its operations.
His prowess in money management has manifested in service to his faith. In addition to his lifelong involvement in the United Methodist Church, Eichler served for eight years on the Detroit Conference Council on Finance and Administration, handling a $10 million budget.
---
William Naumann Jr. 
Class Year: 1974
Outstanding Alumni Award Winner 2019
William Naumann Jr. '74 is a respected leader in the legal field and one of the most successful attorneys in southern California.
Naumann specializes in construction defects law as principal of Naumann Law Firm, PC, based in San Diego. He represents homeowners' associations, commercial owners' associations and single-family homeowners in cases involving faulty design, materials or workmanship.
He has appeared on the Super Lawyers list every year since 2012 and had been named a Top Lawyer in San Diego from 2013 through 2018. His firm has the highest rating possible from its peers by way of the LexisNexis Martindale-Hubbell Law Directory. In all, Naumann has accounted for more than $100 million returning to his clients.
The Naumann family is integrated into the history of North Central College, and Naumann literally has North Central in his blood. He is the great-great-grandson of the College's first president, A.A. Smith. His great-grandfather Henry Cowles Smith taught at the College for 60 years as a music and classics professor, his father Bill Naumann is a professor emeritus of religious studies, and his daughter Brittany Naumann '09 Collins marked the seventh generation of the family to graduate from the College. A total of 83 of Naumann's relatives have attended North Central.
North Central granted Naumann his bachelor's degree in political science and economics and he received his juris doctorate from the University of San Diego School of Law in 1980.
Naumann and his wife Cheryl have made generous contributions to the College, supporting the fine arts, Kiekhofer Hall renovations and the Dr. Myron Wentz Science Center. 
---
Rowena Felix Salas
Class Year: 1984
Outstanding Alumni Award Winner: 2019
Rowena Felix '84 Salas is a philanthropist, successful entrepreneur and astute business manager overseeing operation of the Hotel Baker in St. Charles, Ill.
Salas and her husband Joe purchased the empty property in 2003, rescuing it from foreclosure. The historic hotel was built in 1928 and overlooks the Fox River. Salas has since transformed the property into one of Chicagoland's most popular wedding venues and hotel destinations.
As a student at North Central College, Salas majored in biochemistry and went on to earn her bachelor of science in nursing at Rush University. Salas served as a nurse at the Veterans Administration Hospital and Rush University Medical Center.
She later entered the business world, owning a hair salon and furthering her passion for the arts by opening an art gallery in downtown St. Charles.
After the couple assumed ownership of the hotel, Salas took over as general manager and learned about marketing, graphic design, human resources and accounting. She oversaw renovations and upgrades to the décor. With her oversight, Hotel Baker continues to be an important historic landmark in downtown St. Charles. Salas serves on the board of directors of the St. Charles Business Alliance and contributes to many non-profit organizations in the region.
Salas came to the United States as a child from the Philippines. In 2018, she was inducted into the Chicago Filipino Asian American Hall of Fame and received the VIA Woman of the Year Award for her professional achievements and for promoting a positive image of Filipinos.
---
Alyssa Allgood 
Class Year: 2014
Alumni Recognition Award Winner 2019
Alyssa Allgood '14 is an award-winning jazz vocalist and music educator based in the Chicago area.
Allgood's jazz career at North Central College started at age 12 when she attended the Janice Borla Vocal Jazz Camp. As a student at North Central, Allgood won the award for best collegiate jazz vocal soloist in DownBeat magazine's 37th Annual Student Music Awards in 2014.
Since graduating from North Central with majors in music and organizational communication, Allgood has made appearances at the world-famous Birdland Jazz Club in New York City, many of Chicago's top jazz clubs and at the Chicago Jazz Festival, the Jazz Estate in Milwaukee and Noce Jazz Club in Des Moines.
In 2015, Allgood competed in the Shure Montreux Jazz Voice Competition, where she performed in Switzerland for a world-renowned jury including jazz legend Al Jarreau. In 2016, she became a jazz fellow through the Luminarts Cultural Foundation in Chicago and was the second-place winner of the 2016 Mid-Atlantic Jazz Voice Competition. In 2017, Allgood won the first Ella Fitzgerald Jazz Vocal Competition in Washington, D.C., where she joined the Four Generations of Miles Davis Band at the Blues Alley.
Allgood's debut album, "Out of the Blue," was named a "Best Release of 2016" by DownBeat magazine. Her second album, "Exactly Like You," was released in November 2018 and was "vocal record of the year" according to the Chicago Jazz Magazine. As a result, she was named "Best Jazz Entertainer" in the 2019 Chicago Music Awards.
She has served as a clinician at college and high school jazz festivals and is now a member of the jazz faculty at Elmhurst College.