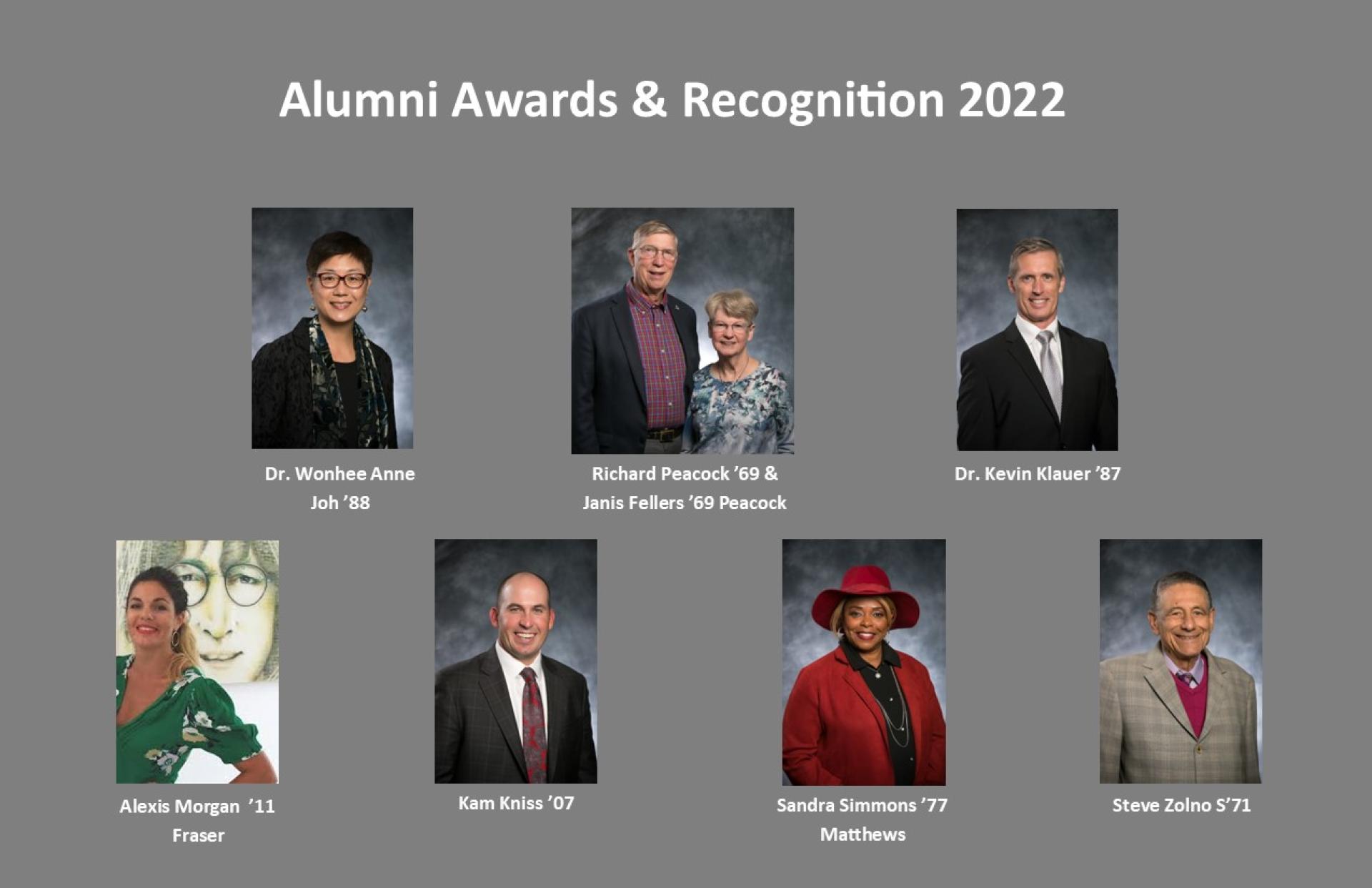 Sandra simmons matthews
Class Year: 1977
Outstanding Alumni Award Winner 2022
Sandra Mathews is the senior vice president of organizational advancement for Illinois Action for Children, a state-wide nonprofit organization dedicated to quality, accessible early learning and care opportunities for children. As a member of the executive team, she is responsible for planning, management and implementation of strategic marketing, communications and fundraising initiatives. Prior to her current role, Matthews served as senior advisor and chief of staff to the Assistant Secretary of Education in the U.S. Department of Education's Office of Civil Rights during the Obama Administration. There she was responsible for program planning, media relations, and effective communication to ensure compliance and enforcement of federally mandated education policy related to civil rights. Matthews has more than 20 years of public affairs and communications experience with a variety of organizations including the Chicago Sun-Times, the Michael & Juanita Jordan Foundation and City Colleges of Chicago.
She graduated from North Central College with a bachelor of arts in English and French, and earned a master's of jurisprudence in child and family law from the Loyola University Chicago School of Law. Matthews volunteers at Soul City Church in Chicago, is a member of the board of trustees for Resurrection University, and is a community action board member for NBC News Chicago.
Dr. Kevin Klauer 
Class Year: 1987
Outstanding Alumni Award Winner 2022
Dr. Kevin Klauer is CEO of the American Osteopathic Association (AOA), representing more than 145,000 osteopathic physicians (DOs) and medical students throughout the U.S. In this position, he leads strategy, operations, organizational growth and advocacy
for the osteopathic profession, and partners with the organization's board of trustees, affiliated associations and staff to advance the AOA's strategic vision and execute its programs.
Klauer previously served as chief medical officer for hospital-based services, chief risk officer and executive director of the patient safety organization at TeamHealth, a leading clinician services organization. He also served as a clinical assistant professor at the Michigan State University College of Osteopathic Medicine and the University of Tennessee Health Science Center College of Medicine.
Klauer was honored by the American College of Osteopathic Emergency Physicians with the 2018 Outstanding Educator of the Year Award, and was elected to the American College of Emergency Physicians (ACEP) board of directors in 2016. He has received the Emergency Medicine Residents' Association Robert Dougherty ACEP/EMF Teaching Fellowship as well as the ACEP National Faculty Teaching Award. He serves as the medical editor-in-chief for ACEP Now, ACEP's monthly publication, and was editor-in-chief for Emergency Physicians Monthly.
Klauer earned his DO degree from the Des Moines University College of Osteopathic Medicine and holds an executive JD from Concord Law School. He graduated from North Central College with a bachelor of arts in biology-exercise science.
Dr. Wonhee Anne Joh 
Class Year: 1989
Outstanding Alumni Award Winner 2022
Dr. Wonhee Anne Joh is the Harry R. Kendall Endowed Chair in Christian Theology and Postcolonial Studies at the Garrett-Evangelical Theological Seminary. Joh has the distinction of being the first Asian American female to hold an endowed chair in the seminary's 169-year history, which dates back to the Evangelical Theological Seminary's 1873 founding in Naperville as part of North Central College.
Joh has been a member of the Garrett-Evangelical faculty since 2009. In 2017, she was promoted to full professor, which made her the first Korean American female full professor in systematic theology in the U.S. In 2021, she was named director of the seminary's doctor of philosophy program.
An interdisciplinary theologian, Joh's research and scholarship has focused on post/decolonialism, critical ethnic/race and Asian American studies, feminist, queer and affect theories, and constructive theology. Joh is also an affiliate faculty member in the Departments of Religious Studies and Asian American Studies at Northwestern University.
In addition to her work at the seminary, Joh works closely with the United Methodist Women of Color Doctoral Program; the Forum for Theological Exploration Doctoral Fellowship Program; the Pacific, Asian, and North American Asian Women in Theology and Ministry; and the Asian Theological Summer Institute, a one-week intensive mentoring program for doctoral students from an Asian background.
Joh received a doctor of philosophy in theological and philosophical studies from Drew University in 2003, a master of divinity from Princeton Theological Seminary in 1992, and a bachelor of arts from North Central College with a double major in religious studies and English literature and a minor in political science.
Tracie Morris 
Class Year: 2002
Outstanding Alumni Award Winner 2022
Tracie Morris is the chief human resources officer and chief inclusion officer for BMO Financial Group in the U.S. In her role she oversees the strategic and operational governance for the human resources (HR) organization. In addition, she leads, sponsors and executes enterprise HR priorities in the U.S., and she oversees and coordinates HR-related matters pertaining to U.S. regulatory agencies, and U.S. mergers and acquisitions. In addition, Morris leads the company's diversity and inclusion initiatives throughout the U.S. Morris has a leadership role with the HR Committee of the BMO Financial Corporation's Board of Directors, as well as with the Benefits Investment Committee. She also chairs the U.S. Compensation Oversight Committee and U.S. Benefits Administration Committee.
Prior to her current role, Morris spent 17 years at Exelon, leading organizational and cultural transformations, driving workforce planning, talent acquisition, leadership development, succession planning, and building training programs.
Morris serves on the boards of directors for Women Employed, The Black Ensemble Theater, Girl Scouts of America, Junior Achievement of Chicago, and the Business Leadership Council. She's also a member of the North Central College Board of Trustees.
Morris earned a bachelor's degree in organizational communications from North Central College and a master's degree in management and organizational behaviors from Benedictine University, where she was inducted into the Sigma Beta Delta Honor Society. In 2019, Morris made the Crain's Chicago Business list of Notable Leaders in HR, and in 2021 was named on the publication's list of Notable Black Leaders and Executives.
Kam Kniss 
Class Year: 2007
Outstanding Alumni Award Winner 2022
Kam Kniss is CEO of Wheaton Bank & Trust, a charter in the Wintrust Community Bank family. He leads the bank charter in serving communities and small businesses in Wheaton and the surrounding area, including Bolingbrook, Glen Ellyn and Naperville. Upon being named CEO in February 2020, he became the youngest to lead one of Wintrust's banks. Kniss has been with Wintrust in various roles since 2010, including leadership positions in the company's commercial banking division, where he was one of the first bankers to join the commercial lending team, which helped transform Wintrust from a mainly suburban bank into one of Chicago's strongest business banks.
In 2020, Kniss was named a Crain's Chicago Business 40 Under 40 honoree, joining the ranks of other business, nonprofit, government, and cultural leaders who have made a vast impact on Chicago area business and the community before their 40th birthdays.
Kniss was a four-year starting quarterback on the North Central College football team, setting program marks for completions, yards and touchdowns. During his senior season, the Cardinals won a share of their first College Conference of Illinois & Wisconsin (CCIW) title since 1960 and recorded a first-round win in the NCAA Division III playoffs for the first time in program history. He was the first Cardinal player to win back-to-back CCIW Offensive Player of the Year awards. Kniss was inducted into the North Central College Athletics Hall of Fame in 2017.
Kniss serves as a board member for DuPage PADS and the DuPage Children's Museum.
Steve Zolno 
Class Year: Shimer 1971
Outstanding Alumni Award Winner 2022
Steve Zolno S '71 is a management and educational consultant in the San Francisco Bay Area known for his thoughts on the values of democracy. He has authored numerous books on the topic, including: "Guide to Living in a Democracy"; "Truth & Democracy: Truth as a Guide for Personal and Political Action in an Age of Polarization"; and "The Future of Democracy: Lessons from the Past and Present to Guide Us on Our Path Forward." He also authored a book on the human condition titled "Everyday Spirituality for Everyone," which examines the variety of religious and non-religious paths on humanity's quest for inner peace and fulfillment.
Zolno has led workshops that emphasize how democratic principles can be brought more clearly into all areas of human interaction, including schools, government, organizations, and families. He has founded and directed private schools and a health care agency in the Bay Area based on these principles.
He graduated from Shimer College with a bachelor of arts in social sciences and holds a master's degree in educational psychology from Sonoma State University. Zolno continues to engage Shimer alumni through his monthly "Future of Democracy" newsletter, and he has served as the Shimer liaison to the North Central College Alumni Board of Directors.
Alexis Fraser 
Class Year: 2011
Alumni Recognition Award Winner 2022
Alexis Fraser is a Sarasota, Fla.-based artist who is otherwise known in the art and design industry as "Lipstick Lex." As an alternative visual artist, Fraser uses a complete color palette of lipstick as her primary medium, while finishing everything she creates with her signature kisses.
Her unconventional approach differentiates her work in the art space and her brand is rapidly expanding as she evolves in the world of design and fashion with her
bespoke signature wearable art collection. The kiss print is her symbol as it promotes love, self-love, beauty, personal empowerment, joy, and affection.
Fraser works on both private and corporate projects. Her work has been showcased nationally and abroad where she has landed various exhibitions, collaborations, campaign work, live performances, public speaking engagements, gala events, celebrity endorsements, collectors, and more.
She has collaborated on beauty campaigns with cosmetic brands including MAC, Younique and Isehan; her designs have been purchased by large corporate clients including Nike; and she has made TV appearances on "Good Morning America," "Strahan & Sara" and "Pickler & Ben." Fraser has exhibited her artwork in Tokyo and Hong Kong, and at a London charity event, "Downton Abbey" star Michelle Dockery purchased one of her pieces.
Fraser, who graduated from North Central with a bachelor of arts degree in fine and studio arts, credits her time at the College as being a pivotal point for her creatively, when she first began to experiment and create in unconventional and thought-provoking ways.
Rev. Richard and Janis Fellers Peacock
Class Year: 1969
Wall of Witness Award Winners 2022
Rev. Richard '69 and Janis Fellers '69 Peacock created the Dr. Jacob Sackmann Endowed Scholarship for Peacemaking in 2017. The Fellers named their scholarship in honor of a faculty member who had a profound influence on them, both inside and outside of the classroom. As professor of religion, Sackmann inspired his students to take action and taught Central Christian Convictions, a course that helped make peacemaking a critical part of Rich's ministry. The scholarship is an outgrowth of the couple's lifelong passion for service and social justice and aims to support students who share a similar commitment to improving the world.
Jan dedicated her 37-year career to teaching elementary and special needs students in the Detroit area. Rich spent 35 years pastoring United Methodist churches in the Detroit Conference, and served as the conference's World Peace Section chairperson. He is also co-chair of Peace Action of Michigan, which seeks a demilitarized, sustainable economy, the abolition of nuclear weapons, and diplomatic resolutions to global conflict. Rich received the Detroit Area United Methodist Church's Martin Luther King, Jr. "Drum Major for Justice Award" in 2011 and Detroit's "World Sabbath of Religious Reconciliation Peace Maker Award" in 2013.
In addition to providing funding for their scholarship, the Peacocks have supported the North Central College Fund, Albright-Wesley Society and the Fine Arts Center Fund.