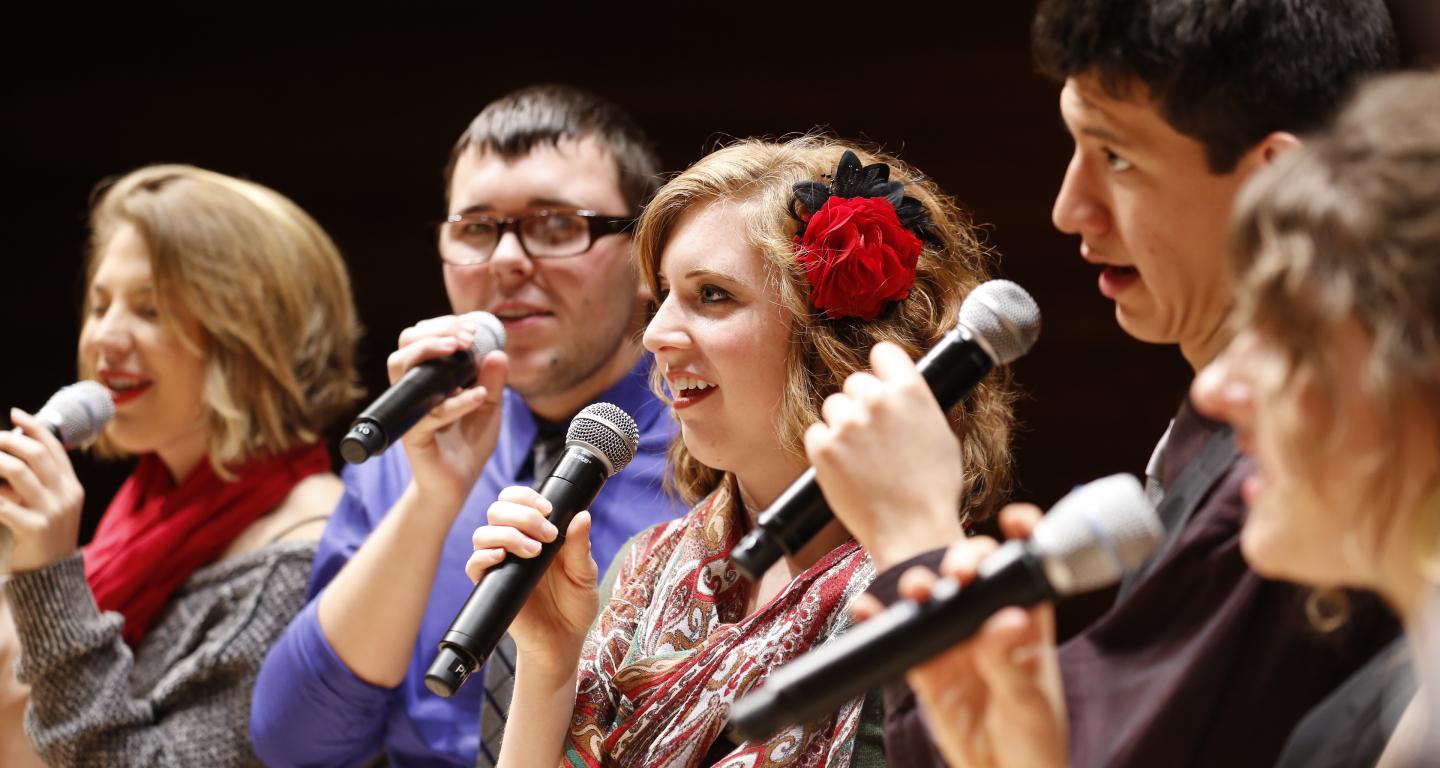 Music and Arts Organizations and Activities
Big Band performs three times per year and utilizes standard big band instrumentation.
Cardinal Athletic Band is open to any student who plays a musical instrument. It instills school spirit throughout the College community and at athletic events.
Cardinal Chorus is for students who enjoy singing, but may not be declared music majors.
Cardinal Dance Company is a performance-based group of students who share a passion for dance.
Capture is a group of students who enjoy doing and practicing photography and related arts.
The Company performs student-directed studio and independent productions and participates in the American College Theater Festival (Region V).
Concert Choir members are selected by audition and perform at public events during the year.
Concert Winds and Chamber Winds members are selected by audition. They have earned outstanding reputations for technical, precision and outstanding musicality.
College Union Activities Board (CUAB) is student-run programming that provides a variety of recreational, social, cultural and mainstage programs.
Impressions Art Club is for student art makers who are interested in; meeting other makers on campus, having open studio time together, building your artists network, critiquing our work, expanding your skill sets and visiting art spaces.
Jazz Combos focuses on improvisation within a small jazz ensemble setting, instructed by jazz faculty and spans the entire spectrum of jazz styles.
Jazz Club promotes the tradition of jazz music on campus. The club provides people the opportunity to interact and explore this music through events such as jam sessions, master classes and trips to see professional jazz concerts.
Love Your Melon Campus Crew is a crew of college students determined to improve the lives of children battling cancer.
Luctus is a creative writing and workshop group. We try to create a positive, creative space for students to share their work and receive feedback in a way that a formal classroom setting may not offer.
NCC Swing Dance Society educates students in the many styles of swing dance.
Nerd Culture Club is a student organization dedicated to providing a space for nerds to be nerds. We welcome fans of all sorts of nerd culture including video games, board games, roleplaying games, movies, anime, comics, shinkansens, and anything else you can nerd out to!
No Control A Cappella is North Central's one and only all male a cappella group!
North Central College Composer's Consortium is a group of composers and musicians who bring and share ideas with each other and the community and who support the art of composition throughout the campus.
One Note Stand is a mixed a cappella group that performs both on and off campus. Each year we look for talented, committed, energetic new members to add to our distinctive sound and style in a fun and focused atmosphere.
Opera Workshop presents opera or musical theatre selections each year, giving advanced students in-depth experiences.
Sonata Problem a Cappella is North Central's premier, student-led, competitive a Cappella group. We frequently perform in the community and rehearse twice weekly. No music major or experience required! We hold auditions during the beginning of every Fall Term of the school year.
Students Lost In Pottery (SLIP) is for any student interested in ceramic arts.
Student Art Show is an opportunity for students to present their work in College exhibit spaces.
There's Something About Books is working to foster a welcoming environment in which book lovers can gather and share in a common passion. Members select and read novels covering a variety of authors and genres, discuss their thoughts and opinions and explore ideas outside their comfort zones.
The Union is a venue for spiritually and socially significant expressions of music, film and art, located in downtown Naperville.
Tonacity is an all-women a cappella group focused on building girl-love in a respected environment where students can also grow skill and deliver powerful and meaningful performances in and outside of the North Central College community.
Vocal Jazz Ensemble focuses on improvisation within a vocal ensemble context.
Voices of Praise Gospel Choir provides worship through traditional African-American gospel music.
Women's Chorale is a vocal ensemble with a reputation of innovative concert programming and staging. Members are selected by audition.