Feature News
Immersion into Chinese Culture
D-Term study to China gives students the experience of a lifetime
Jan 18, 2017
Anthony Ashner '17 is a graphic design and convergent media major with a minor in marketing. Anthony, nine other North Central students, and two professors traveled to China as part of North Central College's December Term Study Abroad program. This is his account of the two-week trip abroad.
On November 28, 2016, nine North Central students and I anxiously boarded a 13-hour flight from Chicago to Beijing. While a few of us had been outside of the country before, nobody was really prepared for a two-week adventure exploring China. The Chinese culture was extremely evident upon arriving in China, and most of Beijing spoke little-to-no English. Our class was able to look at ourselves as visitors to this culture, and we immediately immersed ourselves into the new Chinese culture. All meals were eaten family-style, with large portions of food set in the middle of the table to be shared by the entire class.
This communal experience allowed for endless discussion about food and culture, and always brought us closer as a class. We saw incredible sights in Beijing like the Great Wall of China and Tianenman Square, and we learned their importance to the growth and sustainability of Beijing culture. In Beijing we also met up with students from a Beijing university, which was widely agreed among our class as one of the best parts of the trip. Our class loved conversing with the students and comparing our college lives to theirs, and they were extremely helpful in helping us navigate Beijing. We learned firsthand that people of two different cultures can instantly connect over similar life experiences, and many of us are still in contact with the Chinese students today.
I feel really privileged to say that I now have friends both here in Naperville and on the other side of the globe.
The second part of the trip had our class traveling through four cities in the Yunnan province. These cities were much smaller in comparison to Beijing, and each had a unique culture that we were excited to explore. Lijiang, Shangri-La and Dali had an "old town" and a "new town." The old towns each had their own personality and history and usually consisted of small businesses lined up along intertwining streets. Lijiang had a river flowing through the center of the town, and Shangri-La had a Buddhist temple overlooking the town. Throughout our time in the Yunnan province, we experienced Buddhist practices in actual temples, visited a Tibetan monastery and family, saw a high-profile dance and drumming performance in Kunming, went to the Stone Forest, explored a cave and much more.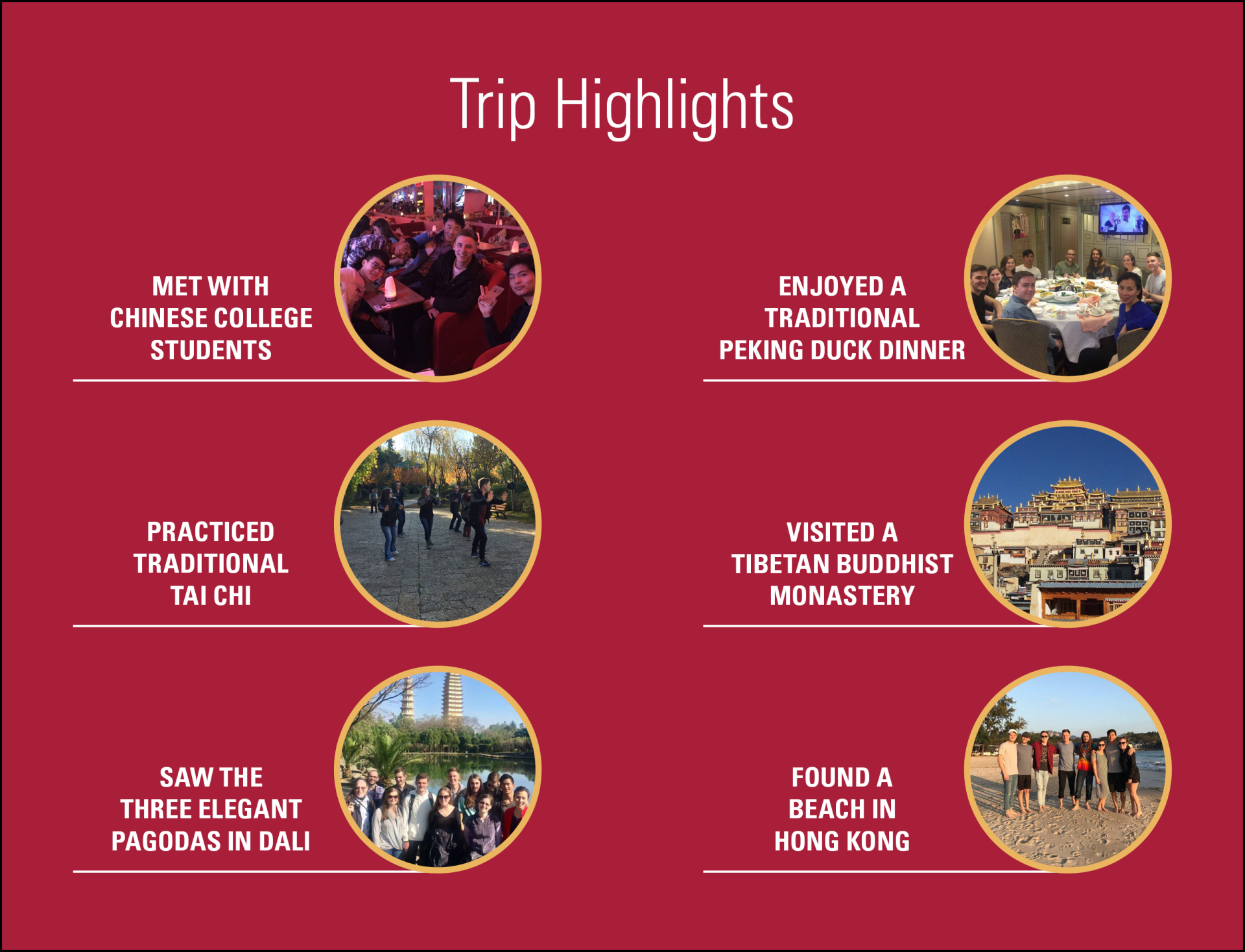 There is no better way to rid yourself of your own ethnocentrism than plunging yourself headfirst into a completely foreign culture.
Our third flight took us to Hong Kong, which was an easy favorite of the trip for the entire class. The Western influence over Hong Kong was immediately clear to us, and the city felt much more diverse than our previous destinations. Our class loved this new culture, combined with 80 degree weather in December. In Hong Kong, we visited the Big Buddha statue, traveled to the top of Victoria's Peak and traveled to a beach on our final day. At our last dinner, my entire class discussed with our professors how this trip had changed us. There were parts of the trip where we didn't understand the language that was spoken, ate food we weren't used to eating, and collectively planned how to travel from one location to another in a city we weren't familiar with. However, this was all part of the journey of sharing human experiences and learning stories from all over the world. The China D-Term trip changed each of us individually, and I recommend studying abroad to students interested in immersing themselves in a completely new culture.