Media Releases
North Central College alumnus Ryan Dowd to address Class of 2018
May 01, 2018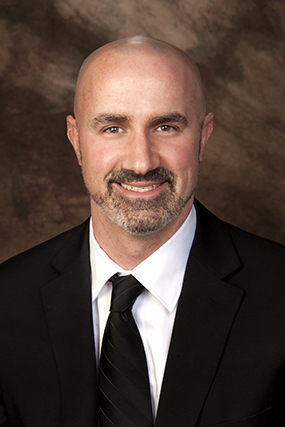 Ryan J. Dowd, a national leader in social justice causes and executive director of Illinois' second largest homeless shelter, Hesed House, will address the graduating class at North Central College's 153rd Commencement June 9.
Dowd earned a bachelor of arts in religious studies from North Central in 2000. In 2011, he earned the College's Alumni Recognition Award. In 2015, he delivered a TEDxNorthCentralCollege talk about how individuals can discover their life's purpose during times of moral failure. Dowd authored a book titled, "The Librarian's Guide to Homeless: An Empathy-Driven Approach to Solving Problems, Preventing Conflict, and Serving Everyone."
"As an alumnus of North Central College, I am absolutely thrilled to come back and speak to the graduating class. This is really exciting," said Dowd. "When I think back on my time as a student, my most significant memory is the intellectual caliber of faculty, who also genuinely cared for their students."
Dowd started at Hesed House as a volunteer at age 13. He joined the staff while a student at North Central. In 2004, Dowd was appointed executive director.
Dowd holds a master's degree in public administration and a law degree from Northern Illinois University (NIU). In 2013, he received the Outstanding Alumni Award from NIU's Division of Public Administration.
Following NIU, Dowd moved to Washington, D.C., to found a human rights organization. He also ran a nonprofit law firm for immigrants before returning to Hesed House as executive director in 2016. Dowd's passion for international causes has taken him to Africa to work with churches confronting governments that perpetuate human rights abuses. He was an election observer in Ghana in 2008 and in the United States from 2004 to 2012. The City of Aurora designated August 27, 2013, as "Ryan Dowd Day" and U.S. Congressman Bill Foster recognized Dowd in the U.S. House of Representatives that year for his work at Hesed House. Dowd and his wife, Krissie, have two children.
"Ryan Dowd travels the country to provide training at libraries, police departments and other organizations on how to work compassionately with people who are homeless," said Troy D. Hammond, president of North Central College. "Ryan is the embodiment of North Central's mission of fostering ethical and purposeful leadership, and I am honored to have him return to campus for Commencement."
Information about North Central College's Commencement is available at www.northcentralcollege.edu/commencement. The academic procession begins at 9:40 a.m. and Commencement at 10 a.m. The ceremony is expected to draw more than 5,000 parents, alumni and visitors to North Central College's Residence Hall/Recreation Center. Tickets are not required but seating is on a first-come, first-served basis. Guests are encouraged to arrive early.