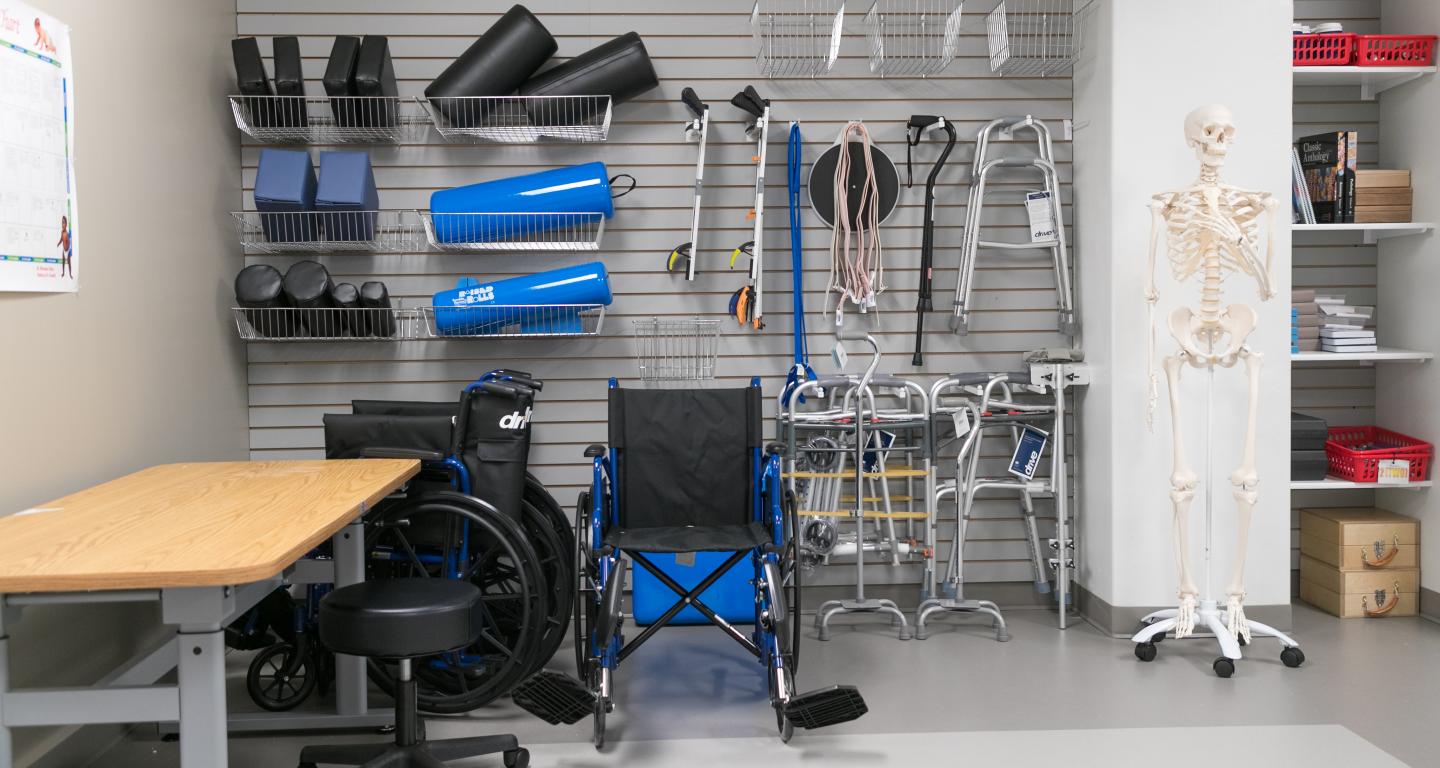 OT School Requirements Broken Down
Dec 10, 2020
What are Occupational Therapy Major Requirements?
Occupational therapists enjoy rewarding careers that directly impact the health and well-being of people of all ages. Occupational therapists treat injured, ill, or disabled patients through the therapeutic use of everyday activities. They help these patients develop, recover, improve and maintain the skills needed for daily living and working.
Recommended majors include:
Psychology
Health science
Exercise science 
Biology 
Other academic areas of interest to you
Most programs do not require that applicants earn bachelor's degrees in any specific discipline. Most commonly though, students applying to graduate OT programs at an accredited institution have earned degrees in majors that are related to science and healthcare-related fields. Whether you want to explore different types of psychology or the various branches of chemistry, there are a number of majors to choose from that can lead down the OT path! Though you may not be wondering what you can do with a neuroscience degree, you may want to keep other science programs on your radar! 
The following courses are OT school requirements for a master's degree at schools like North Central College:
Human anatomy with a lab 
Human physiology with lab (preferred)
Abnormal psychology
Human growth and development across the lifespan
Sociology or anthropology
Psychology
Statistics 
Some occupational therapy programs also require or recommend: 
Physics
Ethics
Medical terminology
Additional courses in biology or chemistry
What math is needed for OT?
Typically the only math course needed is statistics. So just make sure you take that one and you're good!
What other preparation will I need for OT school requirements?
Since occupational therapists work closely with people of all ages and backgrounds, they must possess good communication skills; feel a commitment to serving others; and have an interest in client-centered therapy. Undergraduate students who want to become occupational therapists must gain hands-on experiences--every semester if possible--to help develop competitive applicants for MOT programs.
North Central College's Pre-Professional Health Program Coordinator guides students in selecting the activities listed below, connects them with alumni who have pursued this career path, and advises them throughout the application process to an occupational therapy program.
Helpful experiences for MOT admission include:
Observing a licensed occupational therapist to demonstrate that you understand how they work and are comfortable in a clinical environment;
Campus leadership activities like serving as a peer health educator, as an officer in a student organization, or as a tutor;
A commitment to others demonstrated through volunteer service.
Observing a licensed occupational therapist is very important and the minimum number of shadowing hours is around 40 hours. Be sure to investigate the shadowing requirements for the specific programs you're considering before you begin logging these experiences. Some admission professionals recommend getting 100 hours (or more) in a variety of settings to boost the strength of your application.
Earn credit for direct observation hours by volunteering or by shadowing an occupational therapist at his or her workplace. Depending on your interests and the type of clients you want to work with, you might consider a clinic, hospital, skilled nursing facility or school among many other options. It's a good idea to observe in varied settings with multiple therapists in order to get a thorough view and varying perspectives of the field. Where you conduct your observation is up to you, but make sure that your hours are documented by a practicing occupational therapist.
What schools offer OT? US News and World Report ranks 200 college and university graduate schools in occupational therapy. You might consider a program like that at North Central College which allows dual admission as an undergraduate.
What GPA do you need for OT school?
The minimum undergrad grade point average (GPA) varies by graduate program. At North Central College, the average GPA for students accepted for admission to occupational therapy programs is 3.5 or higher.
A minimum GPA for other occupational therapy programs may be lower, but be aware that entrance into occupational therapy programs is often very competitive. If you are aspiring to become an occupational therapist, you'll need to maintain exceptional grades throughout your four-year degree program to meet OT grad school requirements for admission. Sometimes there is a higher GPA requirement for specific subjects, like math and science courses. 
You will need to check with MOT programs on minimum combined scores for the GRE, which are usually around 290, broken out as 150 for verbal and 140 for quantitative. Programs may have separate requirements for the verbal and quantitative components or they have a combined requirement. The GRE can be taken more than once to achieve a higher score.
How long do you have to go to school for OT?
After earning your bachelor's degree, becoming an occupational therapist requires additional years of study in a master's degree program. Completion of a MOT program is required to enter the profession, which usually takes a minimum of two years. Some programs offer an occupational therapy doctorate degree (OTD). 
In order to qualify for licensure, it is required that therapists have earned a master's degree in occupational therapy that has been fully approved by the American Occupational Therapy Association (AOTA). Along with the classroom learning, master's programs will include extensive hands-on experience and fieldwork in hospitals, private homes, residential centers, rehabilitation facilities, clinics, and more under direct supervision.
Occupational therapy is a fast-growing profession
According to the United States Bureau of Labor Statistics, employment of occupational therapists is projected to grow 18 percent from 2018 to 2028, much faster than the average of all occupations. Median pay is $84,000 with a master's degree in occupational therapy. 
Next steps
To become an occupational therapist, you'll need to be certified by the National Board for Certification in Occupational Therapy (NBCOT). Upon graduation, OT students can log into NBCOT and review prerequisite requirements for registering and taking the OT certification exam. Preparation for the exam is available on the AOTA website.
To find out how you can obtain a license in the state of Illinois, visit the Illinois Department of Financial and Professional Resources. To obtain a license in another state, you will need to research that particular state's requirement.
Is occupational therapy right for you?
Finally, as you consider pursuing an education in occupational therapy, you should also consider if it's a good fit for your disposition and people skills. According to the Bureau of Labor Statistics, here are some other skills and qualities of occupational therapists: 
Adaptability. Occupational therapists must be flexible when treating patients. Because not every type of therapy will work for each patient, therapists may need to be creative when determining the treatment plans and adaptive devices that best suit each patient's needs.
Communication skills. Occupational therapists must listen attentively to what patients tell them and must explain what they want their patients to do. When communicating with other members of the patient's medical team, therapists must clearly explain the treatment plan for the patient and any progress made by the patient.
Compassion. Occupational therapists are usually drawn to the profession by a desire to help people and improve their daily lives. Therapists must be sensitive to a patient's needs and concerns, especially when assisting the patient with personal activities.
Interpersonal skills. Because occupational therapists spend their time teaching and explaining therapies to patients, they need to earn the trust and respect of those patients and their families.
Patience. Dealing with injuries, illnesses, and disabilities is frustrating for many people. Occupational therapists should exhibit patience in order to provide quality care to the people they serve.
Laura Pohl is an editorial director in higher education with more than 17 years of experience as a content writer, publications editor and speechwriter.