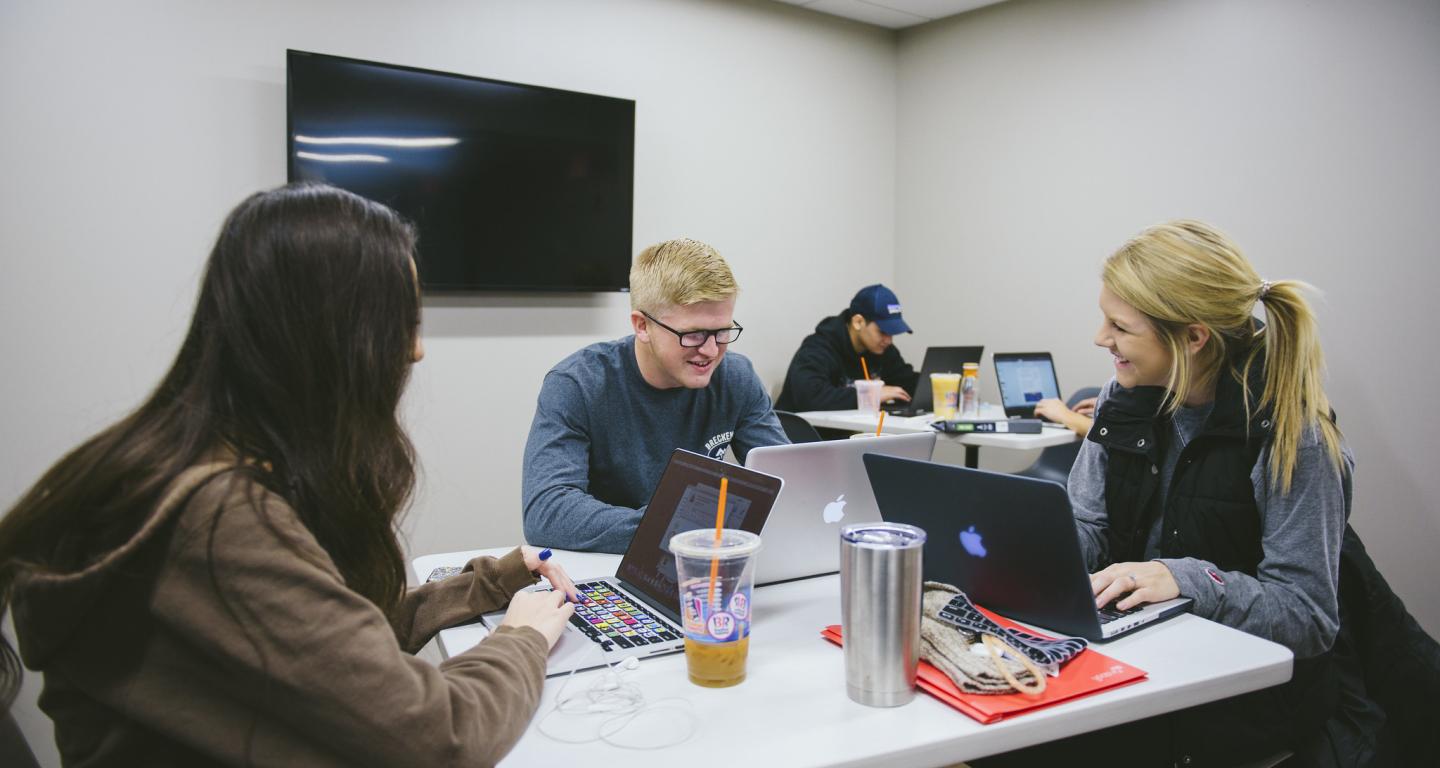 What is an Entrepreneurship Education?
Dec 10, 2020
How Studying Entrepreneurship Can Teach You How to Build Your Own Business
The word entrepreneur carries a lot of weight and has a mysterious quality. It's used frequently in the pop culture community, and tends to refer to either people who have built a huge empire, sitting on giant stacks of cash, or people whose business isn't the most legit.
What an entrepreneur really is, though, is someone who runs their own business and takes a risk to do it. It's that simple. Not every entrepreneur is wildly successful, and the vast majority do nothing at all illegal.
Entrepreneurs often get into the work because they have a great idea and don't want to risk letting someone else handle it. Some simply can't handle corporate structure or even the idea of having a boss to answer to.
So why study the entrepreneurship discipline in college instead of going right into business? To start with, just because you decide to run your own business doesn't mean that you have to do everything yourself with only your own instincts and whatever's in your pockets.
Entrepreneurial education is vital to success as a business owner. The natural abilities and proven strategies that built companies from nothing have been recorded, taught and refined enough now to create entire programs and college majors around them. There are things you can learn in entrepreneurship courses you can't learn anywhere else, and they can lead you to success in all kinds of careers, even ones that don't require you to strike out on your own.
Let's look a little deeper into the entrepreneurship degree and find out why it might be good for you.
What is entrepreneurship education?
Entrepreneurship courses tend to fall within a college's business department. The concepts match closely with subjects like finance, marketing, management and accounting. While those are all specialized areas of business, entrepreneurship curriculum covers the basics in every area. It makes sense—you'll be the boss, so you need to know how every aspect of your business works.
Want to learn more about accounting? Have a passion for numbers, but are still unsure of why to study accounting at a higher level? Check out our guide on how to decide if becoming an accounting major is the right path for you.
You will learn how to create business plans, put together a client base, and find the start-up capital you need to get your business off the ground. You'll get training in minimizing risk, making good choices with your resources, and realizing opportunities when they come about.
The importance of entrepreneurship education comes largely from how much experience entrepreneurship students get. You will more than likely be required to find internships and jobs to get real-world experience. You'll get a head start on making contacts, which will be essential when you start looking to grow your business.
Another critical aspect of entrepreneurship education is the practice you will get in learning and staying ahead of the latest trends in business development. The financial world moves fast and changes quickly. You will need to prepare yourself to stay on top of what is hot and it's a skill that experts can teach.
Do I have what it takes to be an entrepreneur?
Entrepreneurship students are all different, and there is no one secret to success in an entrepreneurship program—just like there's no one way to succeed in business. For the most part, though, a few traits stand out among students who come out of education programs and move on to successful professional lives.
Creativity—A hallmark of successful young entrepreneurs is that they tend to be full of ideas. Ideas can come from anywhere, but you need to be open to them and looking all the time. Don't just let yourself dream—train yourself to make creative thinking part of your routine. It's a mindset.
Risk-taking—You may find you are your only advocate when it comes to your ideas, but to a certain extent that is okay. An entrepreneurial spirit goes hand in hand with taking chances. You should never go so far beyond what you can afford that you could be left with nothing, but if you're a little nervous about trying a business venture, that probably means you're headed in the right direction.
Resilience—Along with taking risks, you need to be able to bounce back when things don't work out how you dreamed. You will learn that failure is a big part of the learning process, both inside the classroom and in your professional ventures. You can never learn what works until you see what doesn't.
Thirst for Knowledge—Taking courses in entrepreneurship is a great first step, but you also need to do plenty of outside study. Read everything you can get your hands on, watch business news and look for it online. Try to make it a habit you keep for the rest of your career, as this is a source of lifelong learning.
You can take your preparation to the next level with a graduate degree. Find out how to decide whether an online MBA program is right for you. Wondering. "Is an online MBA worth it?" and will they still give you a competitive advantage? We'll fill you in.
Outgoing nature—It's almost impossible to avoid social interaction if you want to be an entrepreneur. You have to be able to sell yourself even more than your product or service. Networking is essential, right from when you start as a student, because connections are what lead to opportunities. So introduce yourself and make a good impression on everyone you can.
Passion—A common misconception is that entrepreneurship is all about making money and keeping it for yourself, and you'll learn the truth in your entrepreneurship studies. To make it work, you really have to love it—entrepreneurship theory and practice, problem solving, and taking opportunities to learn from experienced professionals. You have to care more about preparing yourself than the financial benefits. If you can do that, it'll be much easier to focus on what you're selling rather than how much money you'll make once you start doing it professionally.
What does it look like to be an entrepreneur?
Just above we mentioned that entrepreneurship is not all about money. So if you're not going to be counting out giant piles of cash all day, what will you be doing? How does entrepreneurship play out in reality, beyond the ideas you'll learn as an entrepreneurship major? Here are some answers.
Entrepreneurship is not just for the rich and famous—When you hear the word entrepreneur, the image that springs to mind probably includes the most famous of entrepreneurs, like Bill Gates, Oprah Winfrey and Jay-Z. What these entrepreneurs have in common is that they know how to use the media and are rich beyond your wildest dreams.
So forget that image right now.
Not all entrepreneurs are wealthy, and the vast majority are not famous.
Entrepreneurship is not about notoriety most of the time, it's about job creation. You create your own working arrangement where you fill all the roles, and hopefully you build enough to bring more people on board or expand the business. Your success may be modest and invisible by popular culture standards, but if it's enough for you, that will be all that matters.
A good example is Nathan Barry, who started ConvertKit, an email marketing software company. Barry started out working a corporate job in information marketing. He had to walk away from a big salary and invest his own money to start his own company. He worked endless hours for years while not making much as he tried to grow his product. Eventually, he began to turn a profit and his decisions turned out to be worth it.
You've never heard of Nathan Barry or ConvertKit, especially because he hasn't let any larger company buy him out. He's actually very successful by any measure, as the company brings in around $1 million per month. The point is that even entrepreneurs who aren't household names can make it—you have to work hard, commit fully and create your own measurements for success.
You have to work fast and fearlessly—There is a limited amount of good business opportunities available in the world. As we mentioned before, entrepreneurship involves a lot of study. Knowing trends and tendencies in your chosen industry lets you stay ahead of your competitors. But you need to have faith in yourself to jump at those chances, despite the possible costs and even if others think it's a bad idea.
Mark Andreessen is the co-founder of Netscape and Andreessen Horowitz. He was an innovator in creating internet browsers, getting involved in the early 1990s when the industry was still just something people were curious about rather than part of everyday life. He bet on the web, and it paid off huge. He also knew when to move on, as AOL bought Netscape from him for $4.2 billion by the end of the decade and before it was out of date.
After that, he went into venture capitalism, and his firm invested big in Skype, Twitter and Facebook, all while they were still growing.
The contacts Andreessen made while he was working for his internet company helped him build a network of information—which allowed him to put his money in the right places at the right times. He knew his business inside and out, and that made going out on a limb work for him.
You foot the bill, but you get to keep the returns—Entrepreneurship is not something you do alone, at least not if you want to last. Bringing other people in, however, means that your responsibilities include them as well as yourself. Being the boss is not easy.
As your company grows, you will experience ups and downs. There will be months where you're struggling to pay your overhead costs as well as your employees. At those times, you will have to make tough decisions.
You could lay people off or cut pay, but people are still your most important capital. If you put the burden on yourself, paying your debts out of your own pocket or taking out loans, you make a statement. Money can be made back, but it takes people to figure out how and to put in the effort. Your loyalty and leadership is what matters most.
That also means you have to be willing to sacrifice your own way of doing things. Sometimes in order to survive, a company or an entrepreneur has to make drastic changes to stay in the same direction the industry is going.
Take Natalie Massenet for example. Massenet was a writer for popular fashion magazines Women's Wear Daily and Tatler. She foresaw the growth of online shopping as the internet boomed toward the end of the '90s, so she left journalism, which she called her dream job, to start a designer clothing sales website called Net-a-Porter.
The website had a magazine-like format, so it allowed her to use her established skills for writing and design, but with a different focus. It was a gamble, as most people believed consumers wouldn't buy fashionable clothes online. But by changing her focus, using her international contacts, and applying her skills in a new way, Massenet actually brought her love for journalism together with fashion to create a whole new kind of product.
The burden of creating Net-a-Porter was all on Massenet, as she could have ended up laughed out of fashion and with no one to write for. However, she became her own boss with creative control of her content and made far more money and impact than she would have if she had remained a writer. The personal rewards were worth the personal risks.
Most importantly, the one thing all three of these entrepreneurs have in common other than being successful—they all have college degrees.
Hoping to take your career worldwide? Find out more and learn the answer to "What can you do with an international business degree?"
With numerous entrepreneurship degree programs and experiential learning opportunities, North Central College is a perfect choice to help you build your own business. For more information, including how to apply, go to northcentralcollege.edu/program/entrepreneurship.
Jacob Imm is a communications specialist in the North Central College Office of Marketing and Communications. He has 10 years of collegiate communications experience and has worked with hundreds of college students. He has a bachelor's degree from the University of Notre Dame and a master's degree from Northern Illinois University.