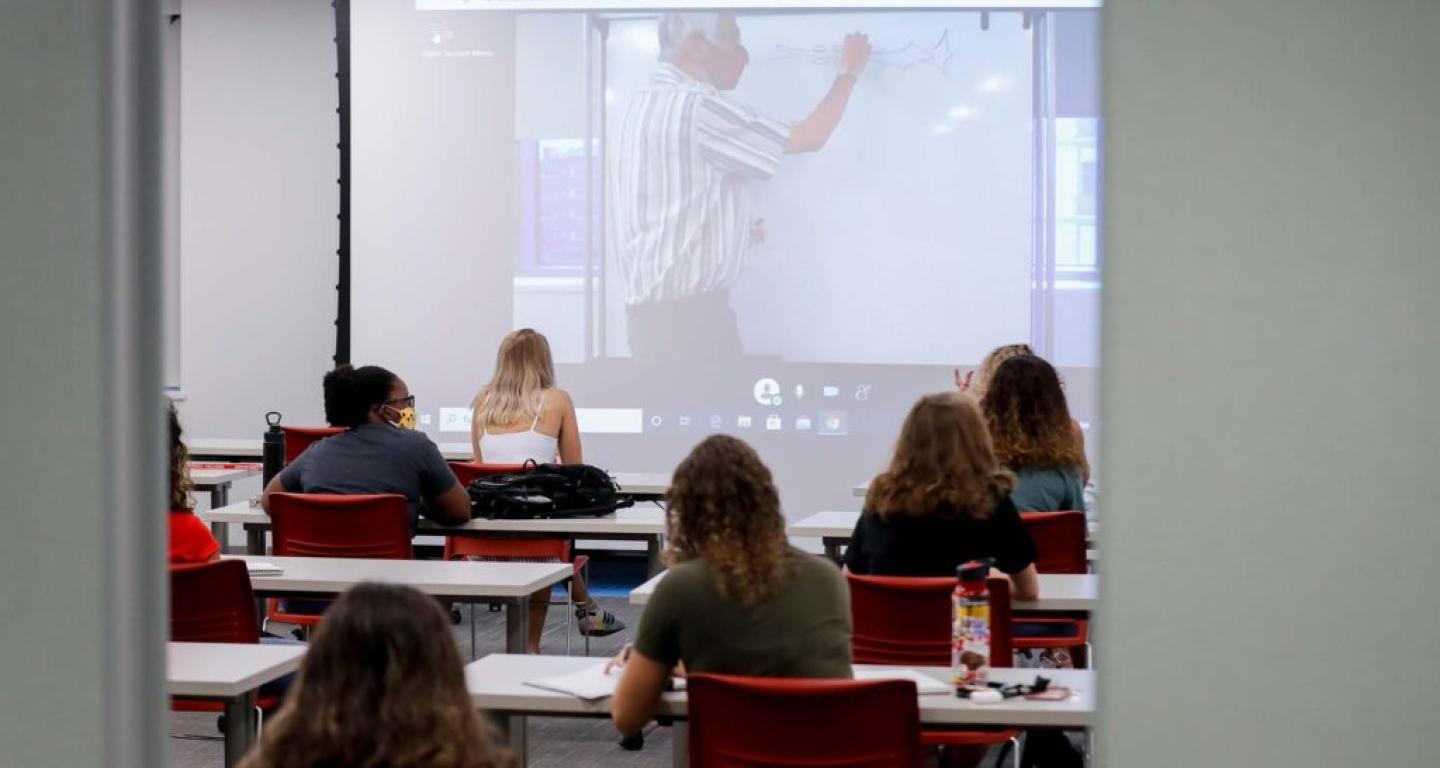 What to Do With a Degree in Marketing
Jan 19, 2021
What Can You Do With a Marketing Degree?
As you prepare for college, there's a good chance you've noticed quite a few people say they're currently a business marketing major or already a marketing graduate. It's a popular major, and for good reason. Quite simply, it has the potential to lead you to an array of successful career paths.
However, getting an undergraduate degree in marketing isn't like other majors in that it isn't always obvious what comes next after completing your bachelor's degree program. Yes, you could always transition straight into a marketing position or get your master's degree, but there are also many other avenues you can explore. So what can you do with a marketing degree? Let's find out.
Careers and Employment Outlook
Having a marketing career is in high demand and there are a lot of opportunities in the field. So, you don't have to worry about asking "What can I do with a marketing degree?" Marketing takes many different forms over numerous media, so companies need as much qualified help as they can get to cover every facet of promotion for their products and services.
For example, Elka Torpey wrote for the U.S. Bureau of Labor Statistics that marketing specialists and market research analysts will account for 495,500 expected job openings in the next five years. These are two positions at or near to an entry level job in most companies, but depending on where you find employment, they can be highly lucrative. Even if they aren't lucrative right away, not, with time and effort they can lead to promotions to marketing management positions, where the rewards are significantly higher (as we'll get into later).
Do you need a master's degree?
The barriers to getting a marketing job can be lower than in other industries as well. Marketing is not an easy subject by any means, and as a career it can be work-intensive. In fact, many marketing professionals average more than 40 hours a week of work. But relevant work experience is paramount to being successful in the marketing field, so keep that in mind when looking for a job. Further, many roles do not require another advanced degree, as the skills from an undergraduate degree program and relevant internships can adequately prepare you.  
Richard Fobes, adjunct assistant professor of marketing at North Central College and long-time advertising executive, said, "Personally, I feel that an undergraduate degree in marketing opens up many opportunities for rewarding careers. While continuing to get a [master's degree or other marketing] graduate degree might help in some cases, my experience has been that an undergraduate degree is all that is required to be successful."
Marketing careers aren't confined to niche markets, either. Anyone who sells anything has to engage in marketing, so if you can do the work, you'll have plenty of freedom to choose what area of business you want.
The U.S. BLS reports the industries that most commonly employ marketing graduates include company management; design and maintenance of computer or information systems; consulting in the sciences and the tech sector; and advertising and public relations.     
The bottom line is getting a marketing degree is a huge step toward a large, expanding number of jobs.
Here are some related industries where marketing professionals might find job opportunities:
Business
Finance
Public relations
Analytics
Research
Social Media
Content
Different kinds of marketing and the jobs they prepare you for
We've established marketing is a healthy professional field right now. So let's say you're convinced to study marketing in college. Now we come to the next step, and you're likely asking yourself, "What is a marketing major? Is there any more to it than that?"
Marketing has specializations like any other field of study, and while there is a good deal of crossover between them, it's extremely helpful to focus on one with your intended career path in mind. Think backwards: what are you interested in, and more accurately what are you so interested in you could see yourself working on it every day? Getting to that answer will help you decide your area of marketing expertise, which will in turn set you up for professional success after you get your degree.  
Marketing jobs
Fobes said the key job areas that come to mind where a marketing degree is most useful would be:
advertising manager;
public relations;
brand marketing/ brand management;
sports sponsorship/event marketing;
consumer behavior research;
digital marketing;
social media marketing;
media management: Fobes noted "that includes planning for and buying all promotional mix components, including everything from traditional advertising--TV, radio, print, outdoor--to social media, direct mail and consumer promotions";
guerilla marketing: sampling, sponsorships, promotions and event marketing;
art directing, graphic design and creative writing.
Studying these areas will give you the general knowledge to be successful as a marketer as well as any specific marketing skill employers look for, in areas like marketing strategy, fashion marketing or international marketing. When it comes to the job hunt, it's good to cast a wide net, but it's also very important to appropriately prepare for the exact marketing degree job you want to apply for.
Other career opportunities
So what are the career opportunities for marketing graduates? According to Mike Profita on The Balance Careers website, here are some common examples of jobs for marketing majors you will see in employment listings:
Admissions representative
Brand/product manager
Event/meeting planner
Fundraiser
Marketing assistant
Marketing specialist
Market research analyst
Media planner
Public relations specialist
Sales representative or sales manager
Social media manager
Marketing manager
Digital marketing manager
Where do you look for these jobs? You can go right to the source and seek out companies who provide marketing for clients, or you can cut out the middleman and work for those clients themselves. According to veteran teacher Fobes, "A number of my students have found jobs over the years with small advertising or promotion agencies, public relations firms, … sports sponsorship companies … or consumer research companies." He notes that cities big and small are more than likely to house multiple companies that specialize in these areas of marketing.
"Also, almost every consumer product firm--Procter & Gamble, State Farm, Allstate, General Mills, Unilever, (for example)--have (an) in-house (marketing) department which (does) advertising, promotion, graphics arts, research and other related marketing disciplines for their respective companies," Fobes said.
In other words, find out where your favorite products come from and look to see if they're hiring marketers.
Salary
Pay for a marketing position is just one of the benefits. The variety of environments and concentrations you can explore are the real perk. If you are willing to put in the time necessary to excel and move up, marketing can be a very fulfilling and lucrative field.
The average salary is also on the rise.. Here's an example of two very common jobs in marketing, and how they compare in 2016 vs 2019. In 2016, the U.S. BLS reported these figures for market research analysts and marketing specialists:
$62,150 median annual salary     
$120,460 average salary in 90th percentile, meaning the top 10 percent of earners    
The U.S. BLS updated reports in 2019 to say the median annual salary for these positions was $63,790 with the 90th percentile average up to $122,630. That's quite the steady growth over the course of three years, with the trajectory headed up.
As we mentioned before, that's at the lower end of the scale. A marketing executive who is director-level and above can be double, if not more of those figures. Here's a list of the eight top-earning marketing jobs compiled by Deanna deBara of The Muse:
| Job Title | Average (annual) Salary | Salary Range |
| --- | --- | --- |
| Corporate communications director | $124,054 | $77,000 - $173,000 |
| Marketing research director | $111,900 | $74,000 - $157,000 |
| Director of email marketing | $102,588 | $58,000 - $161,000 |
| Director of digital marketing | $99,040 | $60,000 - $148,000 |
| Content marketing director | $95,854 | $56,000 - $139,000 |
| Product marketing manager | $90,769 | $60,000 - $130,000 |
| Demand generation manager | $83,143 | $59,000 - $117,000 |
| Brand marketing manager | $73,357 | $49,000 - $107,000 |

The most important things you need for success in a marketing job are confidence, dedication and a great school to support you and help you create opportunities. North Central College is committed to helping all their students succeed, whether they are looking for a career in business, science or any of their other excellent academic programs. Go to their request information page to learn more about their marketing program and everything else they have to offer.
Jacob Imm is a communications specialist in the North Central College Office of Marketing and Communications. He has 10 years of collegiate communications experience and has worked with hundreds of college students. He has a bachelor's degree from the University of Notre Dame and a master's degree from Northern Illinois University.