North Central News
Course on comic books delves into an often-overlooked touchstone of our shared literary history
Jun 30, 2021
Keegan Lannon is bringing a personal mission to North Central College with his course English 194: Superhero Comics. Lannon, an adjunct associate professor of English, remembers a time when parents didn't just complain their kids weren't reading enough—they told them they weren't reading the right things. He's loved comic books ever since he was a teenager, even when his mother said he should be reading "real books." In fact, he's made it a huge part of his academic career to put comics in their proper place in the study of English, hence the Superhero Comics course.
The course will delve into the history of American superhero comic books, covering landmark issues from the last 80-plus years. He's examining the ebbs and flows of the comic book industry, exploring how comic books have addressed and intertwined with important societal issues of the last two centuries, and looking at how the idea of the superhero has shaped our view of storytelling itself.
Lannon says there is a key question about comic books: do they shed light on who we are as people and or do they challenge our most widely held beliefs? His course is based on the idea that comics are important because they do both, in ways unique from other forms of literature.
"There are books that reflect our current cultural and social debates, like Marvel's 'Civil War,' which raises questions about accountability for those with the greatest powers," Lannon said. "Other books point at what could be, like 'The Amazing Spider-Man' #36 (the post 9/11 Spider-Man issue), where we see the way we should be acting and behaving in this new and confusing social situation following the worst terrorist attack on American soil since Pearl Harbor.
"Unlike other books, though, comics are published annually ... 'The Great Gatsby' might tell us a lot about the fallibility of the American Dream, but Fitzgerald didn't keep writing more stories about Nick Carraway's further exploits on Long Island with other Jay Gatsby-like characters. We know how Superman would face off with Nazis, Communists, terrorists, racism, sexism, and social justice. We get to see how … ideas about human nature can be tested against new and unimagined situations."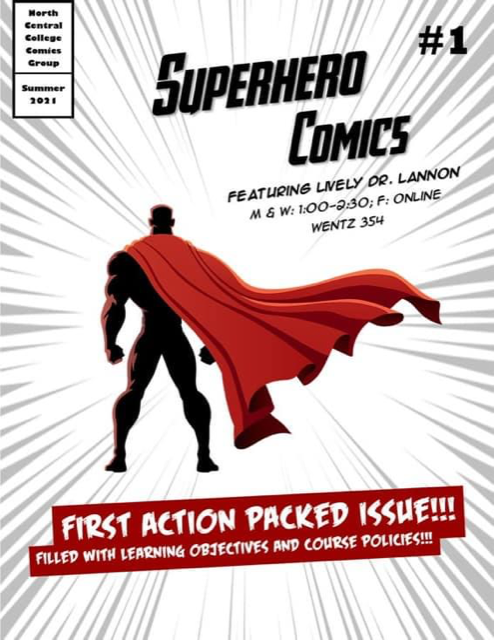 Jennifer Smith, associate professor of English and chair of North Central's English department, approached Lannon about creating this course. She shares his enthusiasm for what comic books can reveal to readers from a literary perspective.
"The appeal of comics crosses ages, nationalities, ethnicities, and genders, and Dr. Lannon's class will be of interest to longtime fans and newbies of the genre," she said. "I am excited for students to study a genre and topic that can teach so much about who we wish to be and who we actually are—and the chasm between the two."
Lannon was particularly gratified to find North Central would embrace this innovative kind of course and grant him the chance to explore a popular subject in an academic setting.
"When Dr. Smith asked if I wanted to develop this course, I was thrilled," Lannon said. "While comics have made some gains in legitimacy in the last 15 years or so, there are still schools that don't see value in studying popular literature, like young adult fiction or science fiction."
This is one professor who doesn't just teach comic books. As legendary Marvel Comics writer, editor and publisher Stan Lee might have said, Lannon is a "true believer." He recalls when Graham Cracker Comics opened a shop in his native Bolingbrook, Ill. in the early-1990s. Lannon was drawn in by the warring marketing tactics from the two comic book publishing giants, Marvel and DC, quickly shifting his affection and pocket money from buying baseball cards to collecting comics.
It wasn't the foil and hologram covers or the multiple reprints that kept him coming back, however. It was reading and connecting with the characters, particularly the Marvel superheroes who weren't the household names then that they are now.
"Marvel's heroes are broken, flawed individuals," Lannon said. "They struggled—with what was right to do, with who they were. (That) was something I could … easily relate to."
Superhero Comics will allow students to tour great comics with characters both little- and well-known, from the first appearances of seminal figures like Wonder Woman and Shazam to landmark graphic novels such as "The Dark Knight Returns" and "Watchmen". There will also be samples of more contemporary characters like the Black Panther, who has helped inspire social movements on issues of racial diversity and equity, and Muslim Pakistani-American character Kamala Khan, who may soon have a similar impact.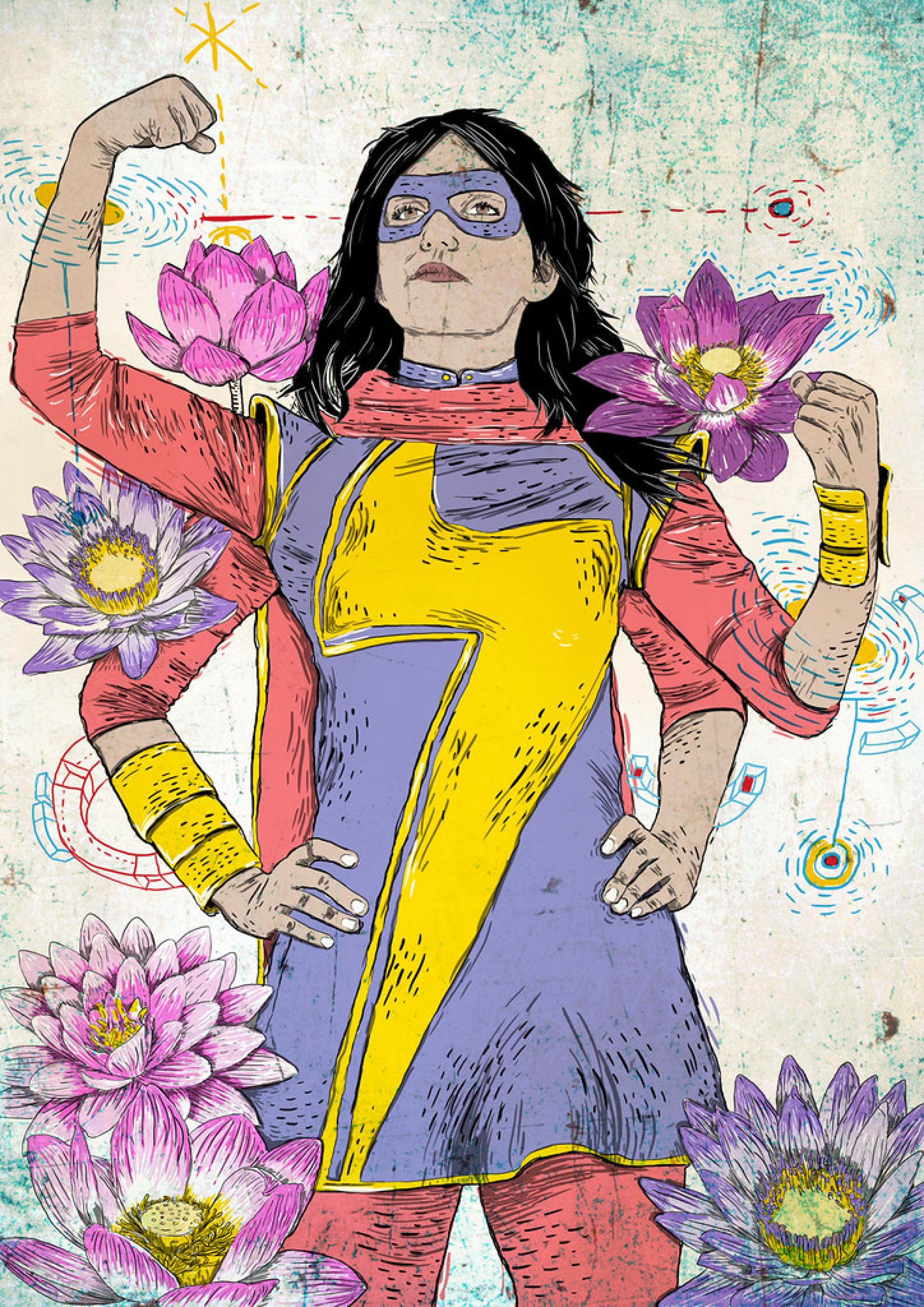 Beyond reading the existing canon, this course will challenge students to use their writing to explore their own ideas about superheroes. "I am interested in knowing what the students find interesting about comics and what sort of heroes we need that have yet to be written," said Lannon. "One writing project would be to design a Superman for 2021, had 'Action Comics' (his first book) never gotten published."
Lannon encourages both fans and those without an existing interest in comics to take part. He is confident there's something to be learned for everyone.
"Superheroes are one of the truly unique American art forms and their reach is massive," he said. "Most of the top selling movies in the last 20 years have been comic adaptations. But more than that, our concept of heroism is often based on how we understand the superhero mythology. The way we talk about first responders or pediatric cancer survivors is often couched in conceptions developed in the DC or Marvel universes.
"In short, reading comics will help anyone better understand why America is the way America is."
For more information on ENG 194: Superhero Comics, contact Professor Lannon at kjlannon@noctrl.edu.