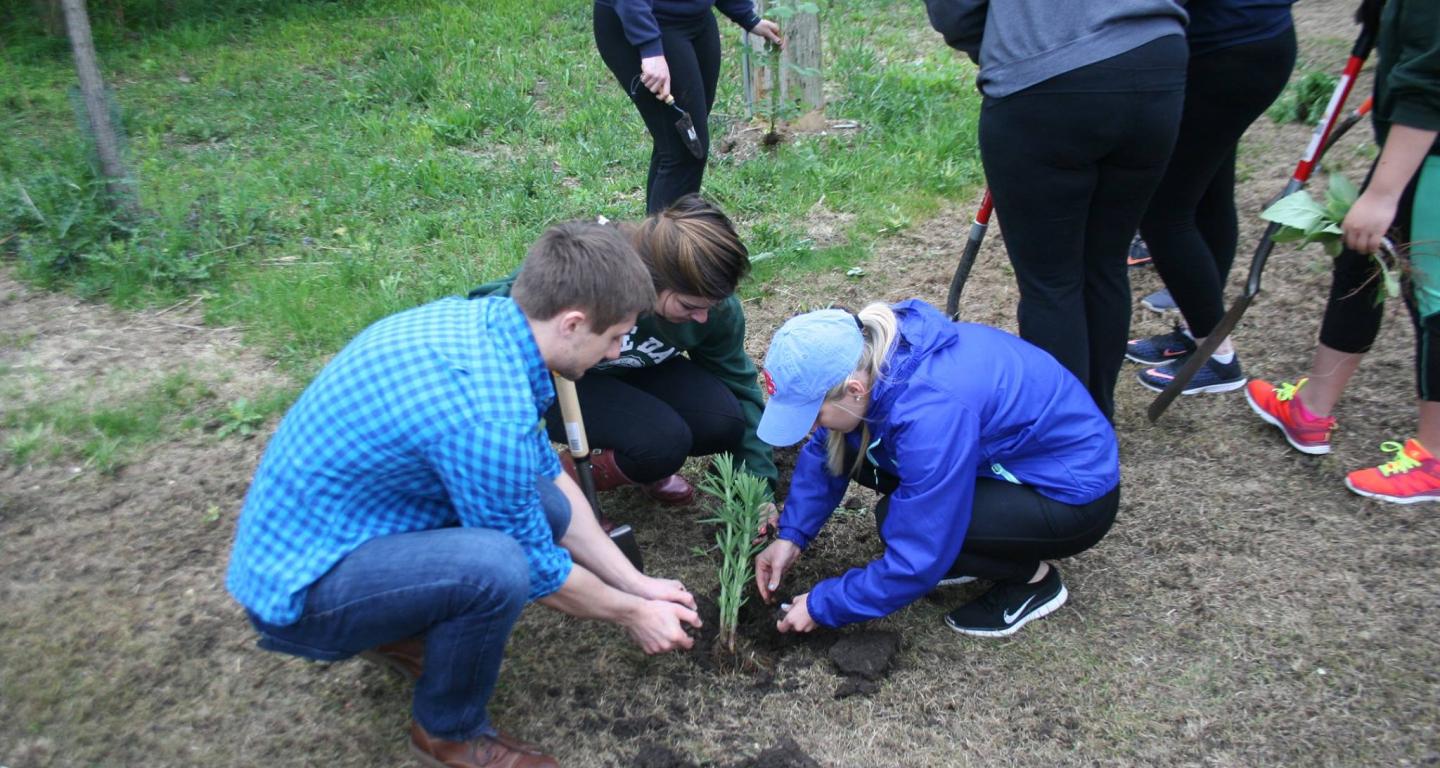 Environmental Studies Careers
Jul 07, 2021
What Can you do with an Environmental Studies Degree?
Are you interested in learning more about how we interact with the environment around us? Do you find yourself wanting to explore and find solutions to important environmental issues? If you answered yes to both, environmental studies might be the right fit.
If you have wondered, "What can I do with a degree in environmental studies?", do not fret! Those who want to be an environmental studies major have many fields to choose from after graduating. 
Advocating for the environment and our planet calls for environmental experts, and you could be the next one. Keep reading to receive more information on the multitude of environmental studies careers you can pursue.
Career Options for Environmental Studies Majors
With an environmental studies degree, you can pave a rewarding environmental career path in several fields such as business, education, public relations, and environmental law. Whether you choose to be an environmental educator who spreads awareness about the environment or a fundraiser who helps raise money for important environmental causes, individuals in this field aspire to leave a positive impact on our planet.
An environmental studies degree program that prepares students to be scholars and researchers in the field while receiving hands-on experience—like the program at North Central College —is one to strive to find. At North Central College, you will use more than just a laboratory as your classroom. A restored prairie, solar panel arrays, and geothermal heating systems, along with expert faculty, will help teach you about the environmental and green initiatives. 
Additionally, you can choose to learn about environmental issues around the world with the help of the College's award-winning Center for Global Education Abroad programs and have the opportunity to gain experience working with two local, national laboratories, Argonne and Fermi, as well as the DuPage County Forest Preserve to further your knowledge and skills.
"One of my favorite parts about our program is that it is very interdisciplinary," stated Chandreyee Mitra, assistant professor of biology and coordinator of the environmental studies program at North Central College.  
"Folks can truly chart their path to make it what they want it to be based on, whether that's based on what they want to do or where they want to go after graduation." With a detailed understanding of the environment at the local, regional and global level, you will receive a plethora of professional opportunities to help you find rewarding career options and personal fulfillment.
Top Jobs for Environmental Studies Majors
With a degree in environmental studies, you can find jobs in a wide array of fields. From business to education, there are many green career paths available depending on your interests and skills. Read on to learn about some of the top jobs for environmental studies majors.
Environmental Consultant
If you are interested in helping companies leave a lower impact on the environment, an environmental consultant or environmental planner could be the right fit. Their vast knowledge of environmental regulations in air quality, water pollution, and soil contamination helps companies address any environmental issues they may have to lower their overall environmental impact and minimize potential fines and legal action.
Environmental Educator
As you can likely guess from the job name, an environmental educator teaches others about nature, the environment, and any related field. They are individuals who analyze and interpret scientific data and then share it with the general public to increase their knowledge and gain a better environmental perspective of the world around us. You can find these educators in schools, museums, nonprofit organizations, and nature reserves in most cases.
Public Relations Specialist
Under the umbrella of environmental studies, a public relations specialist is a role that focuses on—you guessed it—the public relations, communications, and business aspects of environmental remediation and recognition. 
In this role, someone decides how to best present a company or organization's environmental goals and efforts. 
According to environmentalscience.org, "The environmental public relations specialist profession is anticipated to grow 12% in the next ten years." This growth is excellent news as the percentage is above average compared to all other occupations.
Environmental Attorney
You have likely heard of tax and real estate attorneys, but have you heard of an environmental lawyer? If not, picture a lawyer representing clients in legal issues such as waste management, water, air quality, and much more. As sustainability becomes on more companies' radars, more lawyers are in demand to advise clients on green standards and environmental policy. With new legislation relating to the environment on the rise, legal work for environmental attorneys will likely increase. The projected percent increase in employment from 2016 to 2026 is nine percent, above the average.
Environmental Engineer
According to the U.S. Bureau of Labor Statistics, "Environmental engineers use the principles of engineering, soil science, biology, and chemistry to develop solutions to any environmental problem." Environmental engineers have responsibilities, including writing and updating environmental reports, designing projects to promote environmental protection, quality-control checks, and much more. In this role, you could work in an office or at a specific job site.
Sustainability Specialist
A vital role in a company,  a sustainability and environmental specialist essentially looks for methods that encourage sustainability throughout each business level. If you choose to become one, you will need to have a good understanding of environmental issues and regulations to create a positive image and reputation for the company.
Fundraiser
As you probably guessed, an environmental fundraiser is someone who helps raise money for an environmental cause or charity. For this role, it is advantageous to have strong communication and organizational skills and a background in business, communications, or public relations. If you choose to pursue fundraising, you may find yourself working for a nonprofit organization, research foundation, or higher education institution.
Policy Analyst
If you're a fan of analyzing data, you may want to look into this role. As a policy analyst, you would be responsible for finding information on environmental challenges from scientific data to find solutions, provide recommendations for new policies and increase awareness of the issue.
Career and Postgraduate Development
Like career paths, those who have a bachelor's degree in environmental studies have many options to choose from when it comes to postgraduate development. After graduation, you can start your career and enter your field of choice or continue your environmental education at the graduate level. Since there is a wide array of areas to choose from, the path you choose for post-graduate development will depend on where your interests and skills lie.
"For example, someone interested in environmental science could go on to receive an M.S. (Master of Science) or a Ph.D. in biology, chemistry, climate science, environmental science, or forestry/natural resource management," stated Mitra. "If they are interested in sustainable business, they could receive an MBA (Master of Business Administration), M.A. (Master of Arts) or Ph.D. programs in business-oriented areas."
If you would like to learn more about majoring in environmental studies, take some time to explore different College websites and programs and what they offer. Plus, read our guides "What is environmental studies" and "Environmental studies vs. environmental science" to get more insight on this exciting major!
As stated, students enrolled in North Central College's environmental studies program have access to resources that go beyond the classroom and work with expert faculty in the field. You can count on North Central College to help you discover the right path for you as a student and in your career.
Kara Kots is the social media specialist for North Central College's Office of Marketing and Communications. There, she contributes her content, writing, and communication skills.
Sources:
Environmental Studies. | North Central College.
https://www.northcentralcollege.edu/program/environmental-studies/. Accessed May 17, 2021.
What does an Environmental Consultant do? Careerexplorer.com. https://www.careerexplorer.com/careers/environmental-consultant/. Accessed May 17, 2021
What is an Environmental Educator? Environmentalscience.org.
https://www.environmentalscience.org/career/environmental-educator/. Accessed May 19, 2021.
What is an Environmental Public Relations Specialist? Environmentalscience.org.
https://www.environmentalscience.org/career/environmental-public-relations-specialist/. Accessed May 19, 2021.
What is an Environmental Lawyer? Environmentalscience.org.
https://www.environmentalscience.org/career/environmental-lawyer/. Accessed May 19, 2021.
Environmental lawyers: Salary, career path, job outlook, education, and more. RaiseMe.
https://www.raise.me/careers/legal/lawyers/environmental-lawyers/. Accessed May 19, 2021.
U.S. BUREAU OF LABOR STATISTICS. Environmental Engineers.
https://www.bls.gov/ooh/architecture-and-engineering/environmental-engineers.htm#tab-2/. Accessed May 25, 2021.
What Is a Sustainability Specialist? Environmentalscience.org.
https://www.environmentalscience.org/career/sustainability-specialist/. Accessed May 25, 2021.
What Do Sustainability Specialists Do (including Their Typical Day At Work). www.owlguru.com. https://www.owlguru.com/career/sustainability-specialists/job-description/. Published January 12, 2021. Accessed May 25, 2021.
Fundraisers. CollegeGrad. https://collegegrad.com/careers/fundraisers/. Accessed May 28, 2021.
Fundraisers. U.S. BUREAU OF LABOR STATISTICS. https://www.bls.gov/ooh/business-and-financial/fundraisers.htm#:~:text=Fundraisers%20work%%2020primarily%20for%20nonprofit,Most%20work%20full%20time/. Accessed May 28, 2021.
What is an Environmental Policy Analyst? Environmentalscience.org. https://www.environmentalscience.org/career/environmental-policy-analyst. Accessed May 28, 2021.
Top Environmental Science Careers. environmentalsciencedegree.org.
https://environmentalsciencedegree.org/careers/. Accessed May 28, 2021.